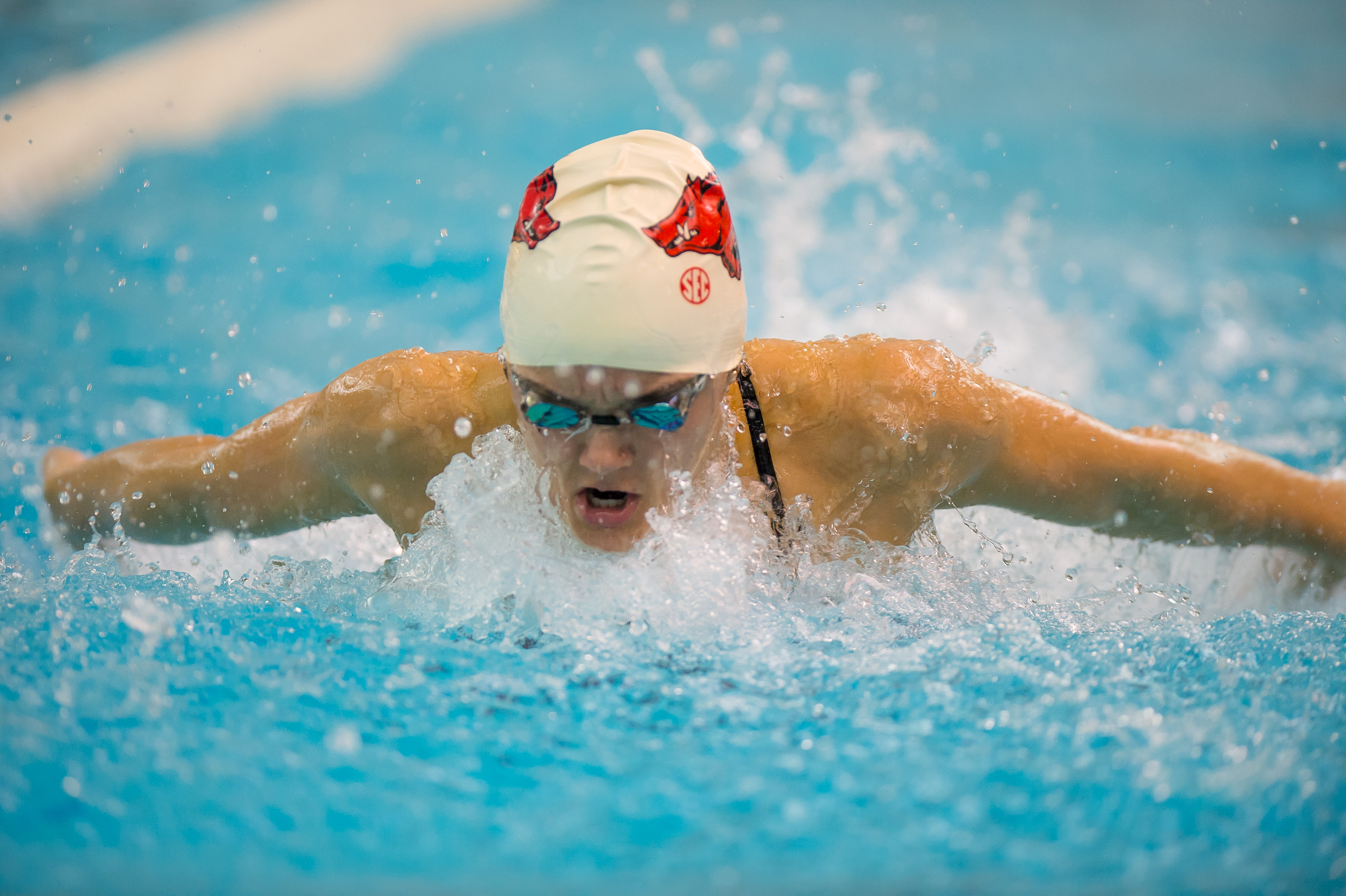 Garrison Begins US Olympic Trials
Event Information | Psych Sheet | Day 1 Heat Sheet | TV Information | Live Results | 400 IM Prelim Results
OMAHA, Neb. – Arkansas rising junior Jessie Garrison opened competition Sunday for the Razorbacks at the U.S. Olympic Swimming Team Trials.
Garrison placed third in heat 10 of the 400-meter individual medley preliminaries, finishing 72nd overall with a time of 4:56.97. It was her second-best time ever in the event. The swimmers with the eight fastest times among all 13 heats advanced to the evening final.
The Little Rock, Arkansas, native returns to the pool Tuesday for the 200-meter individual medley followed by the 200-meter butterfly Wednesday.
Quotable
"I thought Jessie raced well in her heat, placing third and recording her second-best time ever," head coach Neil Harper said. "It's a good start to the meet, and I think she will do even better as the week continues."
Up Next
Rising sophomore Madison Strathman and two-time All-American and former Razorback Nikki Daniels are set to compete in the 100-meter breaststroke Monday.
About The Trials
The Trials serve as the only selection meet for the U.S. Olympic Team competing at the 2016 Olympic Games in Rio de Janeiro, Brazil. The top two finishers in each race earn an Olympic berth and the top six finishers in the 100- and 200-meter freestyle can advance to fill out relay teams.
Follow Live
The preliminary heats for each day will begin at 10 a.m. CST, with semifinal and final heats starting at 6:45 p.m.
NBC Sports will live stream the Trials and will include all of the prelims and finals sessions. The road to Rio for U.S. swimmers will be available in high definition via NBC Sports online at NBCSports.com/Live, or through the NBC Sports app.
More information on the Olympic Trials can be found at USASwimming.org. For more information on Arkansas Swimming and Diving, follow @RazorbackSD on Twitter.
Razorbacks at the 2016 U.S. Olympic Team Trials:

Monday, June 27
Women's 100-meter breaststroke (Madison Strathman, Nikki Daniels)
Tuesday, June 28
Women's 200-meter individual medley (Jessie Garrison)
Wednesday, June 29
Women's 200-meter butterfly (Jessie Garrison)
Thursday, June 30
Women's 200-meter breaststroke (Madison Strathman)