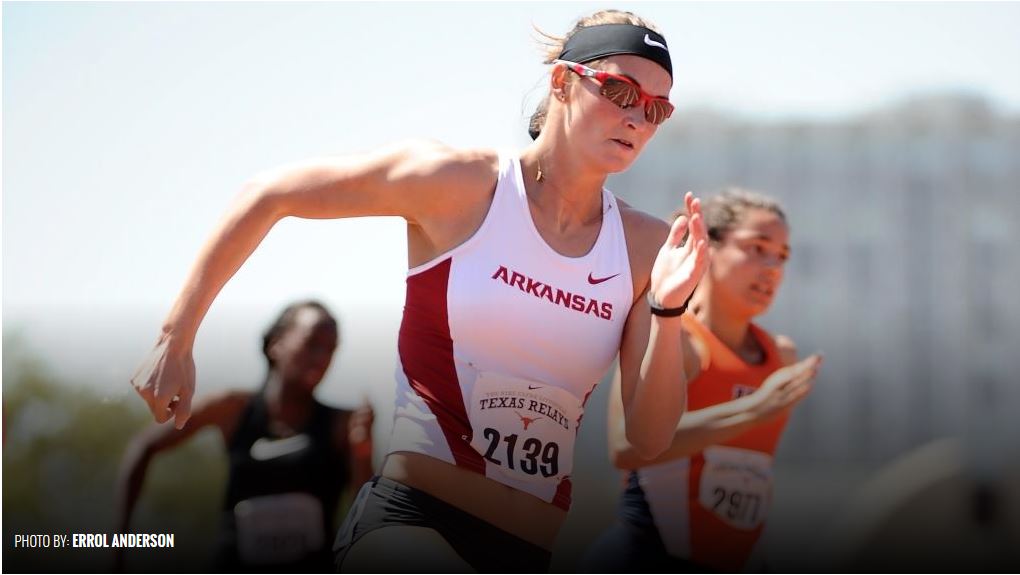 Gochenour Scores 6,000 Points, Wins #TXRelays15 Heptathlon
FAYETTEVILLE, Ark. – Scoring a personal-best score of 6,027 points, junior Alex Gochenour won the heptathlon title Thursday afternoon to lead a trio of top-five finishes for the Razorbacks at the 88th Clyde Littlefield Texas Relays in Austin. In qualifying rounds of the 400-meter hurdles, senior Sparkle McKnight was the top qualifier to advance to the event final. The No. 7 University of Arkansas women's track and field team is using the annual prestigious event as its outdoor-season opener.
Gochenour is just the second Razorback in program history to eclipse 6,000 points in the heptathlon, trailing only school-record holder Makeba Alcide (6,050 points) in Arkansas' record book. During the two-day event, she established three personal bests and two more all-conditions bests. Gochenour added more than 500 points to her prior best at Arkansas in the heptathlon, improving upon the 5,522 points she scored at last year's Texas Relays.
Teammates Taliyah Brooks and Leigha Brown rounded out the top five with fourth- and fifth-place finishes, respectively. Competing in her first collegiate heptathlon, Brooks posted a score of 5,482 points with the help of a 6.18m/20-3.5 mark in the long jump to begin the day. Brown tallied a personal-best score of her own with 5,473 points, more than 200 points more than her previous high. She closed out the competition with a personal-best 2:17.21 at 800 meters.
In her first 400-meter hurdles race since the 2013 season, McKnight posted the fastest qualifying time of the day with her time of 58.21 to win heat 11. With her performance, she advances to the event final which is scheduled for 6:55 p.m. (CT) on Friday. Brianna Swinton made her debut in the event with a time of 1:02.03 to finish seventh in heat eight and tied for 37th overall.
The Arkansas women now have 18 Texas Relays titles in program history and their first since the 2012 event when former Razorback standout Tina Sutej won the pole vault. With her win, Gochenour joins DeeDee Brown (2002) as the second Razorback to win the heptathlon title at Texas Relays.
Day three is set to feature preliminary rounds at 100 meters and in the 100-meter hurdles, along with finals in the 400-meter hurdles, sprint-medley relay, 'B' section of the pole vault and 'A' section of the javelin. The remaining two days of Texas Relays will feature live television coverage on the Longhorn Network.
88th Clyde Littlefield Texas Relays on LHN
Thursday, March 26 – 6-9 pm.
Friday, March 27 – 9:30 a.m.-12:30 p.m.; 7-9 p.m.
Saturday, March 28 – 1-5 p.m.
The outdoor home opener is also scheduled for this week with the Arkansas Spring Invitational which will be held March 27-28 at John McDonnell Field. After Friday's hammer throw, the competition begins Saturday with field events at 10:30 a.m. and running events at 1:30 p.m. For questions or to purchase tickets for home events, call 800-982-HOGS (4647) or email raztk@uark.edu.
88th Clyde Littlefield Texas Relays | Austin, Texas
Thursday, March 26, 2015
400m Hurdles (prelims)
1. Sparkle McKnight – 58.21q
37. Brianna Swinton – 1:02.03
Heptathlon (Day 2/Final)
1. Alex Gochenour – 6,027 points (PR)
1. Long jump – 6.27m/20-7w [934 points]
12. Javelin – 31.14m/102-2 [498]
4. 800m – 2:18.95 [838]
4. Taliyah Brooks – 5,482 points
2. Long jump – 6.18m/20-3.5w [905 points]
15. Javelin – 27.02m/88-8 [420]
6. 800m – 2:21.89 [798]
5. Leigha Brown – 5,473 points (PR)
15. Long jump – 5.37m/17-7.5w [663 points]
6. Javelin – 34.49m/113-2 [562]
1. 800m – 2:17.21 (PR) [862]
For more information on Arkansas track and field including in-meet updates, follow @RazorbackTF on Twitter.