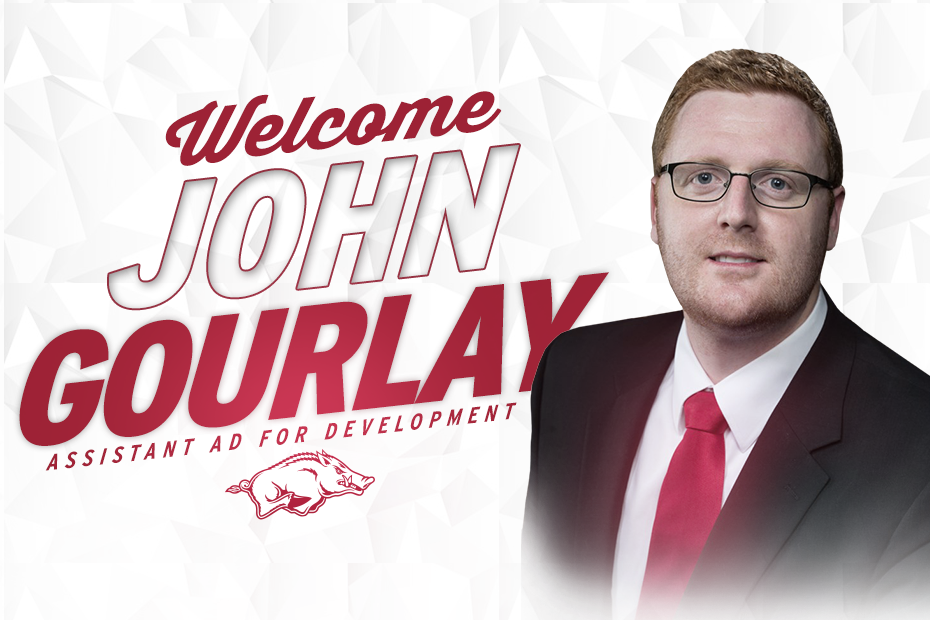 Gourlay Named Assistant AD For Development
FAYETTEVILLE, Ark. – John Gourlay has been named assistant athletic director for development for Razorback Athletics it was announced by Vice Chancellor and Director of Athletics Jeff Long on Friday.
Gourlay has spent the past 1 1/2 years as the director of development for planned giving in the Office of University Advancement. Prior to joining University Advancement, Gourlay was an assistant director at the Razorback Foundation. He originally joined the Razorback Foundation as part of the administrative team that implemented the Razorback Seat Value Plan (RSVP) program in 2011. Gourlay worked for the Razorbacks as a graduate assistant for development in 2010.
"Since coming to campus in 2010, John has been an instrumental part of the team raising support for the benefit of students at the University of Arkansas," Long said. "During his time with the Razorback Foundation, he helped successfully implement the RSVP program and has developed relationships with many of those who support the Razorback Foundation and our great university. His experience in both the Razorback Foundation and University Advancement make him uniquely qualified to serve in this role that works closely with both of these entities.  In addition, as a former student-athlete, John understands the integral role that support plays in the success of student-athletes both academically and athletically."
Gourlay has a master's degree from the University of Arkansas and a bachelor's degree from Lehigh University. While at Lehigh, Gourlay competed in men's basketball (2006-09). Gourlay and his wife, Lauren, have a daughter, Parker.
"I am extremely honored and excited to once again be working for Razorback Athletics," Gourlay said. "As a graduate of this university, I fully understand the true meaning of being a Razorback and look forward to helping Razorback Athletics continue to flourish. I am grateful to Jeff Long for once again giving me the opportunity to be a part of one of the nation's most competitive intercollegiate programs in the country. I am confident that with the leadership of Chancellor (Joseph) Steinmetz and Jeff, the program will continue to grow."
For more information regarding Razorback Athletics, please visit ArkansasRazorbacks.com.