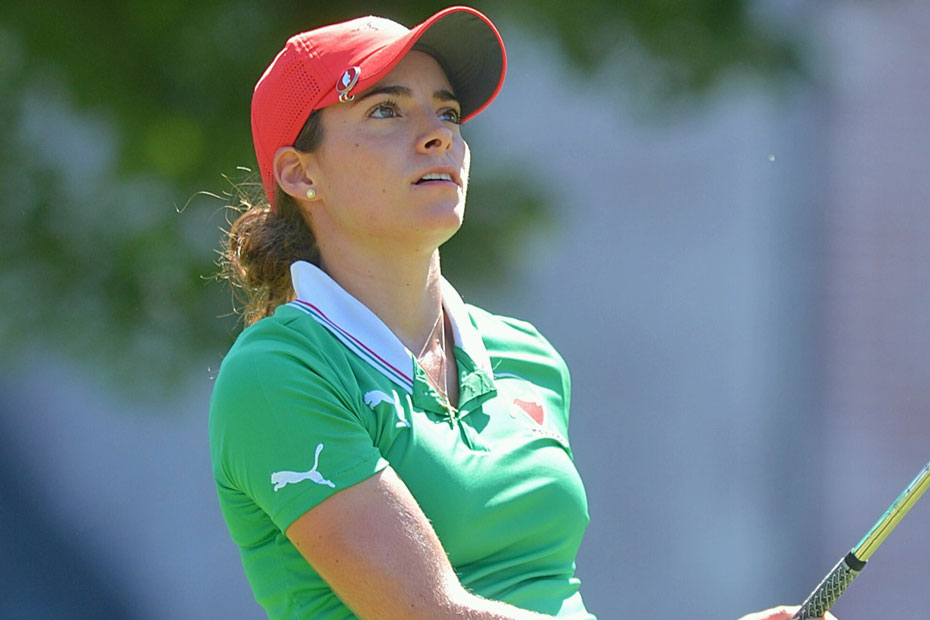 Great Performance By Lopez, Lewis
GABRIELA LOPEZ ON NO. 17 | GABRIELA LOPEZ PHOTO GALLERY | STACY LEWIS PHOTO GALLERY | GABRIELA LOPEZ QUOTES | STACY LEWIS QUOTES | VIDEO RECAP
ROGERS, Ark. – University of Arkansas junior Gabriela Lopez posted a final round two-under 69 and tied for 29th place overall at the Walmart NW Arkansas Championship Presented by P&G at Pinnacle Country Club Sunday.
The Mexico City native put together a solid round with 15 par holes, one birdie, one eagle and one bogey on her day.  She is in the clubhouse shooting six-under 207 for the weekend.
Lopez opened play on the first tee and parred the first five holes she played.  The first smudge on her scorecard came on the sixth hole. A par three, 185-yard hole.  Lopez was in the right front bunker off the tee but made a great shot out of the junk, hitting it three feet from the pin.  Her first putt slid passed the hole and she tapped in for the bogey.
Lopez got the shot right back on the seventh hole, a long 520-yard, par five.  Her tee shot was in a good spot on the fairway and her second shot was up on the front edge of the green.  She had a 10-foot putt and drained it for the eagle.
Lopez wrapped up the front nine with a birdie on the ninth hole. It's a par four, 351-yarder that plays uphill to the green.  Again a good tee shot had Lopez in the middle of the fairway making her second shot possible.  She laced that attempt over the flag about six feet but got the perfect spin bringing the ball to about three feet.  Lopez made a nice putt for the birdie.
Despite being close on a couple other holes on the back nine, Lopez finished with nine consecutive pars to end her round.  Lopez finished with rounds of 73-65-69=207 for the tournament.
#ProHogs Stacy Lewis also showed up on the final round in dramatic fashion.  The former Razorback All-American was tied for fourth place coming into Sunday's final round and was three strokes back of the leader.  Knowing she had some work to do, Lewis played the front nine four-under and moved to 12-under for the tournament grabbing the outright lead at the mid-point of her round.
The Woodlands, Texas., native birdied the 10th hole as well taking a one shot lead over Na Yeon Choi but Choi, playing in the group behind Lewis, eagled the 16th hole when her second shot from the fairway found the bottom of the hole.  Choi went on to birdie the 17th as well holding on to the win.
Lewis finished tied for third overall shooting 68-65-68=201
For more information on Arkansas women's golf, follow @RazorbackWGolf on Twitter.
INSIDE THE ROPES
Gabriela Lopez
73-65-69=207
Second Razorback player in the tournament on a sponsor's exemption to make the cut (Emily Tubert, 2001; Lopez, 2014 and 2015)
Round of 65 on Saturday tied for the third-best round of the day
Best finish by a current Razorback player in the event at T29 (Emily Tubert T48th, 2011; Lopez T57, 2014)
Best round by a Razorback at 65
Best total by a Razorback at 207
Stacy Lewis
Sixth top 10 finish at the event (excluding the rain-shortened non-event in 2007)
Third consecutive top five finish
Round of 65 on Saturday tied for the third-best round of the day