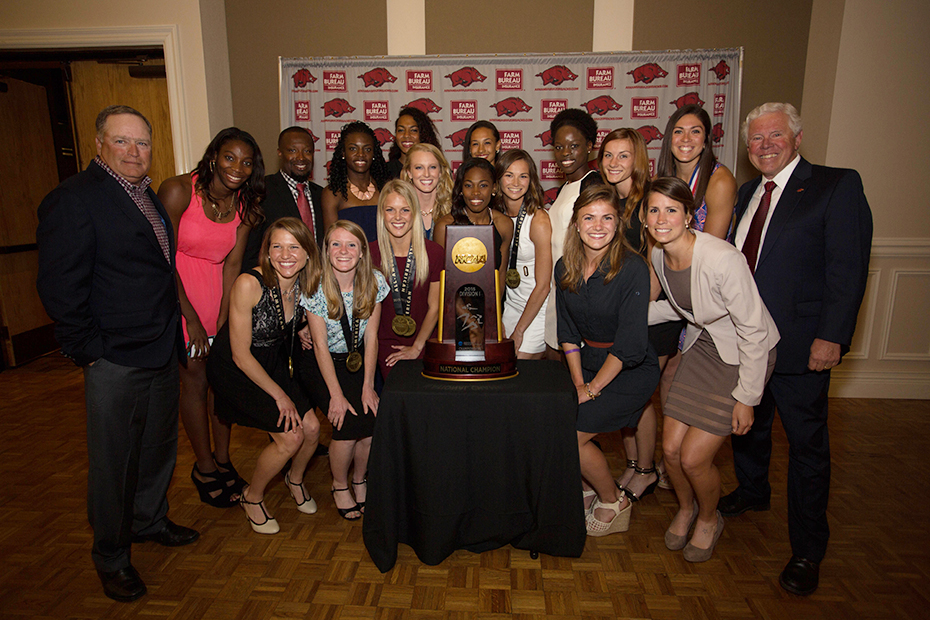 Hard Work in the Classroom Paying Off
FAYETTEVILLE, Ark. – The University of Arkansas women's track and field team claimed the indoor Scholar Team of the Year award for the third time in four years announced Friday by the USTFCCCA. 2015 NCAA indoor champion Sandi Morris headlined the team's 12 individual All-Academic honorees as the Indoor Field Scholar-Athlete of the Year.
Arkansas is the first program to win the indoor Scholar Team award three times since it began in 2007. Prior to this season the Razorbacks received the award in 2012 and 2013. Morris is the team's first Scholar Athlete of the Year.
The Scholar Team of the Year award is presented to the highest-placing team with at least a 3.00 cumulative team grade point average represented at the indoor or outdoor NCAA Division I Championships. 224 teams were in contention for this season's award.
"We've had a lot of success on the track but our academics are something that we take very seriously," said head coach Lance Harter. "To do it three out of the last four years is a testament to the pride our athletes have in establishing and maintaining this tradition."
The Razorbacks paved the way to their first NCAA title with the help of Morris' 10 points from the pole vault and two championship performances (3,000m and DMR) by 2015 four-time All-American Dominique Scott. Arkansas junior Taylor Ellis-Watson contributed eight points following her runner-up finish at 400 meters.
DMR champions Therese Haiss and Jessica Kamilos were two of 12 named to the All-Academic team. Haiss posted a 3.35 in chemistry while Kamilos a second time honoree (cross country) was acknowledged for her 3.75 in kinesiology.  All-American multi competitors Leigha Brown and Alex Gochenour were honored for their 3.50 and 3.31 GPAs respectively.
Ellis-Watson was recognized with a 3.79 in psychology. Tamara Myers who placed in both the long and triple jump at the indoor national meet was honored for her 3.54 in accounting. Pole vaulters Morris and Megan Zimlich were acknowledged for their 3.92 and 3.56 GPAs respectively.
Distance crew of Valerie Reina, Diane Robison and Regan Ward were all recognized. Reina who is studying elementary education boasts a 3.56 GPA. Robison who was also honored during cross country season has a 3.54 in dietetics. Ward was honored for her 3.85 in geology.
Arkansas senior Shannon Klenke had the highest overall GPA of the program with a 3.974 in international economics.
USTFCCCA All-Academic
Leigha Brown – Kinesiology
Taylor Ellis-Watson – Psychology
Alexandria Gochenour – Agricultural Business
Therese Haiss – Chemistry
Jessica Kamilos – Kinesiology
Shannon Klenke – International Economics
Sandi Morris – Broadcast Journalism
Tamara Myers – Accounting
Valerie Reina – Elementary Education
Diane Robison – Dietetics
Regan Ward – Geology
Megan Zimlich – Marketing and Supply Chain Management
For more information on Arkansas track and field including in-meet updates, follow @RazorbackTF on Twitter.