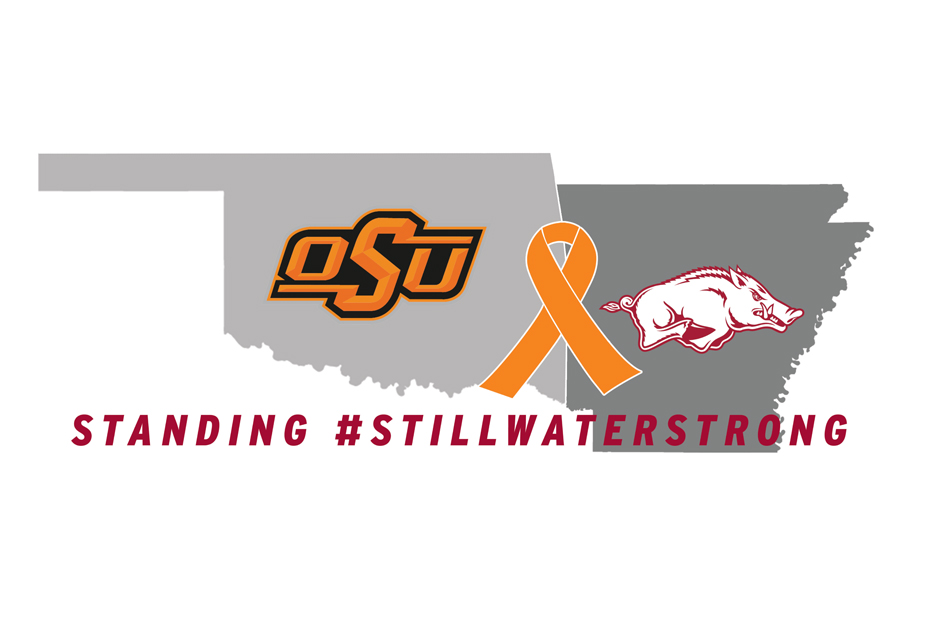 Help Razorbacks Show Sign of Support for OSU
Glow of Intercollegiate Athletics
FAYETTEVILLE, Ark. – University of Arkansas students, faculty, staff, alumni and Razorback fans can help sign their support for the Oklahoma State family in the wake of last weekend's tragedy. During OSU's homecoming parade in Stillwater, Okla., a car broke through barricades into the parade route killing four and injuring nearly 50 others.
On Friday and Saturday, members of the University of Arkansas community and Razorback fans will have an opportunity to add their signatures to a customized 11×28-foot banner of support that will be sent to Oklahoma State. The banner depicting the neighboring states of Arkansas and Oklahoma also features the logo of each school's mascot, a Razorback and a Cowboy, as well as the words "Standing #StillwaterStrong."
"As we celebrate Homecoming weekend on our campus, it is appropriate we take an opportunity to remember those who were impacted by the recent tragic events in Stillwater," Vice Chancellor and Director of Athletics Jeff Long said. "Much like the University of Arkansas, Oklahoma State is a close tight-knit campus community. They very much remain in our thoughts and prayers and we invite all Razorbacks to join us in this sign of support for OSU and the Cowboys' family."
The banner of support will be available for signatures beginning at 11 a.m. on Friday in the International Connections Lounge of the Arkansas Union with the final public opportunity occurring during Arkansas' homecoming football game against UT-Martin at Donald W. Reynolds Razorback Stadium on Saturday. Following the weekend, the banner will be forwarded to Oklahoma State.
Banner Public Signing Opportunities
Friday
11 a.m. – 2 p.m. – International Connections Lounge (Arkansas Union)
Saturday
1 – 5 p.m. – Main East Lower Concourse (Gate 16 – behind section 117) (Donald W. Reynolds Razorback Stadium)