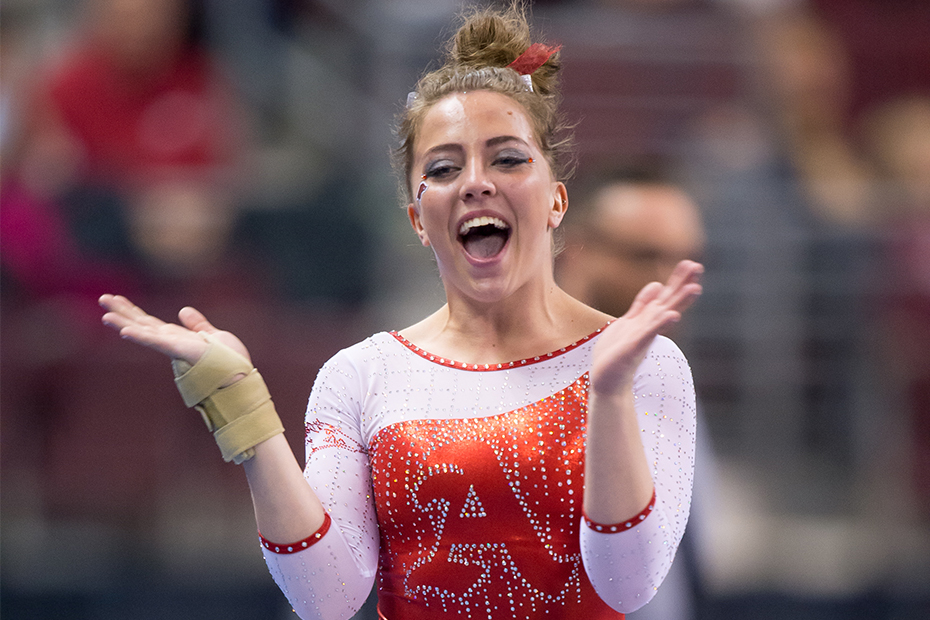 Help "Send Off" Gymnastics to NCAA Regionals
FAYETTEVILLE, Ark. — With the Arkansas gymnastics team traveling to Iowa for the 2016 NCAA Regionals, Razorback Athletics will host an official send off for the team Thursday, March 31 at 4 p.m. at the Bev Lewis Center for Women's Athletics.
The event begins at 4 p.m., with the #Gymbacks expecting to depart at approximately 4:15 p.m.
Members of the Arkansas spirit squad will be in attendance to help fans and supporters cheer on the Razorbacks as they prepare to compete Saturday, April 2 in Carver-Hawkeye Arena at 4 p.m.
No. 13 Arkansas was the third team announced during the NCAA Selection Show, being paired with No. 1 Oklahoma and No. 12 Nebraska in the Iowa City Regional, which is hosted by No. 19 Iowa. Rounding out the six-team field are MAC schools Kent State and Central Michigan.
This is the 13th-consecutive trip to NCAA Regionals for head coach Mark Cook and the program, as the team will try to qualify for NCAA Session II for the first time since 2013. From 2008-2013, the Razorbacks made six-straight trips to nationals, with a program-best finish of fifth overall in 2009.
Fans planning to attend the event can park in the Meadow Street Parking Garage between Razorback Road and Stadium Drive; normal parking rates will apply. University faculty and staff parking will be available in Lot 59 and Lot 67, as well as the Meadow Street Parking Garage.
For more #Gymbacks content during the season, please follow @RazorbackGym on Instagram, Twitter and Snapchat.