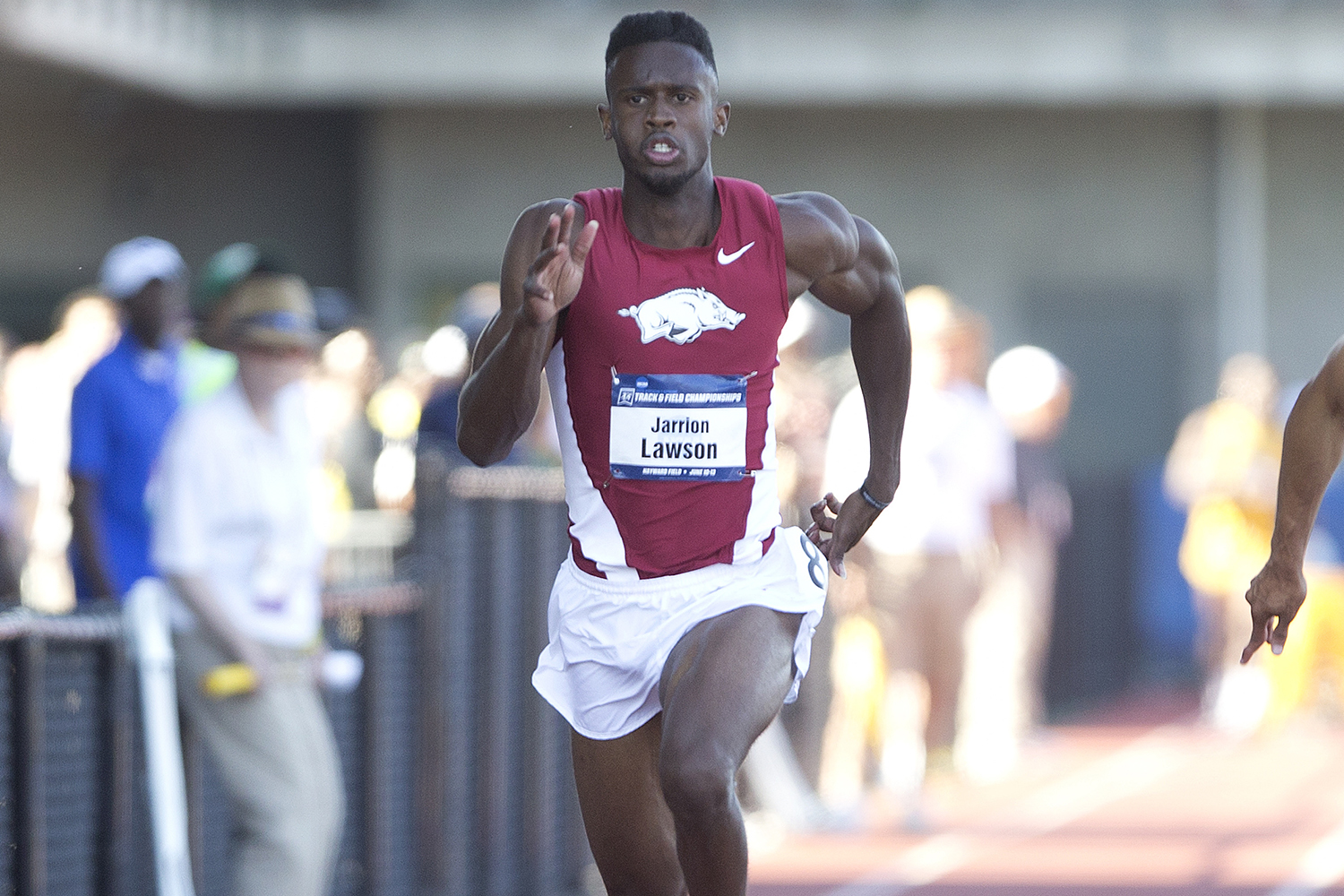 Historic Marks Lead No. 5 Razorbacks on Day One
EUGENE, Ore. – On day one of the 2015 NCAA Championships, junior Jarrion Lawson scored eight points for the No. 5 University of Arkansas men's track and field team with a second-place finish in the long jump. He and sophomore Omar McLeod also led the Razorbacks' qualifying efforts on the track with a pair of historic efforts at 100 meters and in the 110-meter hurdles, respectively. Overall, the Arkansas men picked up five qualifiers for Friday's finals.
Moving on to the Finals (All Friday, times central) >>
Ken LeGassey – High jump | 6 p.m.
Clive Pullen – Triple jump | 6:30 p.m.
McLeod/Lawson/Cotton/Washington – 4x100m | 6:35 p.m.
Stanley Kebenei – 3,000m steeplechase | 6:57 p.m.
Omar McLeod – 110m hurdles – 7:15 p.m.
Jarrion Lawson – 100m | 7:25 p.m.
Kemoy Campbell – 5,000m | 8:30 p.m.
Cotton/Lawson/McLeod/Washington – 4x400m | 8:50 p.m.
Pulling double duty between the long jump and 100 meters, Lawson posted the No. 6 mark in program history with a final attempt of 8.34m/27-4.5 to secure Arkansas' first points of the meet. The result came just 90 minutes after his continued breakthrough at 100 meters. In just the sixth 100-meter race of his collegiate career, Lawson broke the school record with a 10.04 performance in his semifinal heat. In a program that produced Olympic sprinters Tyson Gay, Wallace Spearmon, Jr., and Marek Niit, Lawson now sits atop the record book.
McLeod made history of his own Wednesday with the third-fastest all-conditions performance in NCAA history. Running in heat one of the 110-meter hurdles semifinal, the sophomore standout cleared the barriers and crossed the finish line in a wind-aided 13.08 which also goes down as the fastest all-conditions performance by a collegian since 1979. McLeod was the fastest qualifier by .41 seconds for Friday's final.
In the first event on the track, the Razorbacks picked up its first qualifier in the 4×100-meter relay with the second-fastest time of the semifinal heats. The quartet of McLeod, Lawson, Kenzo Cotton and Marqueze Washington turned in a time of 38.78 to finish second in the opening heat. The same foursome returned in the 4×400-meter relay to qualify for the event final, posting a time of 3:05.37 which stood as the sixth-fastest effort in the semifinal round.
Stanley Kebenei won his semifinal heat in the 3,000-meter steeplechase to advance to the event final for the third-straight year. He eased into the championship race with a qualifying effort of 8:42.07. In his previous two trips to the steeplechase finale, Kebenei placed third in 2013 and was the national runner-up in 2014. He enters Friday's race as the NCAA leader with his time of 8:23.93 from the Payton Jordan Invitational.
With the new competition format and aside from the decathlon, the men's events will continue Friday. Making his second-career NCAA appearance, Franks enters day two of the decathlon with 3,654 points. Along with their five qualifiers from day one, the Razorbacks will have scoring opportunities on the track at 5,000 meters and in the field events in the high jump and triple jump.
2015 NCAA Outdoor Championships | Day 1
Hayward Field | Eugene, Ore.
100 Meters (semifinal)
4. Jarrion Lawson – 10.04Q (+1.7) [SR – previous: 10.08 – J-Mee Samuels, 2008]
110m Hurdles (semifinal)
1. Omar McLeod – 13.08w (+2.6)
3,000m Steeplechase (semifinal)
7. Stanley Kebenei – 8:42.07Q
4x100m Relay (semifinal)
2. McLeod/Lawson/Cotton/Washington – 38.78Q
4x400m Relay (semifinal)
6. Cotton/Lawson/McLeod/Washington – 3:05.37Q
Long Jump (final)
2. Jarrion Lawson – 8.34m/27-4.5 (No. 6 in school history) [8 points]
Decathlon (Day 1)
19. Nathanael Franks – 3,654 points
22. 100 Meters – 11.33w (+3.2) [789 points]
19. Long Jump – 6.84/22-5.25 (+1.0) [776]
12. Shot Put – 12.71m/41-8.5 [650]
20. High Jump – 1.81m/5-11.25 [636]
15. 400 Meters – 50.25 [803]
Q – qualified for event final
The NCAA Outdoor Championships will be more visible than ever before with 12 hours of television coverage on the ESPN family of networks with additional online streams dedicated to the multi and field events.
NCAA Championships Broadcast Schedule (All times central)
Thursday, June 11
Multis/Field Events – 12 p.m. | ESPN3
Friday, June 12
Field Events – 6 p.m. | ESPN3
Men's Championships – 6:30 p.m. | ESPNU
For more information on Arkansas track and field including in-meet updates, follow @RazorbackTF on Twitter.