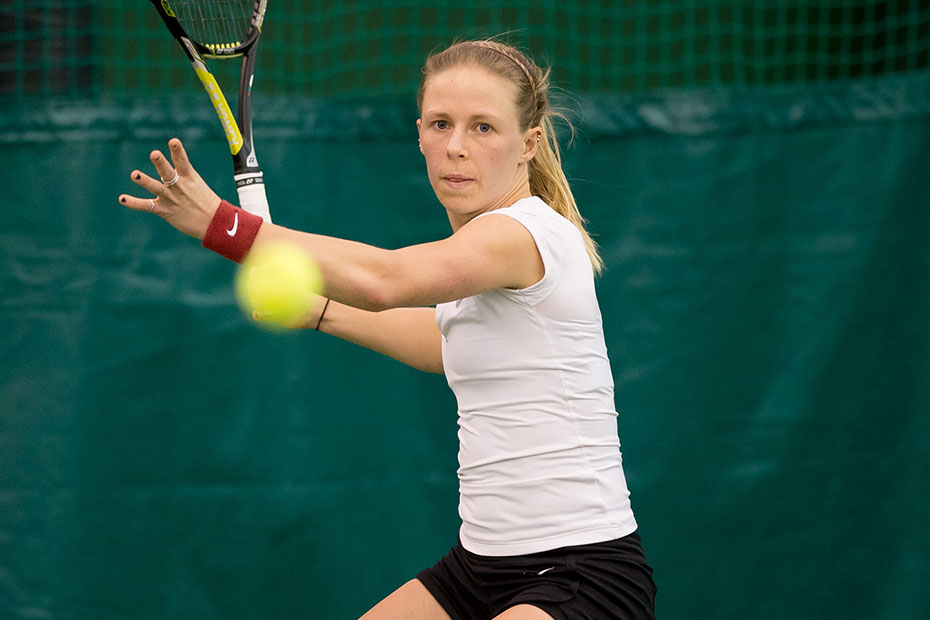 Hogs Hit The Road Again
Live Scoring at No. 4 Georgia | Live Scoring at Tennessee
FAYETTEVILLE, Ark. – The No. 24 Arkansas women's tennis team closes out its regular season road slate this weekend with visits to No. 4 Georgia and Tennessee.
The Razorbacks (15-7, 4-3 SEC) will face the Bulldogs (13-2, 6-1 SEC) Thursday at 4 p.m. CDT at the Dan Magill Tennis Complex, followed by the Volunteers (8-10, 1-6 SEC) Saturday at 11 a.m. CDT at the Dr. Robert L. Barksdale Tennis Stadium.
"Georgia and Tennessee each have Final Four experience so we have great respect for both programs," head coach Michael Hegarty said. "We have been playing better it seems as each week passes. So we are excited to compete against two strong opponents."
Razorback Rundown
• Arkansas broke into the top 25 of the latest Oracle/ITA Division I Women's Collegiate Tennis Rankings, the Intercollegiate Tennis Association (ITA) announced Tuesday. The Razorbacks jumped two spots to No. 24 after splitting a pair of top-20 Southeastern Conference road contests.
• The Razorbacks dropped a 5-2 decision to No. 15 LSU Friday but responded with a 4-3 win at No. 17 Texas A&M Sunday thanks to a late third-set victory from No. 88 Yuliya Lysa.
• With the team score tied 3-3, Lysa got the point she needed to earn a thrilling 6-3, 5-7, 6-4 victory over Texas A&M's No. 32 Saska Gavrilovska. The team victory marked the Razorbacks' first win against Texas A&M since the Aggies joined the SEC in 2013. Lysa has beaten three top-35 opponents in the past two weeks, including Auburn's No. 21 Andie Dikosavljevic and LSU's No. 19 Joana Vale Costa.
#RazorFacts
• The Razorbacks are just one win away from matching their 2015 season total. Arkansas has won nine of its last ten matches and has defeated six teams in the current national rankings this season.
• Arkansas' No. 24 ranking is its highest computer-generated ranking since finishing the 2011 season at No. 22. The Razorbacks have finished in the top 25 eight times from 1997-2011.
• The SEC leads the nation with nine teams in this week's top 25. Joining the Razorbacks are No. 4 Georgia, No. 5 Vanderbilt, No. 6 Florida, No. 8 South Carolina, No. 14 Auburn, No. 15 LSU, No. 23 Kentucky and No. 25 Texas A&M.
• Lysa is currently riding a five-match win streak and has won eight of her last 10 matches. She is 9-3 in dual matches, 5-2 in SEC action and 5-1 at the No. 1 singles spot. The Razorbacks also are 5-1 in those matches.
• No. 83 Ana Oparenovic owns a team-best 14-6 dual-match record. The freshman also is 4-3 in SEC play and has won seven of her last 10 matches.
The Opponent: No. 4 Georgia
• The Bulldogs are coming off a 1-1 weekend after defeating No. 23 Kentucky before falling at No. 5 Vanderbilt.
• Georgia is paced by No. 7 Ellen Perez who is 10-1 in dual matches and 7-0 in SEC play.
• In doubles, Perez and Mariana Gould are the Bulldogs' top duo. The 25th-ranked pair is 6-4 in dual matches and 3-3 in league action.
• The Bulldogs hold a 27-3 advantage in the all-time series, dating back to 1983. The Razorbacks dropped a 7-0 decision to the Bulldogs last year in Fayetteville.
The Opponent: Tennessee
• Tennessee is coming off a two-match losing skid after dropping matches at No. 5 Vanderbilt and No. 23 Kentucky last weekend.
• Leading the way in singles for the Volunteers is No. 42 Sadie Hammond who owns an 8-7 record in dual matches with a 2-4 SEC ledger.
• Hammond also is a member of Tennessee's top doubles duo. She and Eve Repic are ranked 75th nationally, holding a 6-4 dual-match record with a 1-1 mark in league play.
• The Volunteers hold a 22-5 advantage in the all-time series, dating back to 1983. The Razorbacks fell to the Volunteers 4-2 last year in Fayetteville.
Up Next
• Arkansas returns home for two matches next weekend, hosting No. 23 Kentucky and No. 5 Vanderbilt. The Razorbacks take on the Wildcats at noon on April 8 and then face the Commodores at noon on April 10.
• For more information on Arkansas women's tennis, follow @RazorbackWTEN on Twitter.