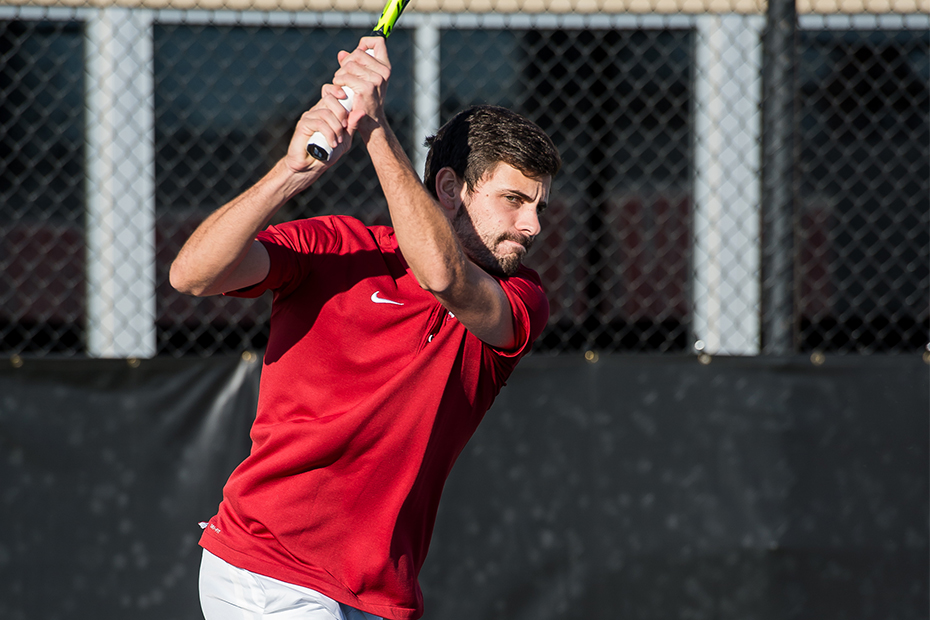 Hogs Host No. 15 Cowboys In Home Opener
FAYETTEVILLE, Ark. – After splitting its first two road matches of the year last weekend, the Arkansas men's tennis team will hold its home opener Sunday, hosting the No. 15 Oklahoma State Cowboys.
The 15th-ranked Cowboys mark the second straight top-20 ranked team Arkansas has faced this season, as the Razorbacks fell at No. 18 Oklahoma last Sunday. Of teams currently in the Oracle/ITA Division I Men's Rankings, Arkansas is scheduled to face eight this season, including four in the top-10 and the possibility of seeing No. 4 Georgia twice.
Under head coach Andy Jackson, the Razorbacks are 45-26 at home in the last four years.
During the season opening weekend, Arkansas split a pair of road matches at Tulsa and at No. 18 Oklahoma.
The Razorbacks won the doubles point against the Hurricane, before going 4-2 in singles to defeat Tulsa 5-2 to open the season. At Oklahoma, the Sooners jumped out to a 3-0 lead before Arkansas won at the No. 4 and No. 1 spot to bring it to 3-2.  In a second set tiebreaker at court three, Oscar Mesquida forced a third and decisive set, before falling to give Oklahoma the clinch. The Sooners went on to win 5-2.
Freshman Josh Howard-Tripp and senior Jose Salazar were the only two Razorbacks to go undefeated on opening weekend, each going 2-0. Howard-Tripp has a team-best nine wins dating back to the fall, as Salazar ranks second with eight wins.
For more information on Razorback men's tennis, please follow @RazorbackMTEN on Twitter.