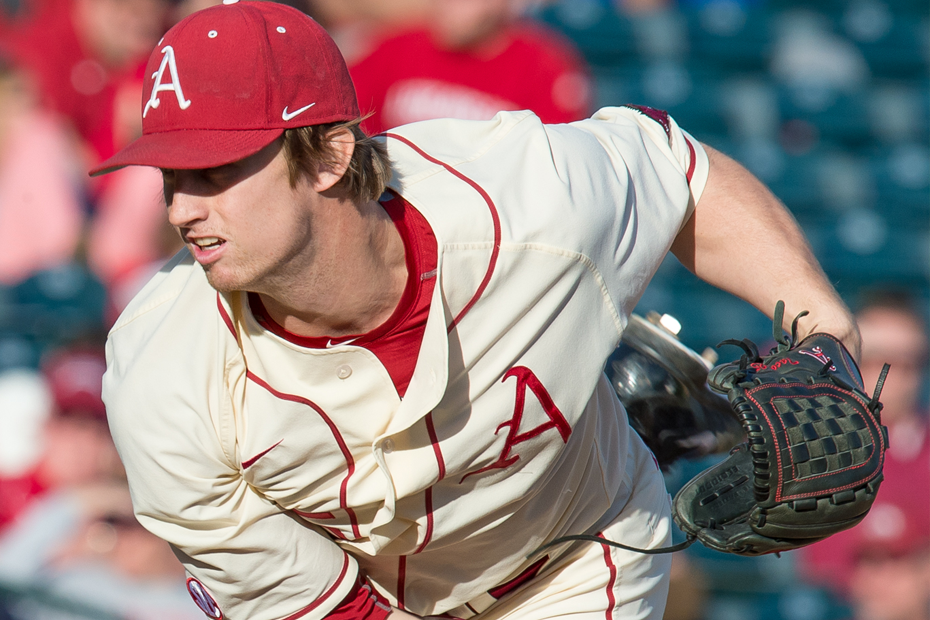 Hogs Open Up SEC Play at No. 5 Vanderbilt
FAYETTEVILLE, Ark. – The No. 16 Arkansas baseball team opens its 24th season of SEC play this weekend, traveling to No. 5 Vanderbilt to take on the defending National Champions at Hawkins Field.
Follow Live
All three games will be broadcasted live on SEC Network Plus and the WatchESPN App, while Phil Elson will have the call on the IMG Razorback Sports Network.
Probable Starters
Fri. | 6:30p | (ARK) RHP Keaton McKinney vs. (VAN) RHP Carson Fulmer
Sat. | 2:00p | (ARK) RHP Dominic Taccolini vs. (VAN) RHP Walker Buehler
Sun. | Noon | (ARK) RHP Trey Killian vs. (VAN) TBA
Friday Probable Starter – RHP Keaton McKinney
Freshman right-hander Keaton McKinney is set to make his fourth straight start and first appearance against an SEC team in the series opener against Vanderbilt. His longest start of the year came against No. 13 Maryland, tossing 5.0 innings and giving up three hits and one run, while striking out five. McKinney has recorded 12 strikeouts in 15.2 innings of work and opponents are hitting .208 against him.
Saturday Probable Starter – RHP Dominic Taccolini
Making his fifth consecutive start on the year, Dominic Taccolini will look to keep his hot stretch going when he gets the ball against Vanderbilt. The sophomore is coming off a 7.0-inning outing against Loyola Marymount where he recorded a career-high nine strikeouts to earn his third victory of the season. Taccolini has all three quality starts on the pitching staff this year and leads the team with 27 strikeouts on the season. The Sugar Land, Texas native will make his first career appearance against Vanderbilt this weekend.
Sunday Probable Starter – RHP Trey Killian
Fresh off his season debut last weekend on a limited pitch count, Trey Killian is set to make his second start of the year this weekend against the Commodores. In his start against Vanderbilt last season, Killian went 6.2 innings and allowed six hits and no earned runs, while striking out three to earn the victory in his head-to-head meeting with Tyler Beede, who was drafted 14th overall by the Giants last June. In his last six starts against SEC teams, Killian has tossed 42.2 innings (7.1 avg) and surrendered just six earned runs for a 1.28 ERA. He has 36 strikeouts over that span and posted quality starts in all six outings.
Leading Off
• Arkansas begins its 24th season of SEC play this weekend at Vanderbilt, looking to capture its third league title and fifth SEC west crown during the 2015 season.
• Arkansas ranks third in the SEC with a .315 batting average and eight triples, while its 14 home runs is fourth-best in the league.
• The Razorbacks have reached double-digit hits in eight of 14 games this season and have posted 10 or more runs four different times.
• The Razorback pitching staff has recorded double-digit strikeouts in seven of the team's 14 games this season, including a season-high 13 punch outs four different times.
• Arkansas hitters have struck out 74 times this season, just one more than LSU who leads the SEC with the fewest strikeouts and the highest batting average.
• Rick Nomura leads the team with six multi-hit games on the year, while Andrew Benintendi's five multi-RBI games lead the squad, including a team-best five-RBI performance against Loyola Marymount.
• After hitting .217 last season with just one extra base hit, Bobby Wernes leads the Razorbacks in 2015 with a .386 batting average, including six extra base hits. He also ranks No. 2 in the country with four triples.
Series History
Arkansas is 29-23 all-time against Vanderbilt, including taking two of three from the defending National Champions last season at Baum Stadium. In the 45-year history of the series, Arkansas has never lost a three-game series in Nashville, going 13-8 all-time. The last Music City meeting came in 2010 when the Razorbacks won two of three with all three games decided by two runs or less. Pitching has dominated the last meetings, with the two teams combining to average 4.12 runs per game.
Hogs in SEC Openers
Arkansas is 7-5 in SEC openers under head coach Dave Van Horn, including a 19-17 mark in its first SEC series of the year. The Razorbacks have never opened up their conference schedule against Vanderbilt and have never been swept in a three-game series to open SEC play under Van Horn.
Roll It Up
Arkansas has turned 18 doubles plays on the year to lead the SEC with 1.28 double plays turned per game. Of the 18 double plays, Rick Nomura has helped turn 14 of those at second base.
Powerful Numbers
Arkansas has 14 home runs in as many games and is second in the SEC with 1.0 home runs per game, ranking only behind unbeaten Texas A&M in the SEC at 1.11. The Razorbacks' 14 home runs through 14 games is the most since hitting 20 home runs through the first 14 games of the 2010 season, before finishing with a program record 92 homers in 64 games.
DVH Milestone Watch
Head coach Dave Van Horn is closing in on 500 wins at Arkansas, currently sitting at 493-275 (.642) in his 13th season at the helm of the Razorbacks. Van Horn is 16-16 all-time against Vanderbilt, including a 6-5 record in Nashville.
Take Three
After recording just nine triples all of last season, Arkansas has legged out eight triples through 14 games, with four of them coming from Bobby Wernes. The Razorbacks currently rank in the top 15 in the country with 0.57 triples per game.
Coming Up
Arkansas returns home next week for five games in as many days, welcoming Southeast Missouri State to town Tuesday-Wednesday, before No. 1 LSU comes calling Thursday-Saturday at Baum Stadium.
For more information on Arkansas baseball, follow @RazorbackBSB on Twitter.