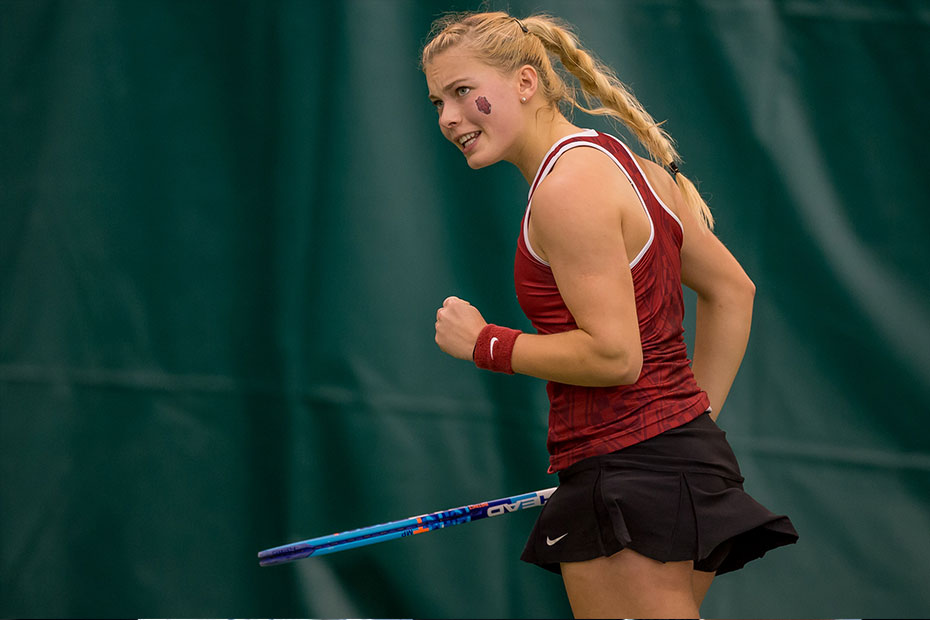 Hogs Return Home To Host Kentucky and Vanderbilt
Live Scoring vs. No. 21 Kentucky | Live Scoring vs. No. 5 Vanderbilt
FAYETTEVILLE, Ark. – After closing out its regular season road slate, the No. 27 Arkansas women's tennis team returns home to the George M. Billingsley Tennis Center for a pair of Southeastern Conference matches this weekend.
The Razorbacks (16-8, 5-4) will host No. 21 Kentucky (14-7, 3-6) Friday before welcoming defending national champion No. 5 Vanderbilt (14-4, 7-2) Sunday. Both matches are scheduled to begin at noon.
"We are looking forward to a great home weekend with Kentucky and Vanderbilt," head coach Michael Hegarty said. "Both teams are playing great right now. I know our recent road swing has prepared us well for the challenges these teams present."
Promotions
• Admission to each match is free. In addition, pizza, popcorn, Keurig hot chocolate and coffee, and Pepsi products will be provided to all fans in attendance. All fans who attend both matches will be entered to win a Fitbit.
• Friday – The first 50 fans in attendance will receive a Razorback Tennis visor. One lucky fan in attendance will win a pair of tickets to Saturday's softball game versus South Carolina. The University of Arkansas Associated Student Government is providing free Chick-Fil-A to the first 50 students in attendance. As part of UA Faculty Appreciation Week, Razorback Tennis will provide free Chick-Fil-A to the first 50 faculty members in attendance.
• Sunday – The first 100 fans in attendance will receive a Razorback Tennis koozie.
Razorback Rundown
• Arkansas split a pair of conference road contests this past weekend. The Razorbacks fell 4-0 to No. 4 Georgia in Athens, Georgia, Friday before defeating No. 63 Tennessee 4-3 in Knoxville, Tennessee, Sunday. In the win over the Volunteers, the Razorbacks won the doubles point and the first three singles matches to clinch the overall match at 4-0. The winning point came from senior Yuliya Lysa at the No. 1 singles position.
• The Razorbacks checked in at No. 27 on Tuesday's Oracle/ITA Division I Women's Collegiate Tennis Rankings.
• Lysa jumped 54 spots to No. 34 in the singles rankings. She owns a 10-4 record in dual matches and 6-3 mark in SEC play. Four of her conference triumphs have come at the top spot.
• Freshman Ana Oparenovic earned the No. 86 spot in the singles rankings. Oparenovic is 14-8 in dual matches and 4-5 in league action.
• The tandem of Lysa and junior Shannon Hudson, which holds a 3-5 ledger in both dual matches and SEC play, broke into the top 90 of the doubles rankings at No. 77.
#RazorFacts
• With the victory at Tennessee, the Razorbacks matched their 2015 season win total.
• Arkansas has won 10 of its last 12 matches and has defeated seven teams in the current national rankings, including No. 22 Wichita State, No. 13 Auburn and No. 18 Texas A&M.
• The last five weeks have been full of road trips as the Razorbacks logged eight states and 12 matches, posting an 8-4 record during that span.
The Opponent: No. 21 Kentucky
• Kentucky is coming off a weekend split on the road against the SEC's Mississippi schools. The Wildcats earned a 4-3 win over No. 36 Ole Miss before falling 4-2 to No. 28 Mississippi State.
• The Wildcats' three primary doubles pairings are nationally ranked.
• Headlining the Kentucky lineup is the pair of Mami Adachi and Aldila Sutjiadi (11-2, 6-0) who are ranked as the No. 2 doubles team in the nation. Morgan Chumney and Akvilė Paražinskaitė (9-2, 3-1) check in at No. 51, while Nadia Ravita and Justina Mikulskytė (11-1, 4-1) sit at No. 82.
• The Wildcats are led in singles by No. 53 Sutjiadi (8-3, 1-2 SEC) and No. 56 Mikulskytė (10-3, 1-2 SEC).
• Kentucky holds an 18-9 advantage in the all-time series, dating back to 1983. The Wildcats won the last meeting 4-0 March 20, 2015 in Lexington, Kentucky.
The Opponent: No. 5 Vanderbilt
• Also fresh off a Mississippi road trip, Vanderbilt enters Fayetteville after beating No. 28 Mississippi State 5-1 and No. 36 Ole Miss 4-1 last weekend.
• The Commodores' singles lineup features three players ranked in the top 25 with Frances Altick (13-0, 8-0) at No. 13, Sydney Campbell (11-3, 6-3) at No. 19 and Astra Sharma (11-3, 5-3) at No. 21.
• In doubles, Vanderbilt is paced by the 10th-ranked tandem of Courtney Colton and Campbell (4-4), followed by the pairing of Colton and Sharma (3-3, 3-3).
• Vanderbilt holds a 23-5 advantage in the all-time series, dating back to 1983. The Commodores won the last meeting 6-1 on March 22, 2015 in Nashville, Tennessee.
Up Next
• Following the weekend, Arkansas will remain home to host No. 42 Ole Miss April 14 and No. 25 Mississippi State April 16.
For more information on Arkansas Women's Tennis, follow @RazorbackWTEN on Twitter.