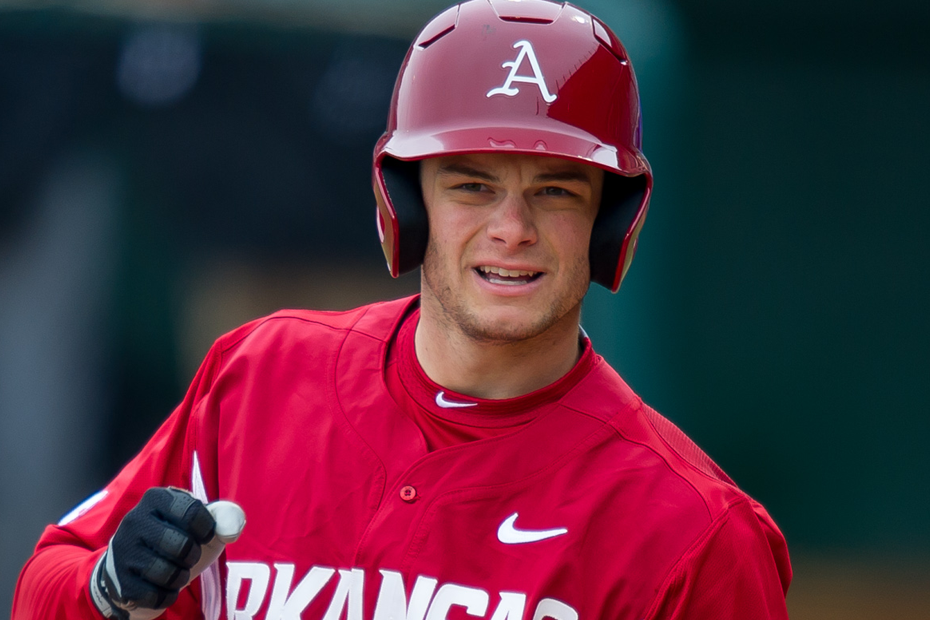 Hogs Sweep Away North Dakota With 12-1 Win
FAYETTEVILLE, Ark. – The No. 16 University of Arkansas baseball team continued its offensive onslaught Saturday evening and knocked off North Dakota 12-1 to complete a three-game sweep on opening weekend at Baum Stadium.
Clark Eagan was the story again, collecting three more hits and driving in three runs, while Cullen Gassaway added three hits of his own, including a double and two runs scored. Chad Spanberger broke out in a huge way, recording his first collegiate hit in the first inning and adding two more in the game to go along with four RBI.
Arkansas took the lead in the first inning when Eagan led off with a single, advanced to second on a groundout and came home on a Tyler Spoon single to make it 1-0. After North Dakota knotted the score in the fourth inning, the bats answered the call and scored nine unanswered runs over the next three innings to secure the victory.
Zach Jackson tossed 4.0 inning and added a career-high eight strikeouts to double his previous high of four against Texas A&M (May 20) in 3.0 innings of work.
The bullpen was nearly unhittable as Jackson Lowery, Josh Alberius, Kyle Pate and Jacob Stone combined to throw 5.0 shutout innings and surrender just two hits, while striking out five.
Up Next
Arkansas returns to action next weekend, traveling to Mobile, Alabama for three games at the University of South Alabama. The Razorbacks will play No. 22 UCF Friday, South Alabama Saturday and No. 14 Maryland Sunday with all three games being televised on Cox Sports Television.
Arkansas Head Coach Dave Van Horn: "I thought we played well.  We played good defense.  We made a few mistakes running the bases, missed a sign here and there, but overall it was a really good weekend.  We got to play a lot of people.  The second game we started a couple guys for the first time and they ended up getting six hits between the two of them.  Guys on the bench are coming off doing a great job of swinging the bat.  There's a lot of competition to get in the lineup and I think it's going to keep our players working hard."
Van Horn on a perfect defensive series: "You don't expect to go three games without making an error, usually something will happen.  We played pretty good defense.  We didn't turn one double play because we dropped the ball on the flip with Bernal, but we ended up turning a couple more during the game.  We just did a good job of making the good plays.  Defensively, all over, we just played well and didn't give them anything."
Van Horn on this weekend's pitching: "I wanted to get everybody in if we could.  Number one, I wanted to win the games.  Obviously if we had a tight game we would've just thrown the best available guys to get us out of that situation.  When we jumped up the lead, since we don't have a midweek game we just wanted to get some guys an inning to gain some experience and get the jitters out."
Van Horn on scoring 36 runs in three games: "You never plan on scoring that many runs, you just want to win the game.  If you can get into double digits, that's great.  It just kind of played into our hand this weekend.  The wind was blowing out, good temperatures.  I think the hitters did a good job of battling.  We didn't strike out too much."