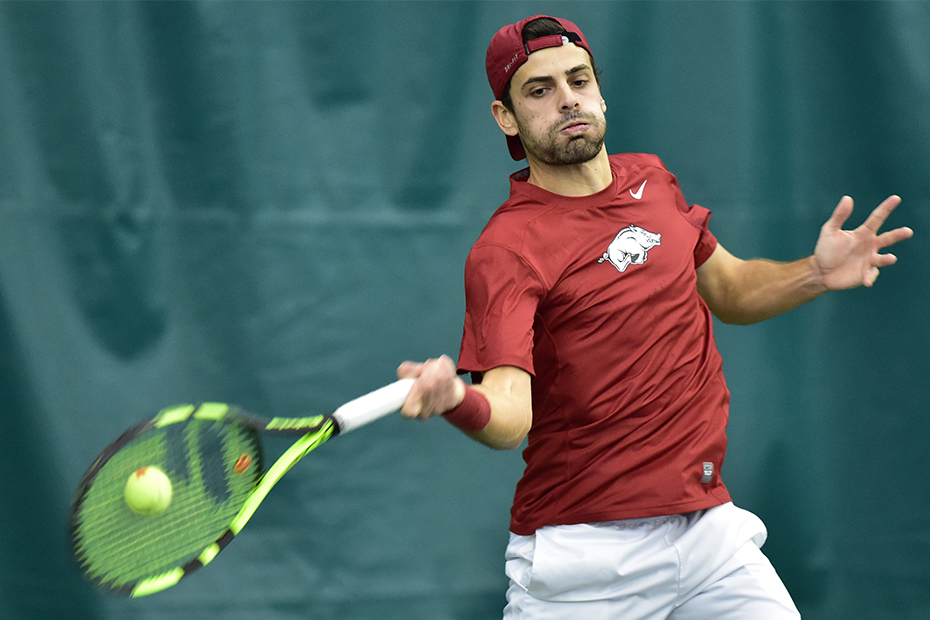 Hogs Travel South For Weekend Matches With Mustangs and Longhorns
FAYETTEVILLE, Ark. – Victors of three straight matches, including a doubleheader sweep in its last outing, the Arkansas men's tennis team hits the road for two matches this weekend in the Lone Star State.
Arkansas begin the weekend with a 1 p.m. serve at SMU on Friday, before traveling further south to Austin, Texas, for another 1 p.m. match with the 16th-ranked Texas Longhorns.
Last season, Arkansas hosted the Mustangs and Longhorns, falling to both at home. SMU held off the Razorbacks 4-3, while the fourth-ranked Longhorns defeated Arkansas 5-2.
On Wednesday, Jose Alonso was tabbed as the SEC Freshman of the Week, after earning a 6-1, 6-3 win at the No. 6 spot to give Arkansas the 3-1 lead over Wichita State. After the Shockers fought back to tie the match 3-3, his older brother, Pedro, would clinch the win for Arkansas with a 6-4 third set win at No. 4.
After opening his freshman campaign with a 1-4 record, J. Alonso has won each of his last two singles matches and picked up another win by forfeit against Saint Louis.
Senior Jose Salazar moved up 54 spots in the ITA/Oracle singles rankings to No. 59 in the country, after winning six of his first seven matches this spring, including each of the last four. Salazar is a perfect 2-0 this season at the top spot against ranked opponents.
For more information on Razorback men's tennis, please follow @RazorbackMTEN on Twitter.