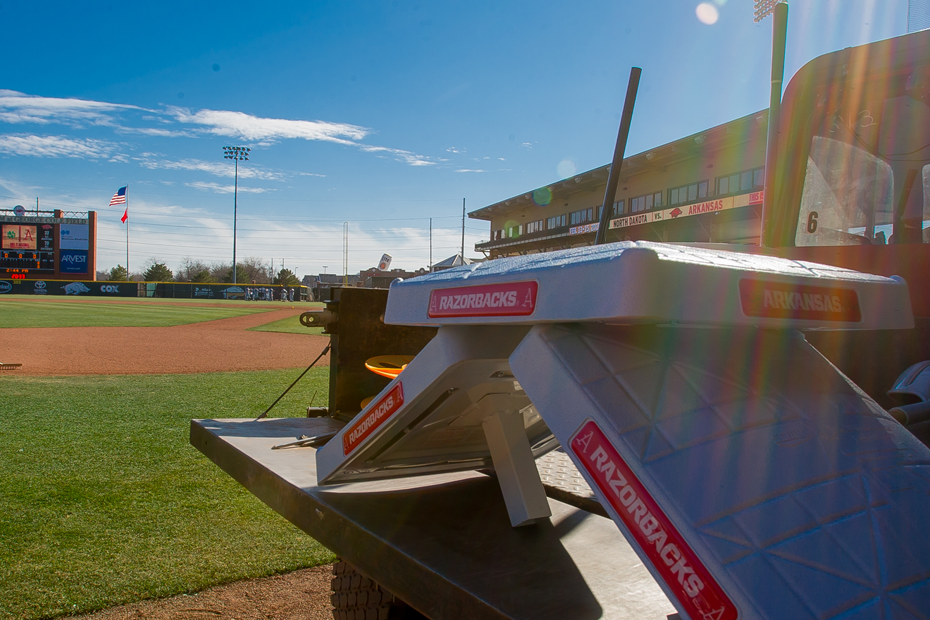 Hogs Welcome Eastern Illinois to Baum
FAYETTEVILLE, Ark. – No. 17 Arkansas welcomes Eastern Illinois to town for a Saturday-Monday series at Baum Stadium. The two teams will play Saturday at 2 p.m. on SEC Network, Sunday at 1 p.m. and Monday at 2 p.m.
With inclement weather and freezing temperatures wreaking havoc all over the country, Arkansas' four-game set against Cal was cancelled with Eastern Illinois replacing the Golden Bears.
Follow Live
Saturday's game will be televised nationally on SEC Network, while Sunday and Monday's games will be broadcasted on SEC Network Plus and the WatchESPN App. Alex Perlman (PXP) and Troy Eklund (Analyst) will be on the call for all three games.
Probable Starters
Sat. | 2:03p | (ARK) RHP Dominic Taccolini vs. (EIU) RHP Matt Wivinis
Sun. | 1:05p | (ARK) RHP Zach Jackson vs. (EIU) LHP Garrison Stenger
Mon. | 2:05p | (ARK) RHP Keaton McKinney vs. (EIU) LHP Andy Fisher
Saturday's Probable Starter – RHP Dominic Taccolini
Dominic Taccolini will make his third start of the year Saturday as Arkansas opens a three-game series with Eastern Illinois. The sophomore is coming off loss against nationally ranked UCF, giving up four hits and three runs in 4.0 innings of work, while striking out six. Taccolini has won three of his five collegiate starts currently leads the team with 14 strikeouts on the year.
Sunday's Probable Starter – RHP Zach Jackson
Coming off a no-decision in 3.0 innings of work against South Alabama last weekend, Zach Jackson will look for his second win of the year on Sunday in game two of the series. The sophomore has 10 strikeouts in 7.0 innings of work on the year, but has walked seven. Jackson has given up eight hits, but has yet to surrender an extra base hit on the season.
Monday's Probable Starter – RHP Keaton McKinney
Coming off his first collegiate start against No. 13 Maryland last weekend, Keaton McKinney will get the call again against Eastern Illinois in the series finale. The freshman tossed 5.0 innings and gave up just one run on three hits, while striking out four in his debut start. McKinney has six strikeouts in 8.1 innings of work on the year and opponents are hitting .259 against him.
Leading Off
•  The Razorbacks lead the SEC in batting average at .371 and rank No. 2 in the country behind Illinois-Chicago. Arkansas also ranks No. 2 in the country in slugging percentage and double plays turned per game.
•  The Arkansas offense is the only team in the SEC to record double-digit hits in every game or five or more runs in every contest and the Razorbacks have done both in all six games to start the 2015 campaign.
•  The Razorbacks are ranked No. 17 in the country in the latest Perfect Game USA Top 25 Poll, while nine opponents this season are currently nationally ranked.
•  Arkansas has five players with nine or more hits through six games, led by 12 hits from Tyler Spoon and a team-best .741 on-base percentage.
•  Despite having six days off since last playing, Arkansas is starting a stretch Saturday of playing 22 games in 29 days.
•  The Razorbacks have reached base to lead off an inning 23 times in 51 attempts, giving the leadoff hitter a .450 on-base percentage.
•  Tyler Spoon and Rick Nomura are the only Arkansas players to hit safely in all six games this year, while Spoon's hitting streak has reached eight games dating back to last season.
What a Difference a Year Makes
During the first six games of 2014, the Arkansas offense was hitting .277 with 19 extra base hits and five home runs, while the 2015 Razorbacks are hitting an SEC-leading .371 with 26 extra base hits and eight home runs.
Double Delight
Arkansas turned a program record five double plays against South Alabama on Friday, Feb. 20 in a 7-0 victory over the Jaguars. The five twin killings was just two shy of the NCAA record, last set by Long Beach State against UC Riverside during the 2003 season.
It's Never Too Late
Arkansas has recorded 18 of its 47 RBI with two outs, including six against No. 13 Maryland in the series finale last weekend. Tyler Spoon and Brett McAfee were responsible for five of those with a pair two-out home runs, while Chad Spanberger delivered the other two-out RBI.
DVH Milestone Watch
Head coach Dave Van Horn is closing in on 500 wins at Arkansas, currently sitting at 488-272 (.643) in his 13th season at the helm of the Razorbacks. He is averaging over 40 wins per season and is the only SEC head coach to appear in five College World Series.
Series History
Arkansas' impromptu series with Eastern Illinois marks the second time in as many years the two programs will meet. The Razorbacks swept the Panthers last season, outscoring EIU 20-8 to take a 21-1 lead in the all-time series. All 22 games in the series have been played in Fayetteville with Arkansas winning 15 straight.
Coming Up
Arkansas continues its current nine-game homestand next week, hosting Louisiana Tech Wednesday, March 4, before Loyola Marymount comes to town for a three-game series March 6-8.
For more information on Arkansas baseball, follow @RazorbackBSB on Twitter.