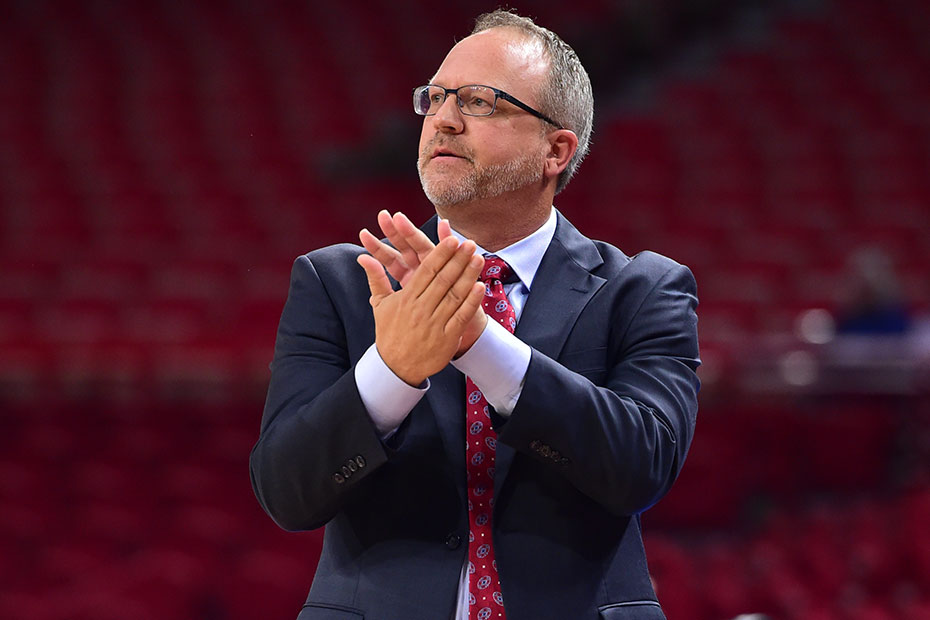 Hoops And Lunch Dates Announced
Get Tickets
FAYETTEVILLE, Ark. – University of Arkansas head coach Mike Neighbors returns to Mermaid's Seafood Restaurant in Fayetteville for his second season of Hoops and Lunch beginning in November.
Neighbors and the Razorbacks invite all fans to Mermaid's Seafood Restaurant (2217 N. College, Fayetteville) to talk about the season and upcoming games. Luncheon's begin on Monday, Nov. 5, at 11:30 a.m. Reservations for the luncheon must be made no later than the Friday before each event.
The Luncheon
To RSVP, please call 479-575-2751 or email mlgibson@uark.edu. The cost of the lunch is $14.75 per person. The luncheon dates this year are:
Monday, Nov. 5 | Monday, Dec. 3 | Monday, Jan. 7 | Monday, Feb. 4
Tickets
The Razorback Ticket Center is taking orders online and by phone for new season tickets and fans have several options from which to select.
• Reserved Seats — $75
• General Admission Seats — $45
• Reserved Seats with the purchase of Men's Basketball Season Tickets — $65
• General Admission Seats with the purchase of Men's Basketball Season Tickets — $40
Each season ticket includes an official Razorback women's basketball chrome license plate frame. Additional season ticket holder experiences will also be available during the season. Click here to view seating options or call the Razorback Ticket Center at (800) 982-HOGS.
The Storylines
• Arkansas returns 10 of 11 letterwinners from a year ago and they welcome two redshirt players and three newcomers to the roster for 2018-19. One transfer will redshirt this season due to NCAA transfer rules.
• The team's leading scorer, Malica Monk, and the leading rebounder, Kiara Williams, are both back as the Razorbacks return more that 80 percent of its offense from the 2017-18 season.
• Arkansas faces five teams who made the postseason in 2017-18, four teams from the NCAA Top-30 RPI and the NCAA runner-up – and that's just in the SEC. the 14-game non-conference schedule features teams from the Pac-12, Big 12, ACC and Big Ten and includes two teams, Arizona State and Nebraska, who both reached the second round of the NCAA Tournament in 2018.
More Information
For more information about Arkansas women's basketball, follow us on Twitter and Instagram at @RazorbackWBB and on Facebook at Facebook.com/RazorbackWBB. Be sure to subscribe to our YouTube Channel, "Kickin' It In The Neighborhood" for an inside look at the Razorback women's basketball program and check out The Neighborhood podcasts at CoachNeighbors.com.