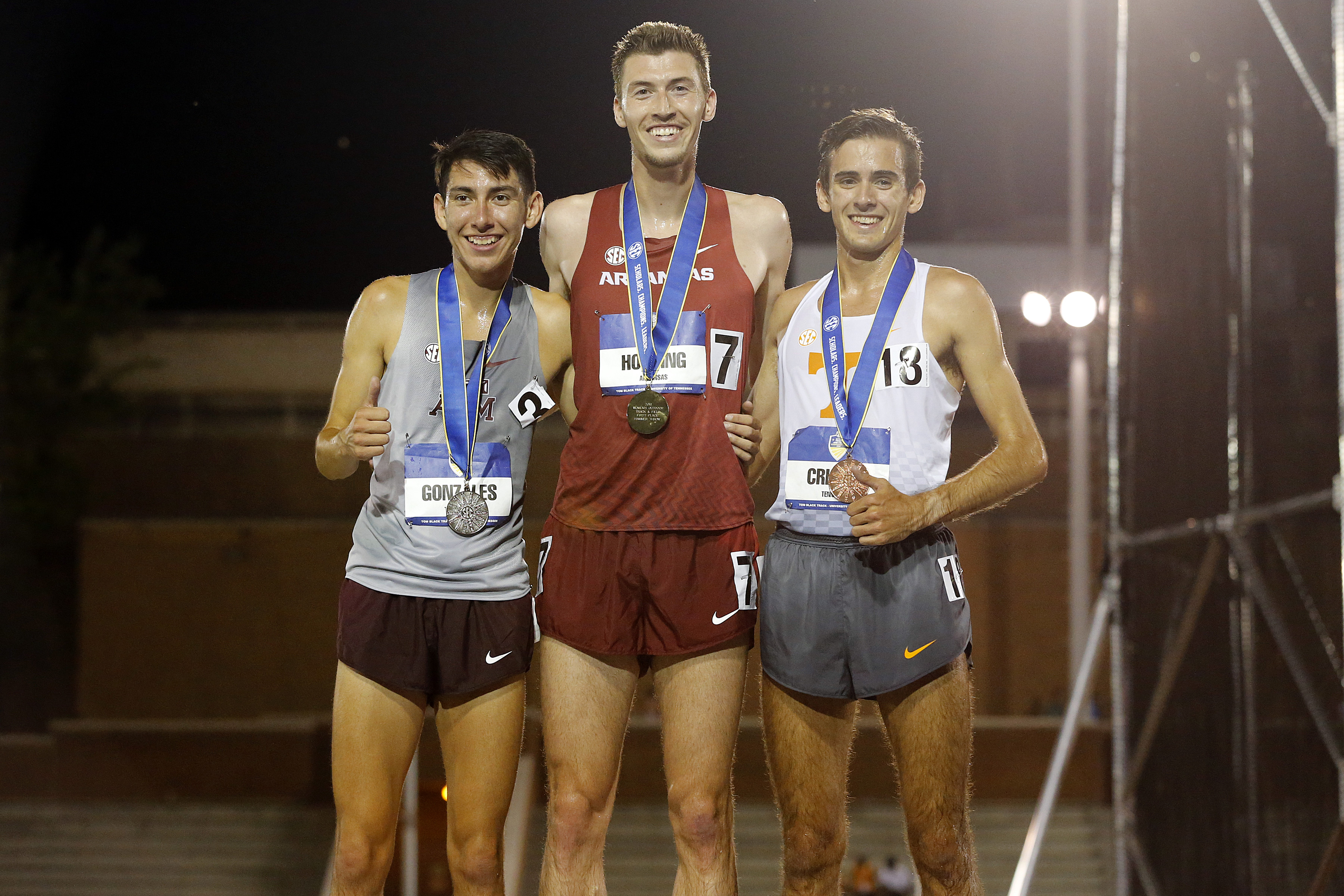 Hosting Strikes Gold!
KNOXVILLE, Tenn. – The Razorbacks made a move to the top of the leaderboard on day two of the SEC Outdoor Championships, scoring 26-points to bring the two day total to 39-points through seven of 21 scored events.
"I see a team that's competing really hard," said head coach Chris Bucknam.
"We're fighting for everything. The way we ended tonight with the steeplechase… that was only the second-time Kyle [Hosting] has run the race. He's an SEC champ, it was a great effort by Kyle Levermore picking up three points, that was a great way to end the night. We just have to come back and keep plugging at it tomorrow but we had some great performances today. Florida, Texas A&M, Alabama they're all tough so we have to be really dialed in and stay dialed in till the end," Bucknam continued.
Gabe Moore and Derek Jacobus picked up where they left off in the decathlon. Moore posted personal-bests in the 110-meter hurdles and discus propelling him towards a runner-up finish in the event with a lifetime-best total of 7,901-points that is currently No. 6 in the NCAA. Jacobus strung together a solid finish in the decathlon to finish in fourth-place with a total of 7,555-points.
Larry Donald added his name to the list of qualifiers as he punched his ticket to the 110-meter hurdle final posting a time of 13.93q, while in the open 100-meters it was Kenzo Cotton who punched a ticket of his own to the finals after running 10.17q.
Obi Igbokwe had just enough juice to advance to the final of the 400-meters posting a time of 46 seconds flat.
The highlight of the night was also the final event of the day, the men's 3,000-meter steeplechase. Kyle Hosting, running his second-ever steeple race, captured the SEC title running a near personal-best time of 8:55.56 scoring 10-points. Kyle Levermore was close behind in sixth-place with a time of 9:05.31 adding three points.
For more information on Arkansas track and field including in-meet updates, follow @RazorbackTF on Twitter.
SEC Outdoor Championships
Saturday Results
Men's Decathlon 110-meter hurdles
1. Gabe Moore – 14.69
6. Derek Jacobus – 15.76
Men's Decathlon Discus
1. Gabe Moore – 48.28m (158′-4″)
6. Derek Jacobus – 37.44m (122′-10″)
Men's Decathlon Pole Vault
2. Derek Jacobus – 4.60m (15′-1″)
3. Gabe Moore – 4.50m (14′-9″)
Men's Long Jump 
11. Harrison Schrage – 5.80m (19′-0.50″)
17. Laquan Narin – 7.48m (24′-6.50″)
22. Rubin Owens – 5.80m (19′-0.50″)
Men's Shot Put
14. Jeff Rogers – 16.37m (53′-8.50″)
Men's 110-meter hurdle prelims
8. Larry Donald – 13.93q
Men's 1,500-meter prelims
1. Cameron Griffith – 3:47.03Q
15. Ethan Moehn – 3:53.67
30. Jack Bruce – 4:02.97q
Men's 400-meter prelims
6. Obi Igbokwe – 46.00
16. Hunter Woodhall – 47.46
20. Jamarco Stephen – 47.74
Men's 100-meter prelims
5. Kenzo Cotton – 10.17q
20. Roy Ejiakuekwu – 10.56
21. Kristoffer Hari – 10.59
Men's 3,000-meter steeplechase
1. Kyle Hosting – 8:55.56
6. Kyle Levermore – 9:05.31