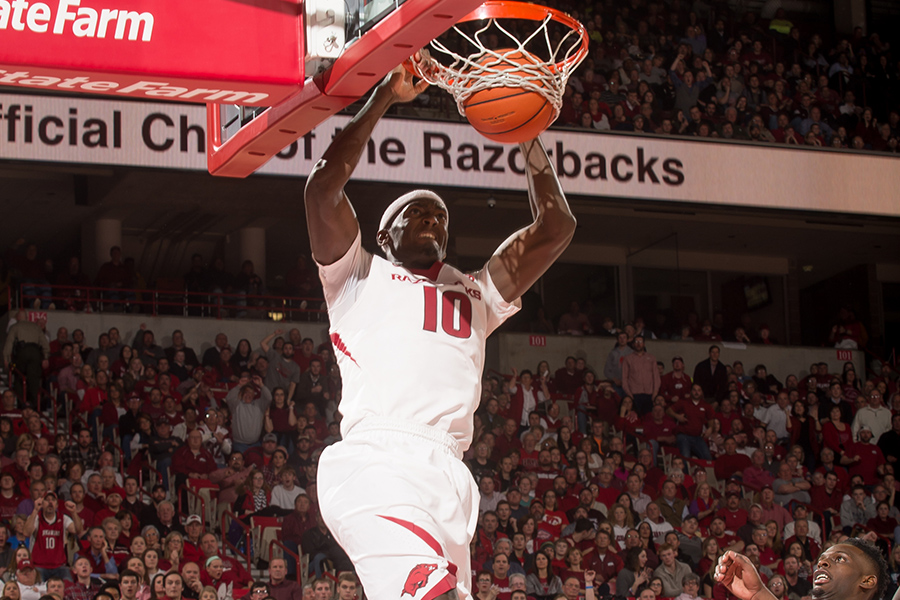 Hot Start Leads No. 18 Arkansas Past Texas A&M
FAYETTEVILLE, Ark. (AP) – On a night when Nolan Richardson was the center of attention, Arkansas put on an early vintage display of Hawg Ball for its former coach.
Led by Bobby Portis' 22 points, the No. 18 Razorbacks narrowly held off a furious second-half rally after that – settling for an 81-75 win over Texas A&M on Tuesday night.
With Richardson in attendance while being honored with a banner in the Bud Walton Arena rafters at halftime, Arkansas (23-5, 12-3 Southeastern Conference) played the same harassing, pressure style it once did under Hall of Fame member Richardson.
The Razorbacks led by as many as 25 points in the first half, forcing 16 first-half turnovers by the flustered Aggies (19-8, 10-5). It was a performance reminiscent of Richardson's heyday, one current Arkansas coach – and Richardson protege – Mike Anderson preaches and fully enjoyed on Tuesday.
"It looked like 40 minutes of hell, part two," Anderson said. "That's what it looked like, and I'm sure (Richardson) enjoyed it."
The Razorbacks have now won seven straight games and 10 of 11 overall while solidifying their hold on second place in the SEC heading into a showdown at No. 1 Kentucky on Saturday.
Arkansas has also won 12 games in SEC play for the first time since the 1994-95 season, when Richardson led the school to the second of back-to-back national championship game appearances.
Danuel House led Texas A&M with 28 points, while Kourtney Roberson had 14 – 12 in the second half – as the Aggies recovered from their first-half shock to close with 74-72 on a layup by House with 1:30 remaining.
Ky Madden and Michael Qualls, however, hit free throws in the closing minute to help Arkansas extend its lead and improve to 16-1 at home this season.
"The first 10 minutes of the game, I saw they brought coach Richardson back, and it looked like they brought Corliss Williamson and Lee Mayberry back," Texas A&M coach Billy Kennedy said. "I really thought the first five minutes there were dominant, and there wasn't a whole lot we could do."
The Razorbacks opened the game on a 10-0 run in the battle for second place in the SEC, eventually extending their lead to 33-9 over the flustered Aggies.
At one point, as Arkansas took a 46-21 lead on free throws by Qualls, Texas A&M had as many turnovers (15) as it did shot attempts. The Aggies, who matched their season worst with 21 turnovers in a loss to Dayton, had with 16 turnovers of those in the first half.
Anthlon Bell came off the bench to score all 14 of his points in the half, leading an Arkansas offense that hit 18 of 33 (54.5 percent) shots and 8 of 16 3-pointers. The junior was 4 of 5 from behind the arc in the half, while Portis was 6 of 7 from the field, and Madden and Alandise Harris each added 11 points for the Razorbacks.
"It was fun, because everyone was clicking on all cylinders," Portis said. "I feel like almost every shot that I took or (Bell) took was going to go in."
Led by a 44-23 rebounding advantage, the Aggies recovered in the second half and closed the Razorbacks lead to 74-72 on House's layup.
They couldn't, however, overcome the first-half fury of Arkansas – which appears to have secured its first NCAA tournament appearance since 2008.
Coach Anderson Postgame Sound
"What a game. Tonight was an NCAA Tournament atmosphere. Our students were early and loud, our fans gave us energy and we came out like it was a big time game. Give a ton of credit to Texas A&M. That's a very good basketball team and they showed that in the second half by not going away."
Worthy Of A Hog Call (#WPS)
In the final game of its three-game banner series, Arkansas honored Naismith Hall Of Fame coach Nolan Richardson at halftime by hanging a banner in the rafters of Bud Walton Arena. In the program's very first season in Bud Walton Arena, Richardson led the Razorbacks to the National Championship in 1994 and returned to the title game a year later in 1995. Over his 17 seasons as head coach, Richardson led Arkansas to 12 NCAA Tournaments, including a trio of Final Fours.
@RazorbackMBB Quick Hits
• Arkansas is in sole possession of second place in the SEC at 12-3.
• The seven-game SEC win streak is the program's longest since 1993-94.
• Arkansas has won 10 of its last 11 games.
• Arkansas' 12 SEC wins are its most since 1994-95.
• Won 11 straight games in the month of February.
• Won 47 of its last 50 games at Bud Walton Arena and is 67-7 under Coach Anderson.
• Extended with streak to 28 games when leading at the half.
• Improved to 19-0 when forcing 15+ turnovers, including eight of 20 or more.
• Just six opponents have had a positive assist/turnover ratio against Arkansas.
• Entering the game sixth nationally in assists, Arkansas dished out 20+ helpers for the 10th time.
• Arkansas owns an 18-4 record over its last 22 SEC games.
• First time in program history Arkansas has had 12 steals and 12 blocks in an SEC game (via @HogStats).
• Arkansas blocked double figure shots for the second straight game with a season-high 12 blocks.
• Sixth time (6-0) this season Arkansas has made double figures three-pointers.
• Bobby Portis has reached double figures 23 straight games.
• Portis has scored 20 points a team-best 10 times compared to once all of last year.
• Six of Portis' 10 20-point games have come in SEC action.
• Arkansas improved to 19-3 when Anthlon Bell reaches double figures.
Up Next
Riding its first seven-game SEC win streak since 1994, Arkansas (23-5) will take on No. 1 Kentucky on Saturday afternoon at Rupp Arena in Lexington, Ky. The Razorbacks swept the season series from the Wildcats last season and own a three-game win streak in the series. Tip is slated for 3 p.m. CT on CBS Sports with Kevin Harlan and Bill Raftery on the call.