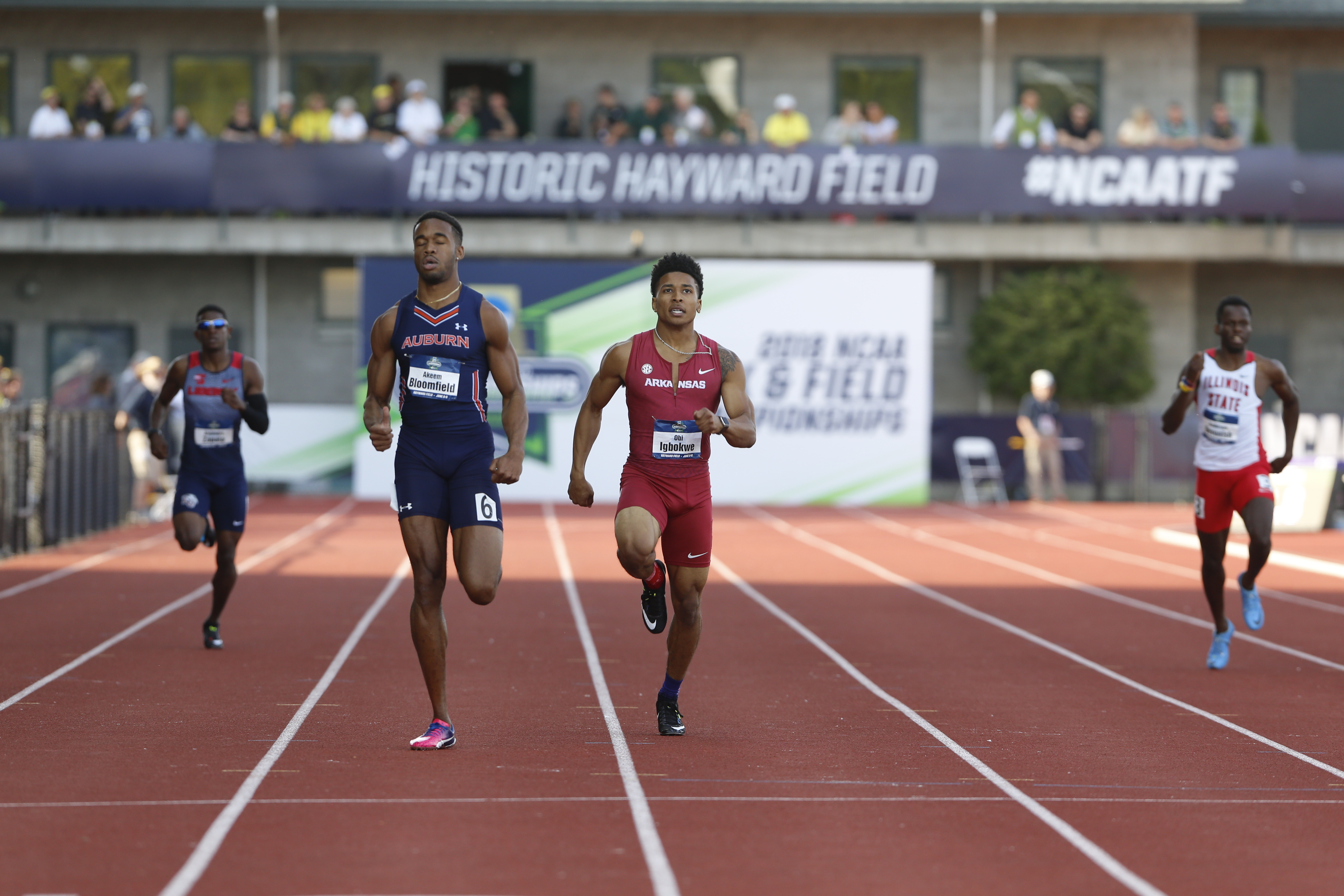 Igbokwe Takes Fifth, Cotton Advances At USATF Championships
DES MOINES, Iowa – Kenzo Cotton led the way on day three of the USATF Championships for Arkansas Saturday afternoon, advancing to the semifinals of the 200-meters.
Top of the order on day three for Arkansas was the prelims of the 200-meters, featuring senior Kenzo Cotton, who was joined by Razorback alums Marqueze Washington and Jarrion Lawson.
Washington and Lawson ran in heat one finishing in 20.85 and 21.72, respectively. Neither finished in the top-three to earn the auto-q to the semifinal and would have to wait to see if they advanced on time.
Heat two saw Cotton grab an auto-Q spot into the semis with a third-place finish in his heat running 20.72. Washington (20.85q) advanced on time, holding the fastest time-qualifying mark from prelims, while Lawson finished 19th overall in the event. Cotton and Washington will return to the track for semifinal action tomorrow afternoon at 2:00 p.m.
Obi Igbokwe took to the track for his first USATF final in the 400-meters following a spectacular run in the semis last night. Igbokwe, an NCAA All-American in the event, finished in fifth-place running 45.23.
Larry Donald wrapped up his career as a Razorback with a 19th-place finish in the prelims of the 110-meter hurdles running 14.20.
Arkansas alum Andrew Irwin finished with a best clearance of 5.70m (18′-8.25″) to take fifth-place in the pole vault cleanly clearing his first three bars of the meet.
Arkansas will return to action tomorrow at 2:00 p.m. with Kenzo Cotton and Marqueze Washington in the semifinals of the men's 200-meters.
For more information on Arkansas track and field including in-meet updates, follow @RazorbackTF on Twitter.