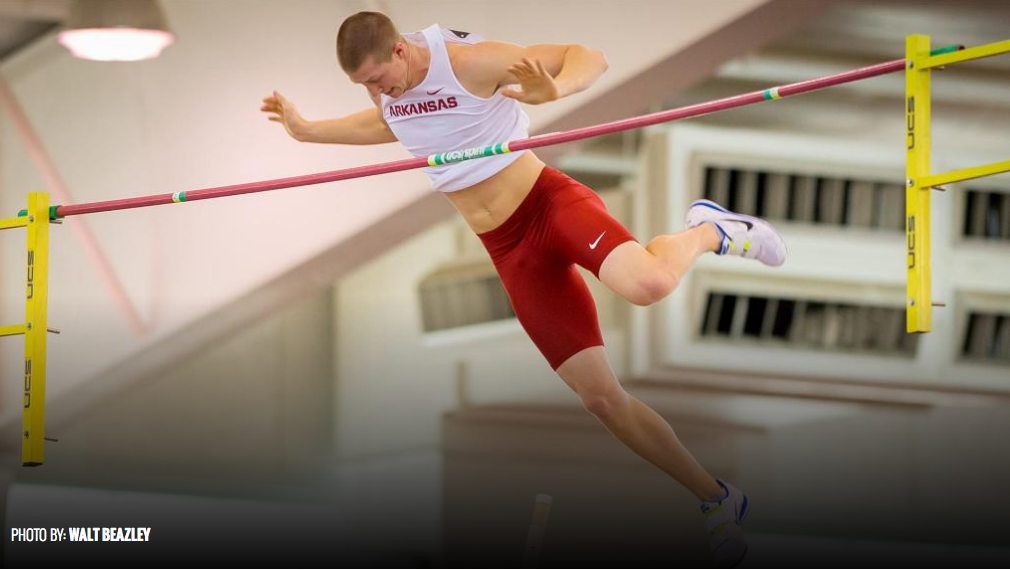 Irwin Sets Program Record At Tyson Invite
FAYETTEVILLE, Ark. – Some of the nation's top-25 teams gathered at Randal Tyson Track Center on Saturday as the No. 3 Razorbacks wrapped up the second day of action at the Tyson Invitational.
Day two of competition was highlighted by a record-setting performance by senior Andrew Irwin. Irwin put on a show for the home crowd and broke the school record, which he owned, with his mark of 18-10.25 (5.75m) to take second place. Irwin's mark not only set a new program record, but it's also the highest height cleared in the SEC this season.
In the 200 meter dash (seeded), freshman Kenzo Cotton took sixth wish a personal-best time of 21.05, which ties for fifth in school history. In the 200 meter, sophomore Eric Hawkins crossed the finish line in a personal-best 21.30 to take fourth.
The distance medley relay team of Andrew Pisechko, Anthony Blakely, Ryan Thomas and Patrick Rono finished first in 9:50.88. Sophomore Clive Pullen took fourth place in the triple jump invitational with a 52-5.5 mark, which ranks fourth in the SEC this season.
At the Husky Classic in Seattle, Kemoy Campbell (7:48.13), Stanley Kebenei (7:49.74) and Alex George (8:08.41) finished first, fourth and 23rd, respectively, in the 3,000m. Kebenei and George set new personal-bests with their times.
The Razorbacks will be back in action next Saturday (Feb. 21) when they host the Arkansas Open, before heading to Lexington, Ky. for the 2015 SEC Championships (Feb. 27-28).
For the latest information on Arkansas men's track and field, follow @RazorbackTF on Twitter.
DAY 2 RESULTS
Triple Jump
13) Rubin Owens – 49-5 (15.06m) (PR)
21) Brandon Workman – 46-11 (14.30m)
Shot Put
13) Devin Randall – 56-0 (17.07m)
200m
4) Eric Hawkins – 21.30 (PR)
8) Anthony Blakely – 21.34 (PR)
40) Ryan Green – 22.11
45) Zach Riley – 22.49
800m – Husky Classic
39) Noah Findlay – 1:54.97
Mile – Husky Classic
18. Austen Dalquist – 4:02.36 (PR)
62. Cale Wallace – 4:10.93
200m – Seeded
6) Kenzo Cotton – 21.05 (PR) – Tied 5th in school history with Vincent Henderson, '93), 7th fastest SEC
10) Marqueze Washington – 21.29
Pole Vault Invitational
2) Andrew Irwin – 18-10.25 (5.75m) – School Record, breaks own record, 1st SEC,
DMR
1) Andrew Pisechko, Anthony Blakely, Ryan Thomas, Patrick Rono – 9:50.77
Triple Jump Invitational
4) Clive Pullen – 52-5.5 (15.99m), 4th in the SEC
High Jump
7) Ken LeGassey – 7-1 (2.16m) (T-PR)
3,000m – Husky Classic
1) Kemoy Campbell – 7:48.13
4) Stanley Kebenei – 7:49.74 (PR)
23) Alex George – 8:08.41 (PR)
4×400
6) Arkansas: Marqueze Washington, Omar McLeod, Kenzo Cotton, Jarrion Lawson – 3:06.98
PR – personal best | q – qualifier
Fayetteville, the "Track Capital of the World", will be at the center of the track and field universe on the weekend of March 13-14 as the Razorbacks will host the 2015 NCAA Indoor Track and Field Championships at the Randal Tyson Track Center, the home of the "Fastest Indoor Track in the World". Since the facility's opening in 2000, Arkansas and the Randal Tyson Track Center have hosted the event 11 times, including nine straight seasons and 11 of the last 13 championships.
A two-day, all-session ticket to the NCAA Indoor Championships is $40 for reserved seating and $30 for general admission adult ticket.
Season tickets and NCAA all-session passes are available online at HERE, by contacting the Razorback Athletics Ticket Center via phone at (800) 982-HOGS or in person at the Razorback Athletics Ticket Center, located just east of Baum Stadium at 1295 S. Razorback Rd. in Fayetteville.