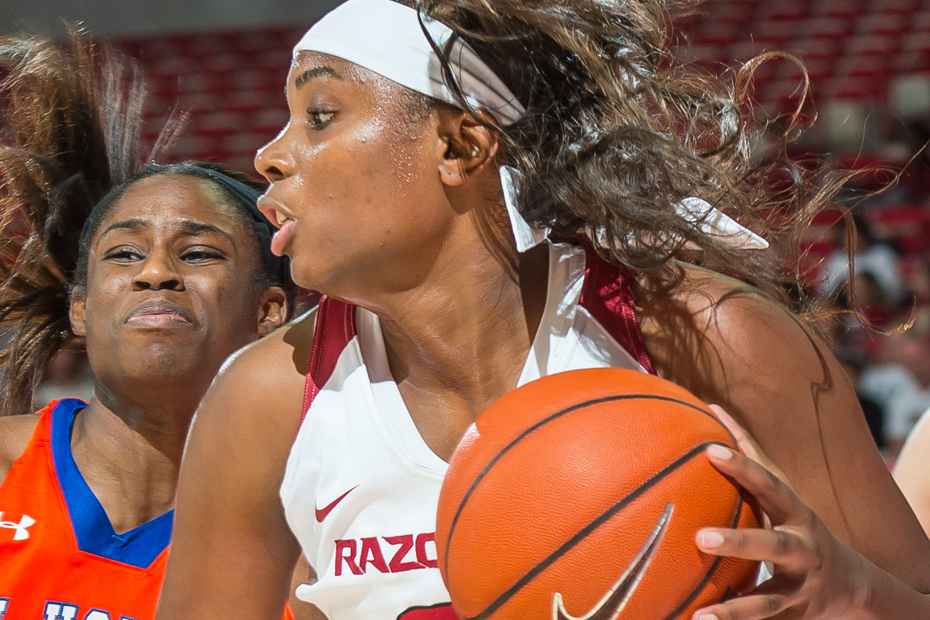 Jackson Has Breakout Performance
Box Score | Photo Gallery | Tickets
FAYETTEVILLE, Ark. – University of Arkansas junior Jessica Jackson dropped in 20 points and had a career-best 13 rebounds leading the Razorbacks to a 67-47 win over Sam Houston State in Bud Walton Arena Sunday.
The Razorbacks move to 2-0 on the year behind Jackson's second consecutive double-double. It is the 12th of her career and the 14th time that the Jacksonville, Ark., native has scored 20+ points. Sam Houston State falls to 0-2 in 15-16.
Junior Kelsey Brooks was also in double figures scoring 10 points while freshmen Keiryn Swenson added nine and Jordan Danberry eight for Arkansas.
Arkansas scored the first basket in the game and would never trail in the contest, leading for 36 consecutive minutes. They held SHSU scoreless for the final four minutes of the first period but took just a slim, three-point lead into the next frame.
Shooting lapses were a problem for Arkansas as they shot about 33% and missed 51 shots but the Razorbacks made up for it with a solid rebounding night, grabbing 55 in the win. The Razorbacks also took good care of the ball with just nine turnovers while forcing 17 miscues by the BearKats.
Arkansas faces its first road test of the year traveling to South Dakota State Wednesday in a 7 p.m. tip.
GAME NOTES
The win moves Arkansas to 6-0 all-time against Sam Houston State
It is head coach Jimmy Dykes' first win against the Bearkats
Arkansas won the tip for the second consecutive game
Melissa Wolff scored the first basket of the game
Arkansas led 10-7 at the end of the first period | It was 30-15 at the half
All five starters scored in the first half of the game
Jessica Jackson had 10 points and 10 rebounds in the first half. It is her second consecutive double double and the 12th of her career.
Jessica Jackson's last 20+ game was vs. Ole Miss in the SEC Tournament 3-5-15 with 25 points. She has scored 20+ points once as a junior, five times as a sophomore and eight times as a freshman for a total of 14 times.
Jessica Jackson's 13 rebounds are a career-high.
For more information on Arkansas women's basketball, follow @RazorbackWBB on Twitter.