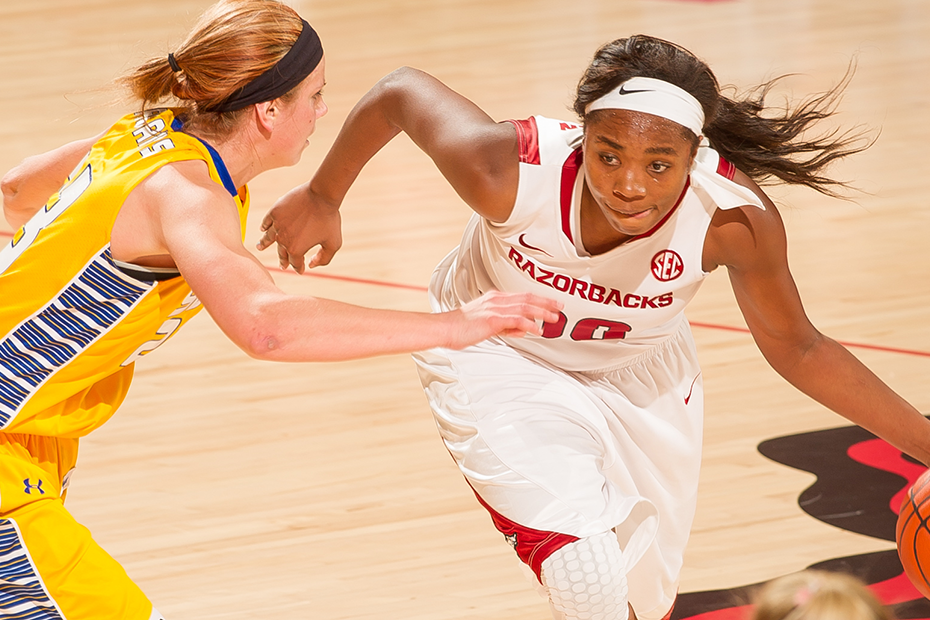 Jackson Preseason Pick; Arkansas Eighth
FAYETTEVILLE, Ark. – University of Arkansas junior Jessica Jackson earned All-SEC Second-Team honors while the Razorbacks are selected to finish eighth in the league according to a vote of head coaches released this week.
Arkansas, who was also picked eighth in the SEC Media Poll, finished 18-14 overall last year and advanced to the third round of the SEC Tournament under first-year head coach Jimmy Dykes. Dykes paced the Razorbacks to the second round of the NCAA Tournament and he and his staff brought in the No. 20 recruiting class this season.
Jackson returns as one of the league's top scorers from a year ago. The 6-3 forward from Jacksonville, Arkansas, paced the Razorbacks with 14.9 points per game last season. She is a two-time All-SEC Second-Team selection and begins this season as one of only four returners for the Razorbacks.
Jackson opened exhibition play with 20 points and eight rebounds leading Arkansas to the 21-point victory over Missouri Southern last weekend. The Razorbacks return to the court Friday hosting Southeastern Louisiana in the season opener at 10:30 a.m. in Bud Walton Arena. Arkansas hosts Sam Houston State at 2 p.m. Sunday as the season continues.
Order of Finish
| | |
| --- | --- |
| 1. South Carolina | 168 |
| 2. Tennessee | 158 |
| 3. Texas A&M | 138 |
| 4. Mississippi State | 134 |
| 5. Kentucky | 125 |
| 6. Missouri | 94 |
| 7. Ole Miss | 81 |
| 8. ARKANSAS | 77 |
| 9. Georgia | 75 |
| 10. LSU | 64 |
| 11. Vanderbilt | 61 |
| 12. Florida | 54 |
| 13. Auburn | 29 |
| 14. Alabama | 16 |
Player of the Year
Tiffany Mitchell, South Carolina
First Team All-SEC
Makayla Epps, Kentucky
Victoria Vivians, Mississippi State
A'ja Wilson, South Carolina
Tiffany Mitchell, South Carolina
Alaina Coates, South Carolina
Diamond DeShields, Tennessee
Bashaara Graves, Tennessee
Courtney Walker, Texas A&M
Courtney Williams, Texas A&M
Second Team All-SEC
JESSICA JACKSON, ARKANSAS
Ronni Williams, Florida
Shacobia, Georgia
Raigyne Moncrief, LSU
Jordan Frericks, Missouri
Mercedes Russell, Tennessee
Jordan Jones, Texas A&M
Rebeka Dahlhman, Vanderbilt