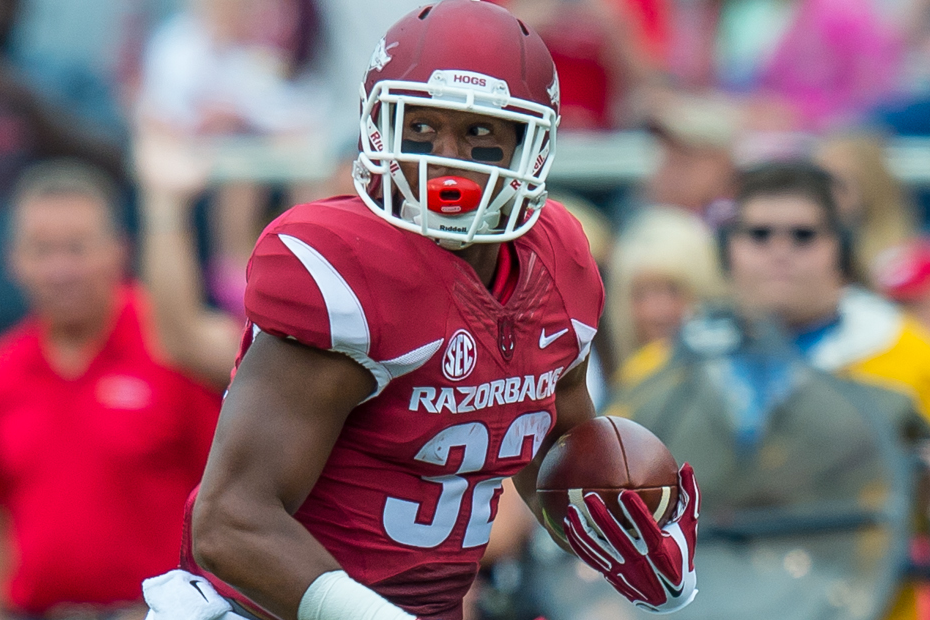 Jonathan Williams Announces Return For Senior Season
Arkansas running back Jonathan Williams announced today that he will return to the Razorbacks for his senior season. Earlier this month, the junior applied for an evaluation from the NFL Draft Advisory Board.
"I am very excited to return to Arkansas for my senior season and help bring the Razorback football program back to where it belongs," Williams said. "Coach (Bret) Bielema and Coach (Joel) Thomas have been very supportive of me and my family throughout this process."
"My faith, family and education are very important to me and all three played a major role in my decision. I have many goals that I want to pursue, on and off the field. Graduating from the University of Arkansas is very important to me, and I look forward to running through the 'A' again in 2015," Williams added.
The Allen, Texas native has rushed for a career-high 1,085 yards this season. He joined teammate Alex Collins as the only pair of teammates to break the 1,000-yard plateau prior during the regular season.
"I'm always excited for players to chase NFL dreams," head coach Bret Bielema said. "For Jonathan, that meant another year of growth on and off the field and a degree to carry him through life. I'm excited to have him here for another year that will help take him to new heights."
Williams has totaled 2,216 rushing yards in his career and is the 11th leading rusher in school history. His 5.79 yards per carry career average ranks sixth in program annals.
Arkansas will travel to Houston to take on the Texas Longhorns in the AdvoCare V100 Texas Bowl. The SEC/BIG12 matchup will take place at NRG Stadium in Houston on Monday, Dec. 29 at 8 p.m. and will be nationally televised on ESPN.
For more information on Arkansas Football, follow @RazorbackFB on Twitter.