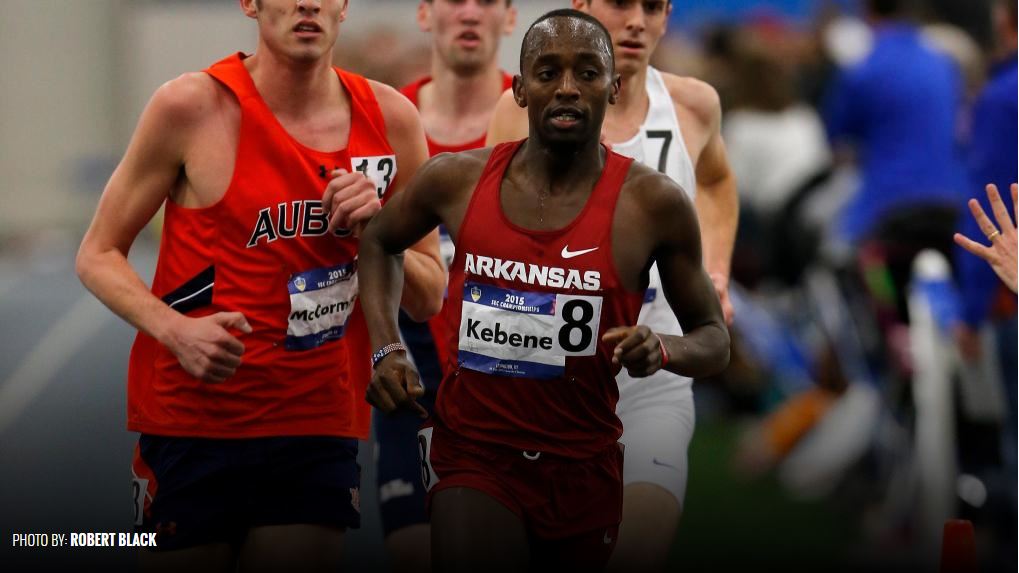 Kebenei Posts NCAA Leader In Steeplechase at Mt. SAC Relays
FAYETTEVILLE, Ark. – Senior Stanley Kebenei posted an NCAA-leading performance Friday evening in the 3,000-meter steeplechase as the No. 8 University of Arkansas men's track and field team competed at the 57th Mt. SAC Relays in Walnut, Calif. The Razorbacks also picked up a personal-best effort from Cale Wallace at 1,500 meters.
In his first steeplechase of the year, Kebenei won the invitational section of the event in a time of 8:31.86 which puts him atop the NCAA list based on times entering the weekend. The time is the second fastest for Kebenei at Arkansas and is more than four seconds faster than the previous top time in the country. Kebenei was the NCAA runner-up in the event in 2014.
Wallace was the first Razorback in competition Friday and responded with a time of 3:49.77 to finish ninth in section two and 22nd overall. He had a previous best of 3:50.23 from last year's Stanford Invitational. In the invitational section of the 1,500 meters, Kemoy Campbell was third among collegiate runners and seventh overall with this time of 3:42.30 in a race that had its top-seven runners finish within two seconds of one another.
57th Mt. SAC Relays
Hilmer Lodge Stadium | Walnut, Calif.
800 Meters (open)
18. Tomas Squella – 1:51.70
1,500 Meters (invitational)
7. Kemoy Campbell – 3:42.30
1,500 Meters (open)
22. Cale Wallace – 3:49.77 [PR – previous: 3:50.23]
3,000m Steeplechase (invitational)
1. Stanley Kebenei – 8:31.86
3,000m Steeplechase (B invitational)
7. Frankline Tonui – 8:56.56
Arkansas will now return to Fayetteville in preparation for next weekend's Drake Relays in Des Moines, Iowa. The Razorbacks' next home meet is scheduled for May 1 with the Arkansas Twilight. For more info regarding purchasing tickets for home events, call 800-982-HOGS (4647), email raztk@uark.edu or visit the Razorback Ticket Center located just east of Baum Stadium.
For more information on Arkansas track and field including in-meet updates, follow @RazorbackTF on Twitter.