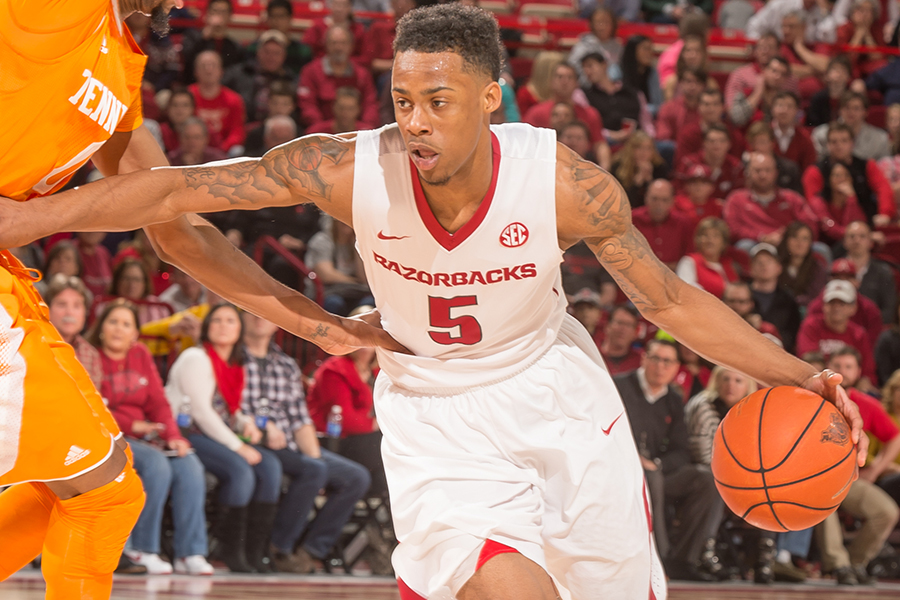 Late Rally Comes Up Short At Tennessee
KNOXVILLE, Tenn. – After trailing by 16 at the midway point of the second half, the No. 19 Arkansas men's basketball team rallied in the final minutes to give itself a chance to force overtime before dropping its first SEC game of the season at Tennessee, 74-69, Tuesday night at Thompson-Boling Arena.
The loss snaps a seven-game win streak for the Razorbacks (13-3, 2-1), who were looking to equal the program's best start in SEC action. Tennessee (10-5) has now defeated two ranked teams at home this season and is 2-1 in the SEC.
The Volunteer lead was 13, 63-50, with 4:02 to play before an eight straight points from the SEC's top scoring duo of junior Michael Qualls and sophomore Bobby Portis cut it to a 63-58 game with 1:31 on the clock.
Tennessee's lead jumped back up to eight, 66-58, thanks to a pair of trips to the free throw line before Arkansas hit a trio of three-pointers while continuously sending the Volunteers to the line. The final three-pointer came with 15 seconds to go, as freshman Anton Beard drilled his third triple of the game to make it 70-69.
Forced to foul, Arkansas sent Tennessee's Kevin Punter to the free throw line and he calmly sank both attempts to stretch it back to a full possession game at 72-69.
Needing a three to force overtime, Beard brought the ball up left side of the court and was able to draw a foul while shooting a potential game-tying three with nine seconds left. Unfortunately, Beard missed the first two free throws and intentionally missed the third in hopes of an offensive rebound, but the Volunteers grabbed the miss and held on for the win.
Beard played 18 turnover-free minutes off the bench and was one of three Razorbacks in double figures with a season-high 12 points. Portis finished with his second straight double-double, going for 17 points and a game-high 11 rebounds, while Qualls added 15 points and five rebounds.
Usually the one forcing and converting off turnovers, Arkansas committed a season-high 18 miscues that led directly to 27 Tennessee points. The easy buckets for the Volunteers led to a 51 percent (27-53) night from the field and 40 points in the paint. Tennessee was led by Josh Richardson's 20 points.
Arkansas shot 50 percent in the second half and 46 percent (26-57) for the game while passing out 21 assists on its 26 made field goals. Second in the SEC in assists per game, senior Rashad Madden led the way with seven helpers.
Coach Anderson Postgame Sound"
"Tennessee did some of the things we normally do to people and that's turn them over. I'm very disappointed in our guys for not taking care of the ball, but I was proud we didn't just wilt. This is a good lesson for us. You have to show up every night to play and I thought our energy level wasn't where it needed to be against a scrappy Tennessee team."
@RazorbackMBB Quick Hits 
• Arkansas' seven-game win streak entered the night as the seventh-longest in the country.
• Arkansas was limited to less than 70 points for just the third time, but is still the only SEC team to score 65+ every game.
• First loss of the New Year.
• Just the third time in head coach Mike Anderson's career (86-3) he's lost a game when his team passes out 20+ assists.
• First time this season Arkansas has committed more than 15 turnovers.
• Portis made his 50th straight start to begin his career.
• Portis has reached double figures in a career-best 11 straight games.
• Third time in the last 18 games that Portis has put together back-to-back double-doubles.
• Portis is just the fourth player in program history to lead the team in scoring each of the first three SEC games.
• Marked the 11th time this season Portis and Qualls have combined for 30+ points.
• Qualls has gone for 15 points and five rebounds eight times, including three straight to open SEC play.
• Either Qualls or Portis has led the team in scoring 14 of 16 games.
• Beard is the sixth different Razorback to hit a trio of three-pointers in a game.
• First time Arkansas has lost with either Jabril Durham or Jacorey Williams in the starting lineup.
• Madden has five or more assists 12 times this season compared to nine over his first three years.
Up Next
Arkansas will put its 16-game home win streak on the line Saturday when it welcomes Ole Miss to Bud Walton Arena for an 8:35 p.m. CT tip on ESPNU. Members of the Arkansas football program will be recognized during the game for their win against former Southwest Conference rival Texas in the Advocare V100 Texas Bowl on Dec. 29. The Texas Bowl trophy will be on display until the final media timeout (4:00) of the second half while each fan in attendance will receive a commemorative Texas Bowl championship poster following the game.