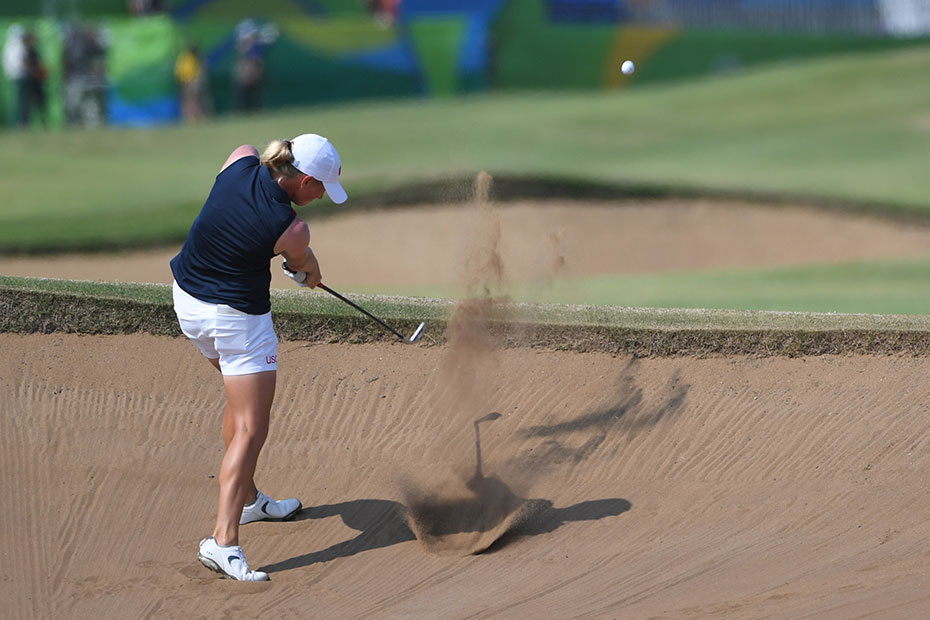 Lewis Brings Birdies To Rio
Photo Gallery | Results
RIO DE JANEIRO, Brazil – Former University of Arkansas All-American Stacy Lewis set a modern Olympic Games record with 11 birdies moving into second place in the second round at the Olympic Golf Course on Thursday.
Lewis came off the course after her morning round in the lead, but a birdie by Inbee Park on her last hole allowed her to slip ahead by a stroke.
"I love those last four holes," Lewis said. "It's a place to make some birdies."
And she did. Lewis birdied her final four holes after doubling on No. 14 where she 3-putted. She finished with an Olympic women's golf record 11 birdies shooting 31–32—63.
Lewis opened with a birdie on No. 1 and picked up three consecutive birdies on Nos. 2, 4, 5 and 6. She picked up a bogey on No. 7 but finished strong with a birdie on No. 9.
Two more birdies on Nos. 11 and 13 had Lewis at 6-under before she ran into trouble on No. 14. The par-3 hole turned into a double for Lewis after she three-putted.
The miscue fired her up and she went on to four consecutive birdies to finish, including a tough play on No. 18. Lewis hit her second shot on the par-5 finishing hole into the bunker. She was able to get it out of the sand and land it on the green for a short birdie putt.
In her first season as a professional golfer, Lopez carded a 4-under 35–32—67. She moved up into a tie for 17th place after two rounds of play.
Lopez played the first nine holes even with three birdies, a bogey and a double. She rallied on the back side with two birdies and a spectacular eagle on No. 10. Lopez hit her second shot from the fairway onto the green well above the pin.
The ball spun back and kept moving toward the hole. The crowd began shouting "go in" and the ball eventually fell as Lopez holed out.
Play at the 2016 Olympic Games continues through Saturday when medals will be awarded. Check the Golf Channel and NBC for coverage all day.
For more information on Razorback women's golf, please follow @RazorbackWGolf on Twitter.