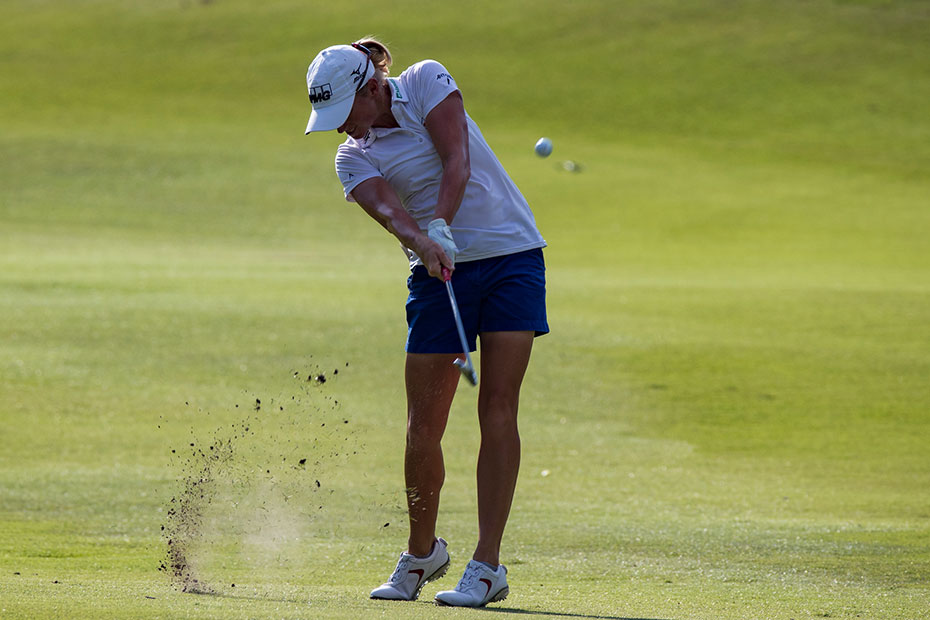 Lewis Makes Late Run at U.S. Women's Open
SAN MARTIN, Calif. – #ProHogs Stacy Lewis birdied two of her final four holes making a run at the leaders late in the final round of the 2016 U.S. Women's Open Sunday at CordeValle Golf Course.
Lewis carded a 71–74–69–71 — 285 to finish three-under in seventh place. She was three shots back of the winner.
Lewis made the turn at one-over, but was solid with five consecutive pars to start the back nine. The Woodlands, Texas, native added birdies on No. 15 and No.17 and was 1-under for the day. Lewis has now finished in the top 7 at the U.S. Women's Open each of the last three years and four times in her career.
Lewis, currently ranked No. 8 in the Rolex Women's World Golf Rankings which are used to determine the Olympics golf rankings, is the second-highest ranking American behind No. 4 Lexi Thompson. The duo will represent the United States in the 2016 Olympics in Rio. The official announcement will be made Monday.
First-year professional Gabriela Lopez opened play with rounds of 71–72–71, adding a 73 during Sunday's final round for 11th overall. In the final round, Lopez turned at even-par and was tied for ninth place. She opened the day with a bogey on the first hole but rallied with an eagle on the eighth hole.
Her second nine was much tougher in the windy conditions. Lopez counted a five on the par-4 No. 10 and was up-and-down the rest of the day. She bogeyed No. 12 and No. 14 and added birdies on No. 15 and No. 17, just as Lewis did.
Lopez is currently ranked No. 36 in the Rolex Women's World Golf Rankings and is the top-ranked Mexican player. She has secured her position on the 2016 Mexican women's golf team for the Olympics in Rio later this year.
OLYMPICS
• Current Rankings: http://www.igfgolf.org/olympic-games/qualification-system/ogr-women/
• Stacy Lewis ranked No. 8 overall and No. 2 among U.S. women
• Gabriela Lopez ranked No. 26 overall and No. 1 among Mexican women
| | | | |
| --- | --- | --- | --- |
| 2005 | Amanda McCurdy | 75–75–71–78 — 299 (+15) | T38 |
| 2007 | Stacy Lewis | 78–73 — 151 (+9) | Missed Cut |
| 2008 | Stacy Lewis | 73–70–67–78 — 288 (+5) | T3 |
| 2009 | Stacy Lewis | 68–73–79–75 — 295 (+11) | T34 |
| 2010 | Stacy Lewis | 75–70–75–72 — 292 (+3) | T14 |
| | Kelli Shean | 70–79–83–80 — 312 (+28) | T65 |
| | Lucy Nunn | Missed Cut | |
| 2011 | Stacy Lewis | 68–73–79–75 — 295 | T34 |
| 2012 | Stacy Lewis | 77–69–80–780–78–1585 — 301 | T46 |
| | Gabriela Lopez | 80–78–158 | Missed Cut |
| 2013 | Stacy Lewis | 71–76–75–78 — 300 | T42 |
| | Emily Tubert | 74–78 — 153 | Missed Cut |
| 2014 | Stacy Lewis | 67–73–74–66 — 280 | 2 |
| 2015 | Stacy Lewis | 69–67–69–70 — 275 | T3 |
| | Gabriela Lopez | 72–76 — 148 | Missed Cut |
| | Regina Plasencia | 75–71 — 146 | Missed Cut |
| 2016 | Stacy Lewis | 71–74–69–71 — 285 (-3) | 7 |
| | Gabriela Lopez | 71–72–71–73 — 287 (-1) | T11 |