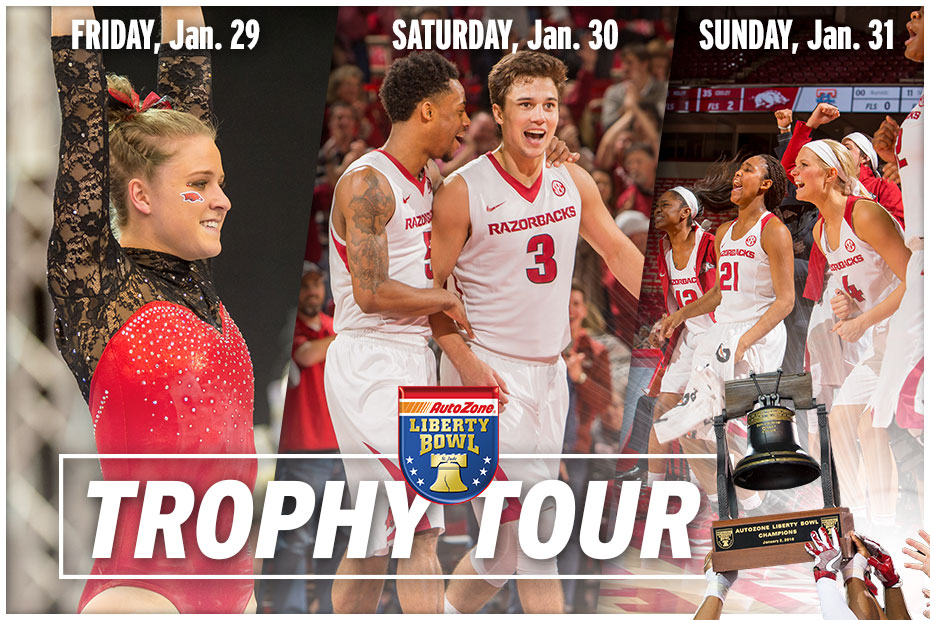 Liberty Bowl Trophy Tour This Weekend
FAYETTEVILLE, Ark. – Razorback fans will have three chances to have their picture taken with the AutoZone Liberty Bowl Trophy this weekend as the University of Arkansas hosts a multitude of events.
The trophy, won by the Razorback football team this year, has been on display in the Fred W. Smith Football Center and will be available for fans to see on Friday at gymnastics, Saturday at men's basketball and Sunday at women's basketball. Commemorative posters will also be available to fans at each of the events.
The handcrafted trophy is a one-quarter-sized replica of the Liberty Bell that symbolizes the United States' independence. It is 12 inches in diameter and 11-1/2 inches high.
The trophy's tour begins Friday when the No. 8 Razorback gymnastics team welcomes No. 9 Auburn to Barnhill Arena for a 7:30 p.m. contest. Fans can take photos with the Liberty Bowl Trophy beginning at 6 p.m. until about 7:30 p.m. in the north lobby of Barnhill.
The Bell moves to Bud Walton Arena for back-to-back appearances at Razorback basketball games Saturday and Sunday. It will be open to the public at men's basketball when they host Texas Tech on Saturday from 1:30 p.m. through the end of halftime on the East Concourse. Its final stop is Sunday at the women's basketball against No. 13 Mississippi State beginning at 1 p.m. through the end of the half on the South Concourse.