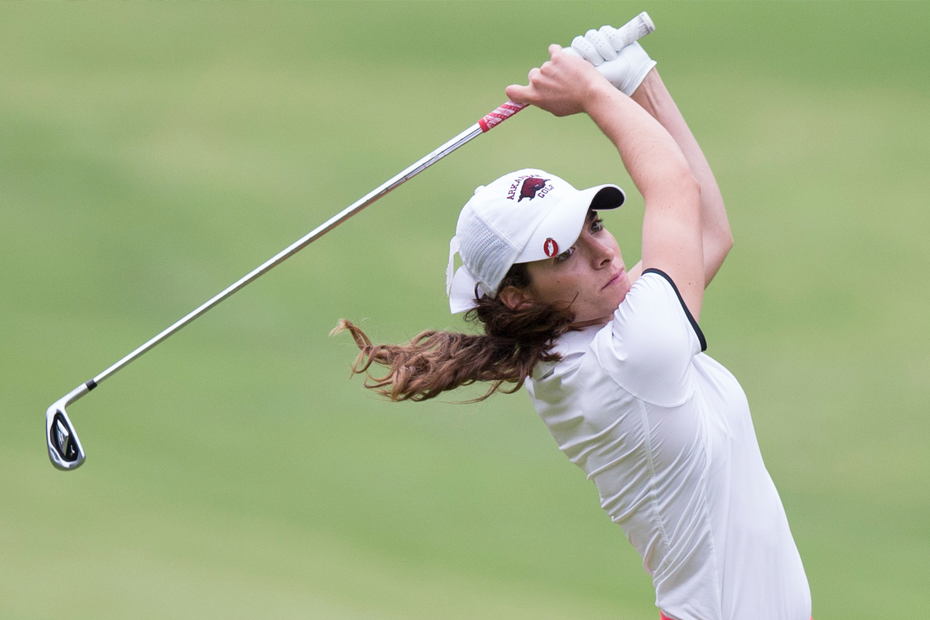 Lopez Continues To Roll
DAYTONA BEACH, Fla. – University of Arkansas senior Gabriela Lopez carded her fourth consecutive round of par or better and remains tied for ninth with one round remaining after round four of stage three of the LPGA's Qualifying School in Daytona Beach, Florida, Saturday.
Lopez posted scores of 68-72-70-70=280 and is seven back of the leader with the final round Sunday at LPGA International. The top 20 players earn full membership to the LPGA Tour. She is the top finishing amateur after four rounds.
Saturday's round was pretty quiet for Lopez with just two birdies on the 12th and 13th holes on the Hills Course.
Former Razorback Emily Tubert, who currently plays on the Symetra Tour, finished 148th overall shooting 78-77-78-71=304 and did not make the final day cut.
The field of 157 players will compete for 90 holes of stroke-play competition. The field will be cut after 72 holes to the low 70 players and ties.
Inside the Lines
• Final Stage of LPGA Qualifying School
• LPGA International – Jones and Hills Courses
• Dec. 2-6, 2015
• 157 players in the field
• Top 20 finishers (no ties) earn category 12 membership – full membership
• Players 21-45 plus ties earn category 17 membership –conditional status
• Stacy Lewis is the only other former Razorback to make it through Q School. Lewis won the final stage in 1988.
For more information on Arkansas women's golf, follow @RazorbackWGolf on Twitter.