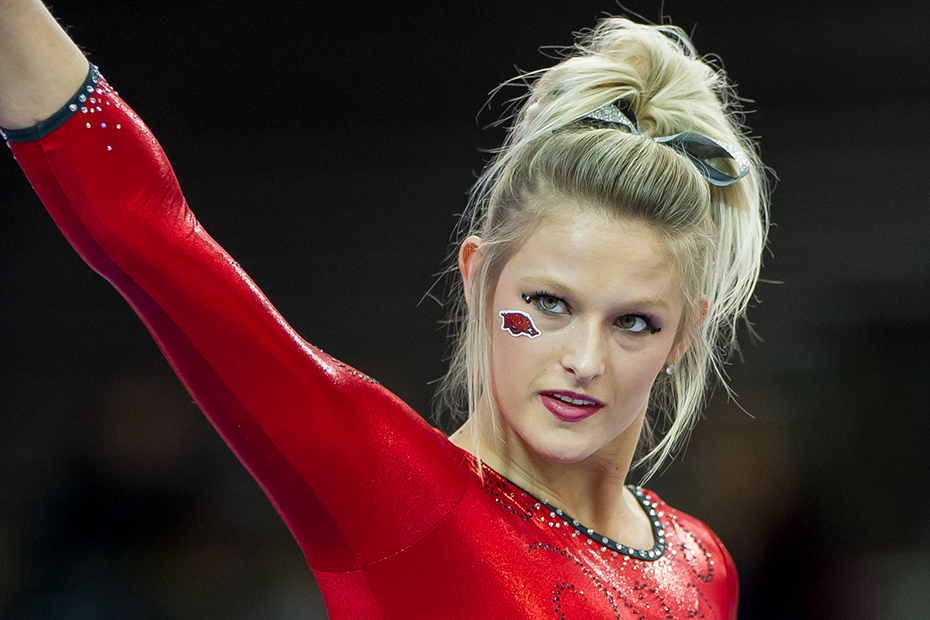 LSU Preview: Following the Leaders
MEET INFO…
WHO: No. 8 Arkansas at No. 6 LSU
WHEN: Friday, Feb. 5 at 7:30 p.m.
WHERE: Baton Rouge, Louisiana
VENUE: Pete Maravich Assembly Center
HOW TO…
WATCH: SEC Network
STREAM: SEC Network +
LIVE RESULTS: Stats
FOLLOW: @RazorbackGym
PREPARE: Meet Notes (PDF)
FAYETTEVILLE, Ark. — At the midway point of the 2016 season, the Arkansas gymnastics team is exceeding everybody's expectations; except for their own.
When the No. 8 Razorbacks face off against No. 6 LSU on Friday, Feb. 5 at 7:30 p.m. in Baton Rouge, the team will be looking to reinforce its belief that it belongs among the best in the country, and that consecutive wins at No. 4 Alabama and vs. No. 9 Auburn were not flukes.
Just as it was in Tuscaloosa, coming away with a win in Baton Rouge will not be easy. Arkansas is 1-5 all-time in the Pete Maravich Assembly Center, and only 5-25-1 against the Tigers in program history. Through two home meets, LSU has averaged 9,140 fans in the PMAC. Even though it's not quite the 12,600 who were in Coleman Coliseum, it will surely be a rowdy crowd of Tiger supporters.
Still, the Razorbacks believe a win to be possible. A victory in Tuscaloosa seemed improbable until Arkansas came away with their first-ever win on the Crimson Tide's mats by a score of 196.700-196.400. And a win vs. Auburn seemed unlikely, facing a .300 deficit after three rotations, until a furious floor exercise rotation helped the team defend Barnhill Arena with a 196.600-195.950 victory.
Two consecutive years of not escaping the NCAA Regionals inspired the Razorbacks to think of themselves as "under-dogs" – or "under-Hogs" – but that was scrapped going into this year. With five seniors who have been through many highs and lows during their careers, the success of the team so far this year is correlated with the leadership of that group.
"To know your seniors believe in you and have confidence in your abilities really helps when it comes down to it," sophomore Braie Speed said. "They have done such a great job of motivating, staying goal-oriented and helping with the team chemistry. I know 100 percent that's the reason why we have done so well up to this point."
For more #Gymbacks content during the season, please follow @RazorbackGym on Instagram, Twitter and Snapchat.