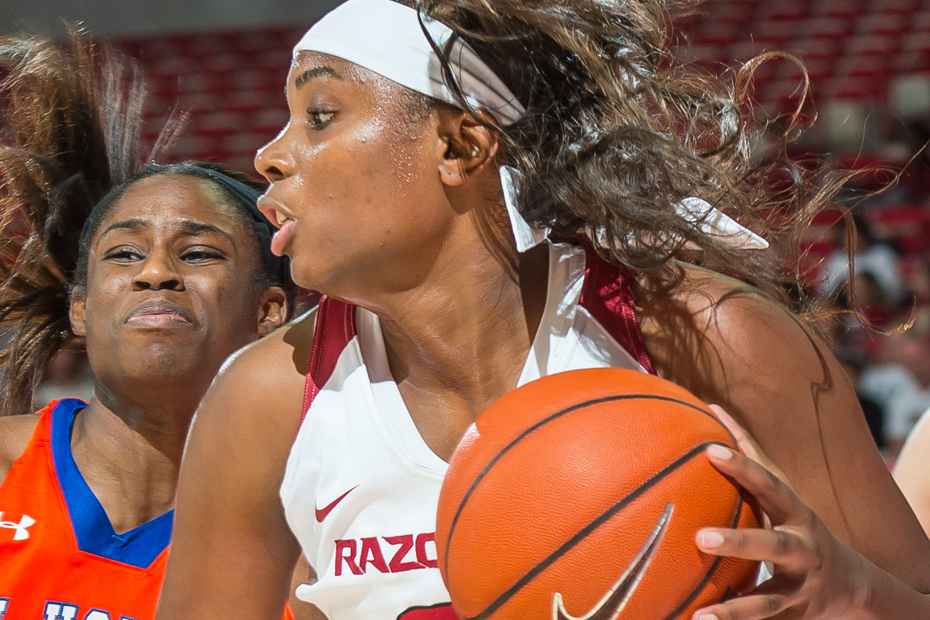 Lucky Number 13
FAYETTEVILLE, Ark. – The University of Arkansas women's basketball team's lucky number might well be 13 this season and the Razorbacks will test that theory Sunday hosting No. 13 Mississippi State in Southeastern Conference action Sunday in Bud Walton Arena.
THE GAME
Arkansas hosts No. 13 Mississippi State
Sunday, Jan. 31, 2016
2 p.m.
SEC Network Plus
The Razorbacks (9-12, 4-4 SEC) have beaten three ranked teams this year including No. 13 Texas A&M and No. 13 Tennessee at home. Could No. 13 Mississippi State (18-4, 5-3) be next?
It will be a challenge no doubt. Arkansas suffered an earlier, 80-55, loss to State when the Bulldogs were ranked No. 7 in the Associated Press Top-25. That game was in Starkville, Mississippi, in front of the pro-Bulldog crowd.
Can Arkansas turn the tables on State in Bud Walton Arena? The Razorbacks are 8-3 on their home court including those wins over three ranked teams this year and statistically, these teams match up pretty well. The difference might be in experience and rebounding.
Mississippi State rebounds well and will likely start three juniors and a pair of sophomores. That experience under fourth-year head coach and former Arkansas assistant coach Vic Schaefer can be the difference-maker.
Arkansas will counter with a young and athletic team paced by junior Jessica Jackson. The Jacksonville, Arkansas, native leads the Razorbacks and is third in the SEC with 17.3 points per game this year. Jackson has scored in double figures in 18 of her 20 games this year and has 69 career double figure scoring games. She has scored in double figures in the first half in four games this season.
But Action Jackson doesn't have to shoulder the entire weight of the team. She is supported by several players including senior Melissa Wolff, junior Kelsey Brooks and sophomore Devin Cosper this season. Wolff leads the team in rebounding and ranks among the SEC leaders with 7.6 rebounds per game. She has been a defensive stopper in her last two seasons with the Razorbacks.
Brooks is rebounding from injury and starting to hit her stride offensively scoring in double figures in her most recent outing and Cosper has emerged as a go-to scorer who is a balanced offensive threat from tip to the horn in every game.
It will take all of those weapons along with the rest of the team for Arkansas to pull off the upset in BWA Sunday – but they have done it before.
NOTES
• Arkansas is the fifth youngest team in terms of returning scholarship players under the current head coach
• Arkansas opened the SEC season facing five ranked teams in the Associated Press Poll – the only team in the Big Five Conferences to do so
• The Razorbacks have three wins over ranked teams this year (No. 13 Texas A&M, No. 13 Tennessee, No. 24 Missouri)
• Jessica Jackson is the seventh player in Arkansas women's basketball history to score 1,000+ points, have 500+ rebounds and 100+ blocks
• Jessica Jackson ranks third in all-games and second in SEC-only games in scor¬ing
• Arkansas faces three ranked teams in its next four games
PROMOTIONS
• Junior Spirit Day- Girls of all ages will participate in a cheer/pom clinic pregame and then perform routine during halftime.
• Diaper Derby- Local babies 18 months and under will participate in the Second Annual Diaper Derby during Halftime.
For more information on Arkansas women's basketball, follow @RazorbackWBB on Twitter.
— ArkansasRazorbacks.com || On Twitter @ArkRazorbacks || Facebook.com/ArkansasRazorbacks –