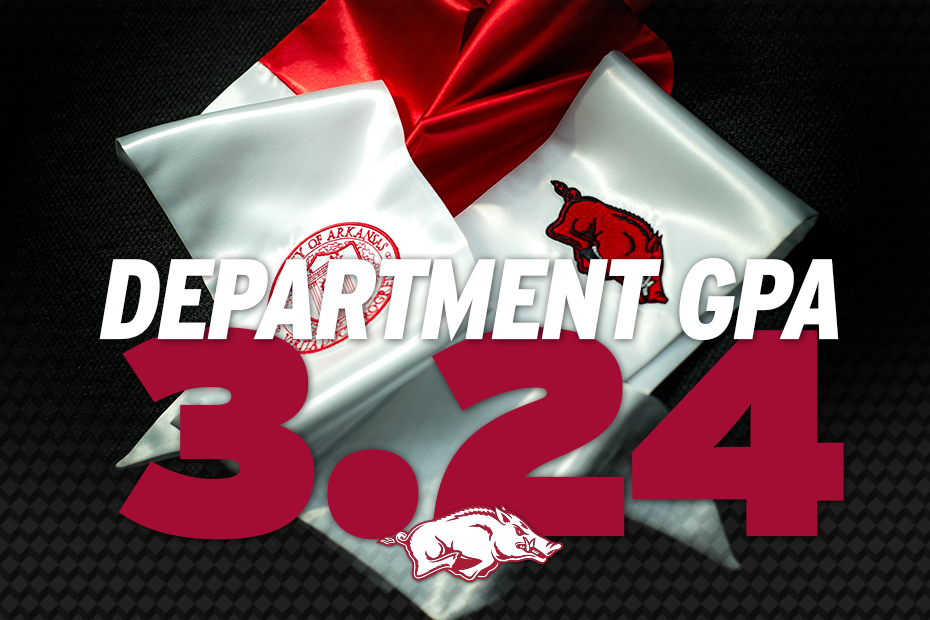 Making The Grade
For Razorback student-athletes, it all starts in the classroom. So it is fitting that in the first of our week-long series recapping 2014-15 we review the academic achievements of the past year.
Academic achievement is evidence of progress toward a college diploma and in 2009 as part of University wide initiative, Razorback Athletics identified a goal of achieving a department wide GPA of 3.0 by 2015 and 3.2 by 2021.
Thanks to the dedicated efforts of more than 460 Razorback student-athletes, coaches, members of the Office of Student-Athlete Success staff, both goals were surpassed prior to their originally projected date. In 2014-15, Razorback student-athletes posted a program record 3.24 cumulative GPA.
In the Spring 2015 semester, more than 60 percent of Razorback student-athletes achieved a GPA of 3.0, marking the 11th consecutive semester the GPA exceeded 3.0.

Other Notable Academic Accomplishments:
In the fall, 14 Razorback teams earned a GPA of 3.00 or better while in the spring, 16 teams exceeded that mark

For the third-consecutive year, Arkansas exceeded the benchmark in Academic Progress Rate (APR) in all 19 sports, including three programs who recorded perfect 1,000 multi-year APR rates

Of Arkansas 19 sport programs, 17 programs exceeded the APR benchmark (930) by 20 points or more

Razorback Athletics recorded its highest graduation success rate ever (76 percent)

More than 90 student-athletes earned their degree in 2014-15, helping the program average more than 100 graduates in the past two years

Men's track and field student-athlete Nathanael Franks became the first male Razorback student-athlete to win the H. Boyd McWhorter Award from the Southeastern Conference. The award is presented annually to the most outstanding scholar-athlete in the SEC
From record setting performances to memorable moments, the Razorback Athletics annual report allows us to share our progress and success as we continue to focus on fulfilling our mission of developing our student-athletes academically, athletically and socially. So be sure to watch the website every day this week as we celebrate the most successful year in Razorback Athletics history!
Record-Breaking Year Series Schedule
Monday – Academic Achievement
Tuesday – Athletics Success
Wednesday – Student-Athlete Development
Thursday – Events and Economic Impact
Friday – Record Support and Investment