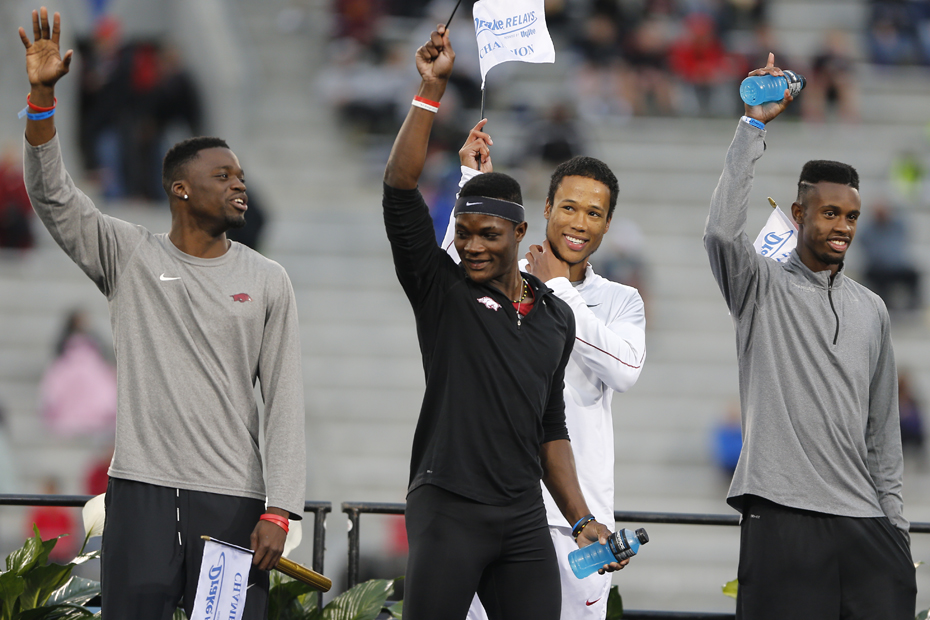 #DrakeRelays MOP, Team Ranked 12th
FAYETTEVILLE, Ark. – In recognition of his standout performances at the 106th Drake Relays last weekend, sophomore Omar McLeod has been named the Maury White Award co-recipient which is given to the meet's Most Outstanding Performer. Monday also featured the latest national poll release in which the Razorbacks are ranked as the No. 12 team in the country.
McLeod made his outdoor-season debut at Drake and responded with a meet- and school-record effort of 13.21 which also represents the collegiate leader and No. 3 time in the world this year. He was also part of two first-place relay performances with teammates Kenzo Cotton, Jarrion Lawson and Marqueze Washington in the 4×100- and 4×200-meter events. McLeod shared the MOP honors with Olympic gold medalist Kirani James.
Through the first five weeks of the outdoor campaign, the Razorbacks have tallied seven top-25 national performances with NCAA-best marks from McLeod in the 110-meter hurdles and Stanley Kebenei in the 3,000-meter steeplechase. Along with McLeod's effort in the hurdles, Arkansas added a season-best time of 39.78 in the 4×100-meter relay which is the 12th-fastest in the country.
The Razorbacks close out the regular season this weekend with the Arkansas Twilight and the Payton Jordan Invitational. Friday's home meet begins at 11 a.m. (CT) with running events slated for a 6 p.m. start. For the second time this season, the distance crew will head west to compete Saturday at the Payton Jordan meet in Palo Alto, Calif.
The Arkansas men are one of nine SEC teams ranked this weekend, all of which are positioned inside the top 20. The team takes on the loaded field at the SEC Outdoor Championships which is slated to be contested May 14-16 in Starkville, Miss., at Spencer Stadium/Maddox Track. The Razorback men have won 18 SEC outdoor titles, most recently in 2013.
Contact the Razorback Ticket Center at 800-982-4647 or email raztk@uark.edu to purchase tickets for home events. For more information about Arkansas track and field including in-meet updates, follow @RazorbackTF on Twitter.