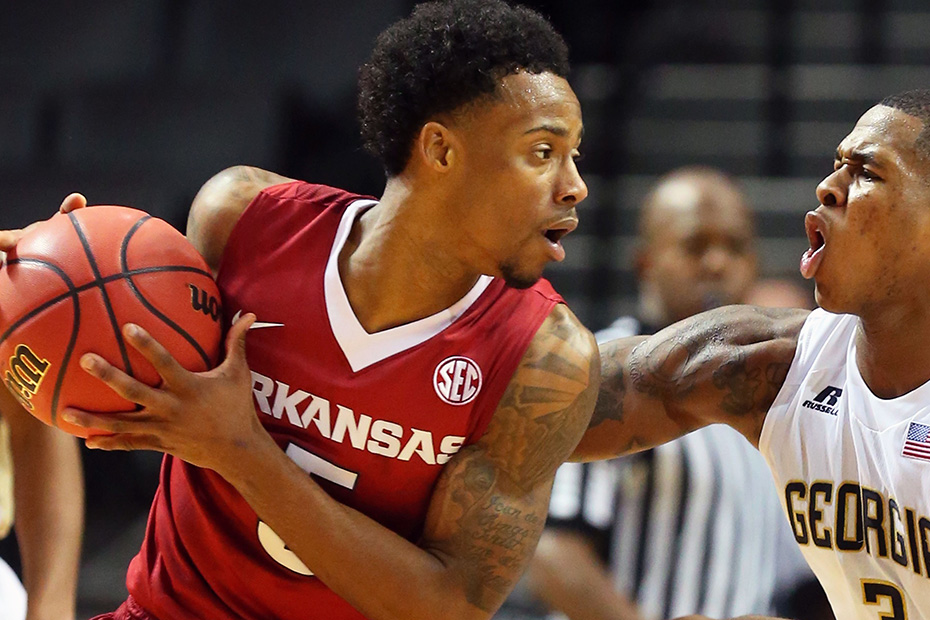 Men's Basketball Faces Stanford Friday in NYC
BROOKLYN, N.Y. – The Arkansas men's basketball team (2-2) will look to end the NIT Season Tip-Off on a high note, facing Stanford (2-3) Friday morning at the Barclays Center.
Tipoff: Friday, 11:30 a.m. CT
Location: Barclays Center, Brooklyn, N.Y.
Tickets: Buy Here
TV: ESPNU
WatchESPN: Click Here

The Opponent
• Stanford plays in the Pacific-12 Conference (Pac-12) and are 2-3 on the season. The Cardinal went 2-0 in NIT Season Tip-Off preliminary action vs. Green Bay and Charleston Southern. In terms of common opponents, both Stanford and Arkansas have defeated and scored exactly 93 points against Charleston Southern. Since then, Stanford has lost three consecutive games vs. SMU, at St. Mary's (Calif.) and against No. 8/9 Villanova at Barclays Center last night.
• The Cardinal lost to the Wildcats 59-45 in an ultra-low-scoring contest. Stanford shot just 26 percent from the field and made only 2-of-9 threes. Although it held Villanova to only 31 percent shooting and had a 55-35 rebounding edge, the Cardinal lost the turnover battle 23-6 and ultimately lost to the Big East favorite by 14. Three Stanford players reached double digits in rebounds while two of the Cardinal scored 10-plus points in the game.
• Head coach Johnny Dawkins is in his eighth year with Stanford, with a record of 143-103 (.581) in seven-plus seasons. Under Dawkins, the Cardinal have two NIT championships and reached the Sweet 16 in 2014. Dawkins was an assistant coach at Duke under Mike Krzyzewski during the 1998-99 season, then spent the following 10 seasons as associate head coach before accepting the main job at Stanford.
#Fastest40 Facts
• The Razorbacks are making their second appearance in New York for the NIT Season Tip-Off after playing in the tournament in 1990. Arkansas opened with a 98-88 victory over Duke that year, before falling to Arizona 89-77 in the championship.
• Dating back to last year, Arkansas has won seven consecutive games following a loss.
• Arkansas is 3-11 in the state of New York, with two victories over City College of New York (1943, 1944) and one against Duke (1990).
• The Razorbacks are 0-1 all-time against Stanford, dropping the only contest to the Cardinal 60-53 on Jan. 3, 1948. Arkansas is 12-14 against current Pac-12 teams with its only winning records coming against Arizona (6-2) and Oregon (3-0).
• Dusty Hannahs ranks No. 1 in the country in three-point field goal percentage at .684 among players that have made 13-plus treys on the year. He has made seven of his last eight three-point attempts after going 2-for-3 from long range against Georgia Tech (Nov. 26).
• Moses Kingsley is one of five players in the SEC with double-digit blocks on the year after recording at least one block in all four games this season.
• Jabril Durham's SEC-leading 7.8 assists per game through the first four contests ranks No. 9 in the country and is on pace to set a school record. The program mark for assists per game in a season is 6.6 by Kareem Reid in 1995-96.
• Dusty Hannahs is the only SEC player with a perfect free throw percentage on the year, making all 16 of his attempts. Dating back to his days at Texas Tech, Hannahs has sank his last 31 free throws. He has career .682 free throw percentage in 132 attempts.
• Arkansas has four players averaging double figures, but Dusty Hannahs, Moses Kingsley and Anthlon Bell have each scored double-digit points in all four games on the year. None of the three players had scored in double figures in four consecutive games before the current steak.
Up Next
Arkansas returns home to host Northwestern State on Tuesday, Dec. 1 in Bud Walton Arena. Tip-off is slated for 7 p.m. CT.
For more information on Arkansas men's basketball, follow @RazorbackMBB on Twitter.