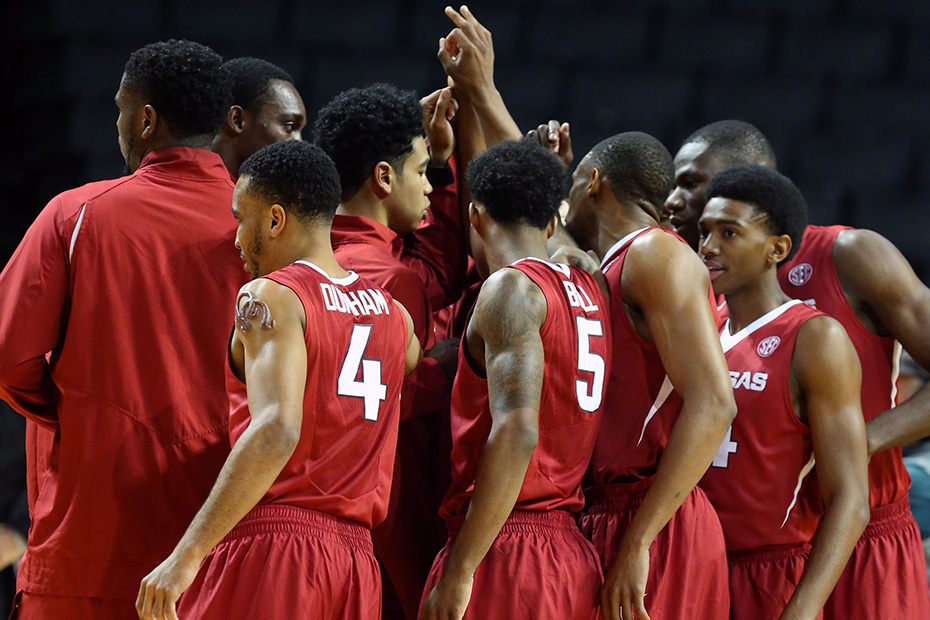 Men's Basketball Hosts Northwestern State Tuesday
FAYETTEVILLE, Ark. – The Arkansas men's basketball team (2-3) returns home Tuesday evening looking to get back on track when it hosts Northwestern State (1-5) for a 7 p.m. tip-off inside Bud Walton Arena.
Tip-off: Tuesday, 7 p.m. CT
Location: Bud Walton Arena
Tickets: Buy Here
TV: SECN+

The Opponent
• Northwestern State (NSU), from Natchitoches, Louisiana, plays in the Southland Conference and is 1-5 on the season. The Demons are 0-3 against Power Five opponents thus far, including losses to SEC foes Ole Miss (90-76 on Nov. 13) and Auburn (119-81 on Nov. 27). NSU also fell to Arizona, 61-42, on Nov. 22, but responded three days later with its only win of the season at home, 86-80 against Louisiana College.
• The Demons are led by junior guard Zeek Woodley, who averages a team-best 23.8 points and 5.5 rebounds per game. Last year's leading scorer, Jalan West, is out for the season after suffering a knee injury in the opening game. Sophomore guard Devonte Hall leads NSU with 5.7 assists and 1.7 per game.
• Head coach Mike McConathy is in his 17th season with NSU, with a record of 260-245 (.515) in 16-plus seasons. Under McConathy, the Demons' best season was 2005-06, when they went 26-8 and secured a first-round NCAA Tournament victory over No. 3 seed Iowa. NSU also appeared in the 2013 NCAA Tournament, where it lost to No. 3 seed Florida. Overall, McConathy is in his 33rd season of coaching, having also spent 16 years at Bossier Parish Community College, where he amassed a 352-159 record.
#Fastest40 Facts
• The Razorbacks have won 55 of their last 56 games at home against unranked non-conference opponents, including a 41-1 mark under Anderson.
• Anthlon Bell was named to the NIT Season Tip-Off All-Tournament Team after going 9-of-15 from behind the arc and scoring 31 points in two games. He went 5-for-5 from long range against Stanford in a span for 6 minutes and 34 seconds and turned a two-point deficit into a 19-point lead.
• The Razorbacks are 9-1 all-time against Northwestern State, including a 100-92 victory last season in Fayetteville. Arkansas has won eight straight against the Demons with the only loss coming in 1954.
• Moses Kingsley is one of two players in the SEC averaging a double-double, joining SEC Preseason Player of the Year Ben Simmons from LSU.
• Kingsley is one of 13 players in the country and one of six from a power five conference averaging at least 10.2 rebounds and 15.5 points per game. After one double-double in his first two years, Kingsley has three in five games this season.
The #SplashZone
• Anthlon Bell (18) and Dusty Hannahs (14) have combined to drain 32 three-pointers, more than 128 teams in the country.
• Bell and Hannahs are the No. 1 three-point shooting tandem in the SEC, sinking 32 treys on the year.
• Arkansas has had a player make five-plus three-pointers in four of five games this season after doing so just twice all of last year.
• The Razorbacks have made at least four three-pointers in 48 of the last 53 games dating back to the 2013-14 season.
• Hannahs ranks No. 1 in the SEC with a .519 three-point field goal percentage, making 14 of 27 attempts from behind the arc.
• Hannahs is one of four players in school history to make five-plus three-pointers in a game without a miss when he went 5-for-5 against Charleston Southern.
• Bell went 5-for-5 from long range against Stanford in a span of six minutes and 34 seconds, taking Arkansas from a two-point deficit to a 19-point lead.
Up Next
Arkansas hits the road to take on Wake Forest on Friday, Dec. 4 at 6 p.m. CT in Winston-Salem, N.C.
For more information on Arkansas men's basketball, follow @RazorbackMBB on Twitter.