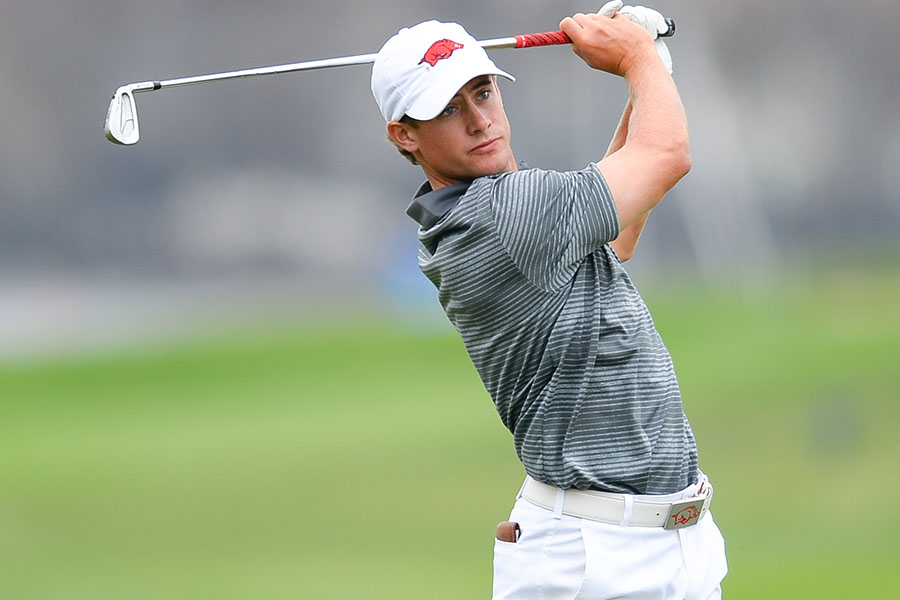 Men's Golf Takes Second At Gator Invitational
GAINESVILLE, Fla. – Juniors Taylor Moore and Kolton Crawford put together top five finishes to lead the Arkansas men's golf team to a second place showing in its spring opener at the SunTrust Gator Invitational held at Mark Bostick Golf Course on Sunday.
Attempting to defend its title from a year ago, the Razorbacks entered the day two strokes back of No. 22 USF, but couldn't quite make up the difference en route to finishing second. Arkansas did finish in front of No. 3 Florida State by two strokes and No. 6 Vanderbilt by a commanding 26 strokes.
The only team to card two even-par or lower rounds in Saturday's 36-hole opening day, the Razorbacks finished up with a score of three-over 283. USF took home the team title by eight strokes with a three-under 277 in the final round.
Moore backed up his top five at last year's SunTrust Gator Invitational with another one this year, finishing two strokes back of medalist honors for a share of second place. One of two players to shoot even-par or lower in all three rounds, Moore's 69-70-68/207 (-3) scorecard featured a team-best 11 birdies and par 4 scoring of four-under, which tied with Crawford for the lowest average by the 75-player field.
Crawford entered Sunday's final round in a tie for the lead and finished with his third career top five. Behind 24 consecutive bogey-free holes to open the tournament, Crawford put together rounds of two-under 68 and one-under 69 on Saturday before closing out the weekend with a one-over 71 to tie for fourth place. Freshman Alvaro Ortiz nearly made it three Razorbacks in the top 10, carding his second even-par 70 of the weekend in the final round to tie for 11th position.
Junior Nicolas Echavarria and redshirt sophomore Zach Coats each contributed two scores over the weekend. Echavarria's two-under 69 in the second round was the highlight of his 23rd place finish. Coats finished in a tie for 43rd after a 78-72-74 weekend.
Arkansas will return to action on Friday, Feb. 21, when it opens play at the Bayou City College held at Redstone Tournament Course in Houston, Texas.
Head Coach Brad McMakin Post-Round Sound
"This is a great start to the spring for the team. The guys played really well in all aspects of the game and gave themselves a chance to repeat. We just got beat coming down the stretch and you take your hat off to USF for that."
@RazorbackMGolf Final Round Notes
• Three-round score of 843 is the lowest this year by 10 strokes.
• Second straight tournament dating back to the fall that Moore has been the low-man.
• Moore has shot even-par or lower in seven of his last nine rounds.
• Moore has finished in the top 15 three straight events.
• Moore has a counting score in 14 of 15 rounds this year.
• Moore and Crawford are tied for the team lead with six under-par rounds on the year.
• Moore and Crawford both have three career top 5s.
• Crawford had a team-best 41 pars, good for third-most in the field.
• Ortiz has finished in the top 20 in three of four career tournaments.
@RazorbackMGolf Lineup
T2. Taylor Moore – 69(-1)-70-68(-2)/207 (-3)
T4. Kolton Crawford – 68(-2)-69(-1)-71/208 (-2)
T11. Alvaro Ortiz – 70-74-70/214
T23. Nicolas Echavarria – 73-69(-1)-75/217
T43. Zach Coats – 78-72-74/224
IND – T51. Emil Soegaard – 75-77-74/226
SunTrust Gator Invitational Final Standings (Golfweek Top 25)
1. USF (22) – 275-283-277/835 (-5)
2. Arkansas – 280-280-283/843
3. Florida State (3) – 279-284-282/845
4. Florida – 281-286-287/854
5. Georgia Southern – 296-291-280/867
6. Vanderbilt (6) – 293-290-286/869
7. North Florida – 294-296-284/874
T8. Liberty – 290-294-293/877
T8. Georgia State – 293-294-290/877
10. UAB – 295-290-298/883
11. Charleston – 302-296-292/890
12. UCF – 309-288-306/903
13. Jacksonville – 307-299-303/909
14. Mercer – 299-295-317/911