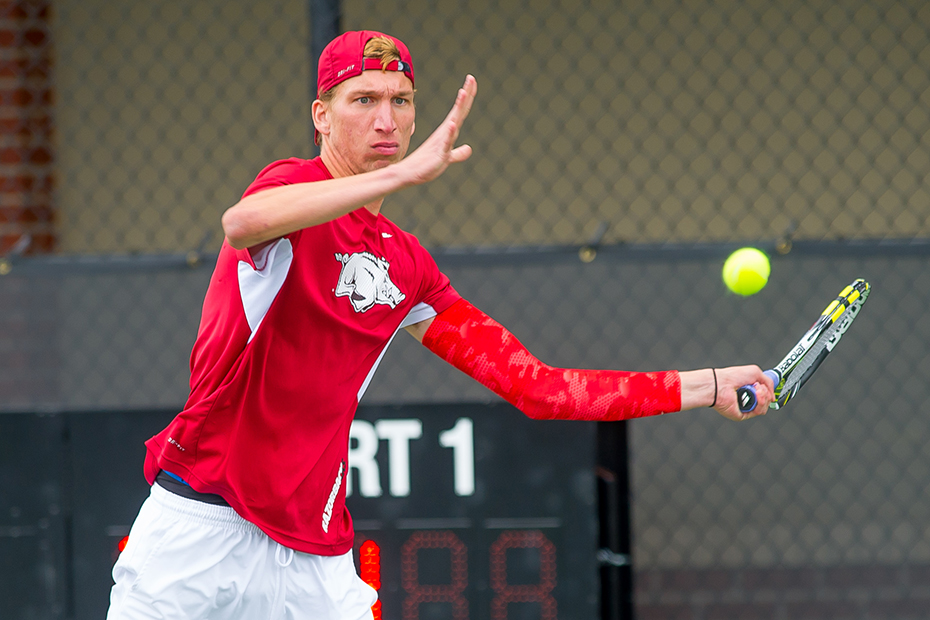 Men's Tennis Opens SEC Tourney With Rematch
COLUMBIA, S.C. — Four days after suffering a home loss to South Carolina on Senior Day, the No. 18 Arkansas men's tennis team will have the opportunity for revenge on the Gamecocks' home courts during the first round of the Southeastern Conference Tournament.
The No. 6 seed Razorbacks and the No. 11 seed Gamecocks face off Thursday, April 21 at 9 a.m. CDT.
Arkansas finished the regular season with a 19-7 overall record, including 7-5 in SEC play. The Razorbacks finished tied for fourth in the final conference standings, but dropped down to the No. 6 seed due to tiebreaker scenarios. South Carolina, meanwhile, is the host school for the tournament as the No. 11 seed having accumulated a 4-8 SEC record this year.
"Tournament time is the best and most exciting time of the year," head coach Andy Jackson said. "The Gamecocks just beat us at home, so they will be a tough first challenge on their home courts here in South Carolina. We believe we can beat any team in the SEC and we are excited to play tomorrow."
The Arkansas triumvirate of No. 25 Mike Redlicki, No. 72 Jose Salazar and Giammarco Micolani lead the team into the potential three-day marathon. The trio has combined for a 25-10 record in SEC singles play and made the Razorbacks one of two teams (also No. 2 Florida) to have three-plus players with eight-plus conference wins.
The Gamecocks put forth No. 58 Gabriel Friedrich at the top singles spot, where he was defeated by Salazar by a score of 6-1, 6-3 Sunday afternoon at George M. Billingsley Tennis Center.
In doubles, the South Carolina pair of Friedrich and Harrison O'Keefe went from unranked to No. 67 in the most recent Oracle/ITA Rankings. After defeating the Friedrich-O'Keefe duo 6-1 Sunday, Arkansas' top team of Micolani and Redlicki improved from No. 25 to No. 19.
The winner of the Razorbacks-Gamecocks bout will move on to face No. 3 Texas A&M on Friday, with that match also beginning at 9 a.m. Competition in the SEC Tournament began Wednesday morning with No. 13 Tennessee pulling off a 4-3 win over No. 12 Auburn. With the victory, the Volunteers advanced to the quarterfinals and will play No. 5 Kentucky.
For more information on Razorback men's tennis, please follow @RazorbackMTEN on Twitter.