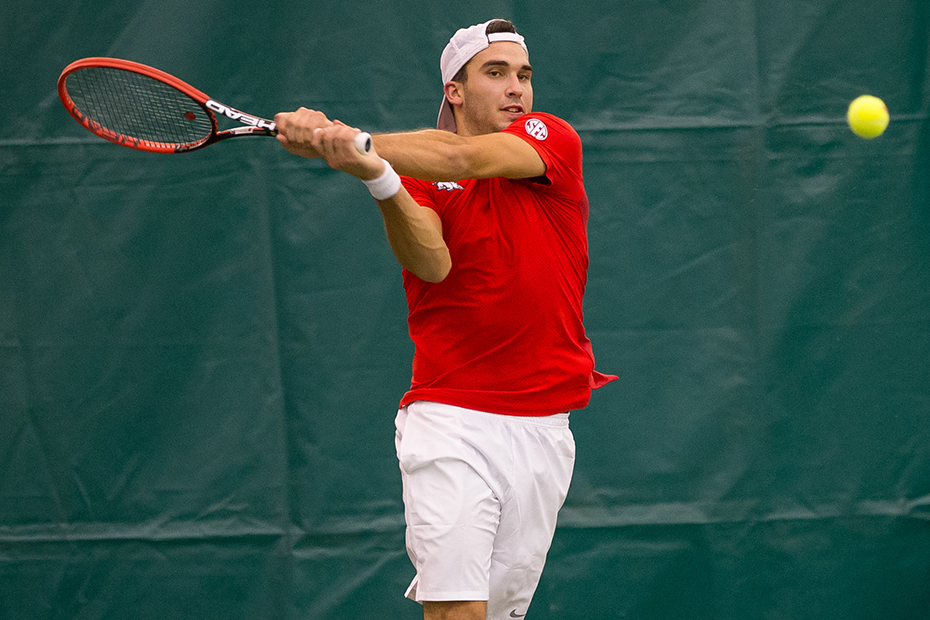 Men's Tennis Ready For First Big Test
FAYETTEVILLE, Ark. — By the time the Arkansas men's tennis team steps onto the Dills Indoor Courts on Sunday afternoon, it will have been 14 days since the Razorbacks' last competition. But with No. 17 Oklahoma State coming to town on Feb. 7 for a 1 p.m. start, Andy Jackson isn't worried about his team being ready to play.
"We know where Oklahoma State is, we know they're competitive around the top 10 and we will be able to get a lot of feedback on where we are at this point in the season," the head coach said.
Through its first two matches – wins over UT Arlington and Michigan State – Arkansas produced dominant results. The team won all six doubles matches while losing only nine combined games in the process. In singles play, meanwhile, the Razorbacks were victorious in 11 of the 12 matches.
With two weeks to reflect on the successful opening weekend, Jackson and his team were happy with what they accomplished, but realized the first true test would be against the Cowboys.
"We have an intelligent team that understands we're likely considerably better than last year. But we don't want just want to be better, we want to be competitive at the top of the game," Jackson explained. "So even though we won twice, I don't think we've taken too much out of that. We feel like the first big feedback will come from Oklahoma State."
Also on Sunday will be a match against Oral Roberts at 6 p.m. The Golden Eagles come to Fayetteville for the second part of a Super Bowl Sunday doubleheader.
There will be free Keurig products, popcorn and Pepsi soft drinks available for all Razorback fans to come to support the team at Dills Indoor Courts. In addition, those in attendance on Sunday can enter a drawing for two tickets to the men's basketball game on Wednesday, Feb. 17 at 6 p.m., when Arkansas faces SEC rival Auburn.
For more information on Razorback men's tennis, please follow @RazorbackMTEN on Twitter.