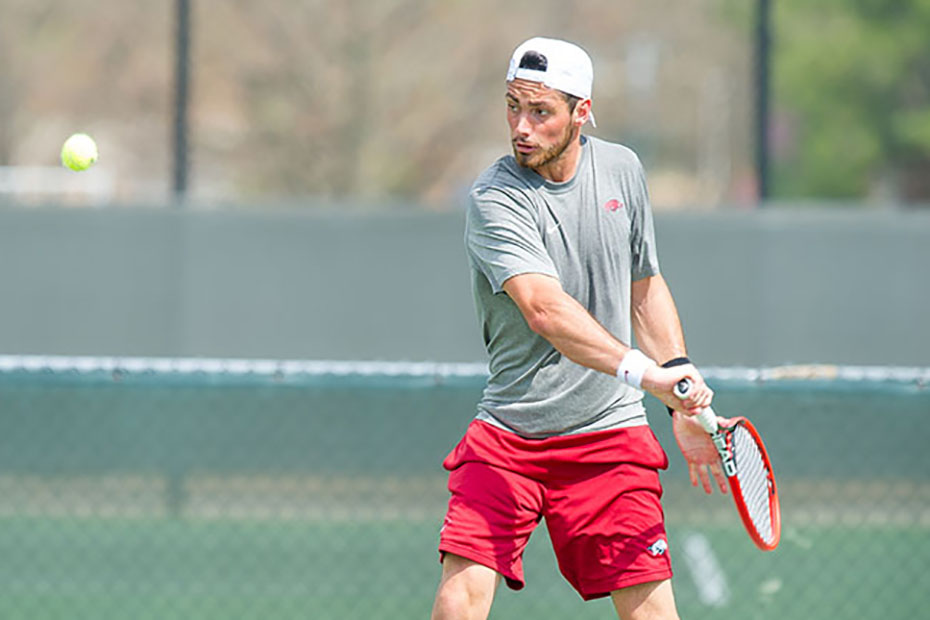 Men's Tennis Ready to Roll
FAYETTEVILLE, Ark. — Things are looking up for the Arkansas men's tennis team, and with two opponents coming to Dills Indoor Courts in the opening weekend of play, the Razorbacks will have the opportunity to start out strong in front of the home fans.
Arkansas starts play against UT Arlington on Friday, Jan. 22 at 5 p.m., then with a day off sandwiched in-between, the Razorbacks have their second match vs. Michigan State on Sunday, Jan. 24 at 1 p.m.
"We need to play well and hard in both matches," head coach Andy Jackson explained. "UTA finished ahead of us last year in the national ranking and they have a number of players back that we know. MSU is an indoor-oriented team from a major conference and they will really challenge us."
Although the Razorbacks finished last in the SEC in 2015, the conference's coaches picked Arkansas to finish sixth in the conference for the upcoming season. With nine letterwinners returning and a strong handful of newcomers, the team is ready to take on the challenge of heightened expectations.
"We are excited to start playing team matches," Jackson said. "We expect to be much more competitive this year, but we are expecting it to be difficult as always. We are confident that we have a tennis level that can produce positive results if we play and coach well."
There will be free Keurig products, popcorn and Pepsi soft drinks available for all Razorback fans to come to support the team at Dills Indoor Courts this weekend. In addition, those in attendance on Sunday can enter a drawing for two tickets to the gymnastics meet on Friday. Jan. 29 at 7:30 p.m., when No. 9 Arkansas faces SEC rival No. 8 Auburn.
For more information on Razorback men's tennis, please follow @RazorbackMTEN on Twitter.