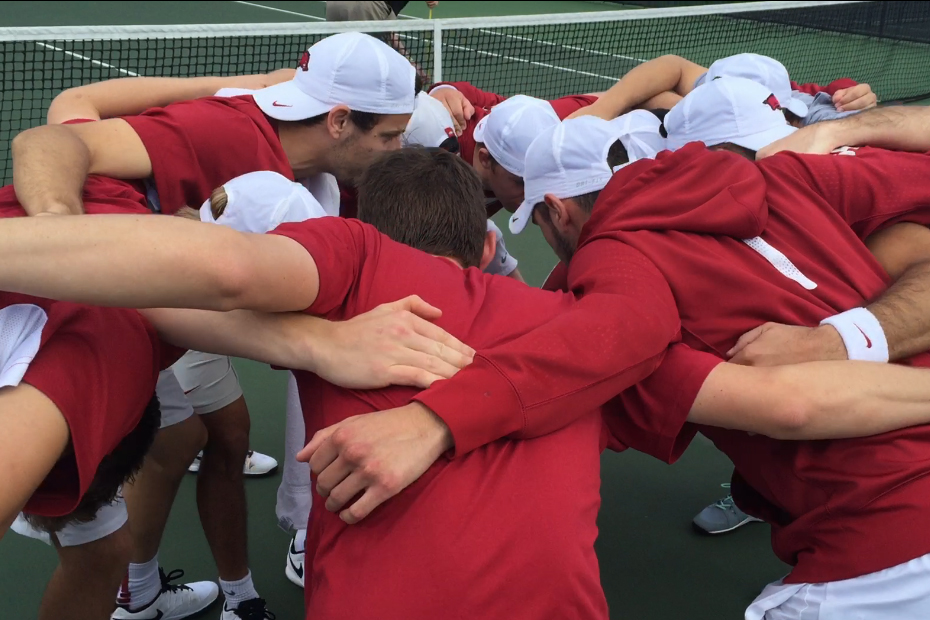 Men's Tennis Surges Into Top 15
FAYETTEVILLE, Ark. — For the first time since 2006, the Arkansas men's tennis team has cracked the top 15.
Following three consecutive SEC victories – including a 5-2 win over No. 7 Texas A&M on Friday – the Razorbacks have climbed to No. 13 in the Oracle/ITA Rankings, released on Tuesday morning.
"We're excited to be ranked No. 13 because it shows how much hard work we have put into our tennis," head coach Andy Jackson said. "The national ranking is very important because it decides who will host the 16 NCAA Regionals. We have a lot of opportunities remaining and I believe our team can still improve a significant amount."
This season, Arkansas had been ranked as high as No. 27, which was the highest since the team finished No. 22 in the final 2006 ranking. The Razorbacks have won 10 of their last 11 matches and currently stand at 13-3 overall, with a 3-1 record in SEC competition.
Along with the victory over the Aggies, Arkansas also notched a top-10 win earlier in the year at No. 10 Oklahoma on Feb. 28. The Razorbacks defeated the Sooners 5-2 in Norman, which officially announced to the tennis world that Jackson's crew was going to be a contender.
In all, the SEC boasts a nation-best seven teams in the top 25. Led by Texas A&M – who is now No. 9 – and including No. 13 Arkansas, No. 17 Kentucky, No. 19 Georgia, No. 22 Ole Miss, No. 24 Florida and No. 25 Mississippi State.
No. 43 Mike Redlicki leads the team with a 10-1 singles record at the top spot. He has won seven consecutive matches and holds a 6-1 mark against ranked opponents this season. After being unranked in the Feb. 10 poll, Redlicki moved to No. 82 on Feb. 23 and then up another 39 spots on March 8 to his current position.
Arkansas continues SEC play with a pair of away matches next weekend. The Razorbacks head to Gainesville to face No. 24 Florida on Friday, March 18 at 4 p.m. CT, then move on to Auburn to face the Tigers on Sunday, March 20 at 1 p.m. CT.
For more information on Razorback men's tennis, please follow @RazorbackMTEN on Twitter.