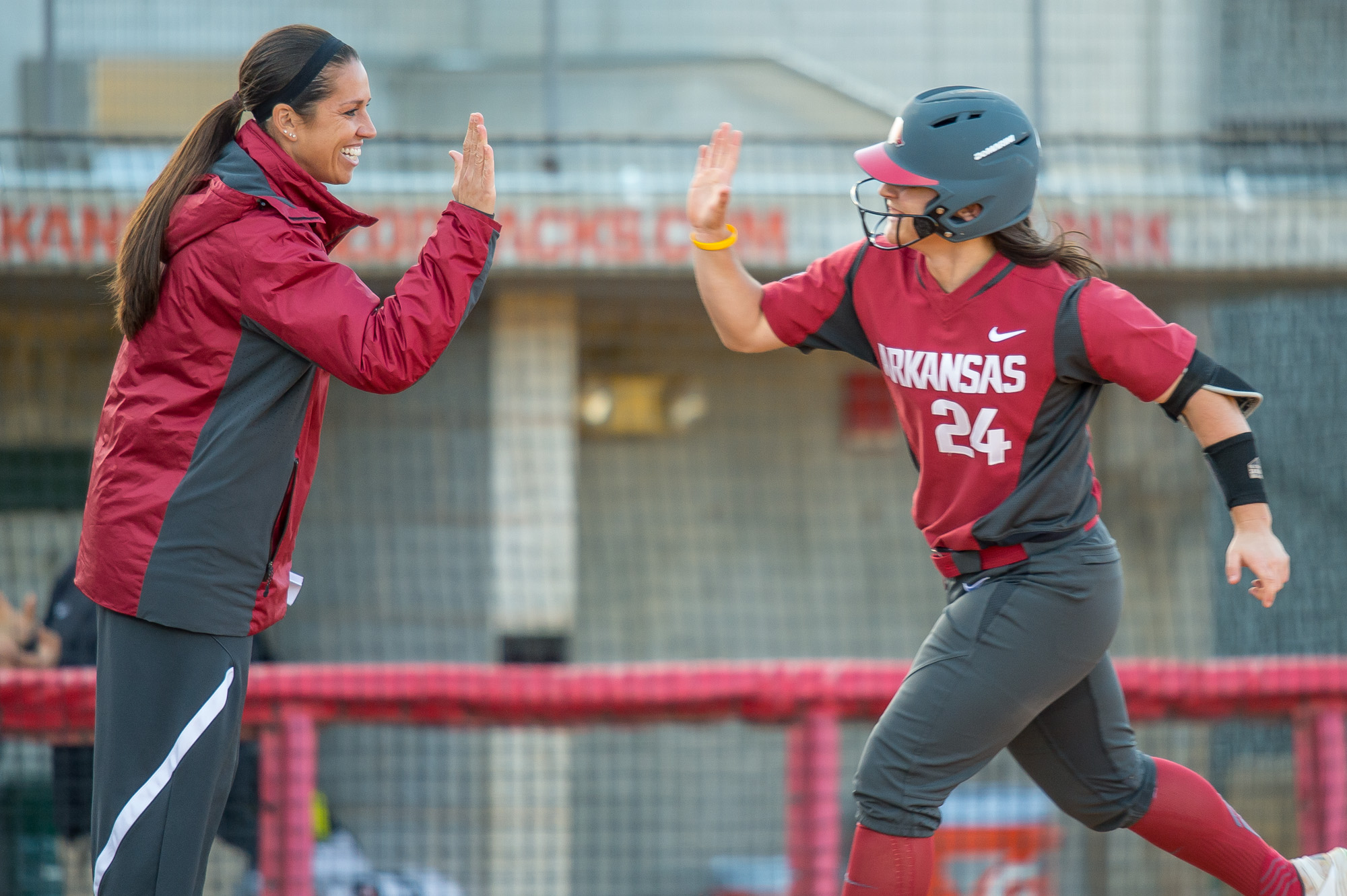 Midweek Non-Conference Road Trip to Tulsa
FAYETTEVILLE, Ark. – On the heels of its first SEC win of the season, the University of Arkansas softball team travels to Tulsa for a non-conference matchup. Tuesday's game is scheduled for a 5 p.m. (CT) first pitch at the Collins Family Softball Complex on the TU campus. The game will be televised and aired live on Cox Sport TV with Blaire Cartwright and Bernie Guenther handling the play-by-play and color commentary duties, respectively.
Arkansas and Tulsa are meeting for the second time this season with the Golden Hurricane posting a 4-3 win March 16 in Fayetteville. In that game, Shelby Hiers hit a two-run blast to center field while Ashley Diaz and Autumn Russell each had two hits. The Razorbacks led 3-2 after five innings but Tulsa scored runs in the sixth and seventh to take the lead. Arkansas had two on with no outs in the seventh but the would-be rally fell short with a double play and strikeout to end the game.
Overall, Tulsa holds a 16-12 advantage in the all-time series between the two teams. The Razorbacks last beat Tulsa during the 2013 season, a 14-3 triumph in a neutral-site game played in Tallahassee. Arkansas is looking for its first win at Tulsa since 2010.
In the team's last outing, Arkansas (16-25) picked up its first SEC win of the season with a 10-5 victory over South Carolina. Grace Moll posted a complete-game performance which doubled as her 22nd career win, a figure that ties her for 10th place on the program's top-10 list. Redshirt freshman Lauren Archuleta tallied a career-high four RBI in the game while Rachel Box hit a two-run homer to pace the offense.
The Razorbacks have now scored 10 or more runs in six games this season and carry a 6-0 mark when they reach double figures. The team was aided by a four-run second inning in the series finale against South Carolina, the 14th time Arkansas has scored at least four runs in one inning this year.
Box's home run was Arkansas' 42 big fly of the season, a total that is tied for fourth in the SEC. Diaz continues to lead the team in home runs with 12 so far in her freshman campaign, a single-season mark tied for sixth in program history. As the top-two hitters in the lineup, Diaz and Hiers carry .398 and .324 batting averages, respectively. Russell has scored a team-high 26 runs this year.
Tulsa enters Tuesday's game with a 27-10 overall record off a conference-series loss at UCF. Julia Hollingsworth is hitting .408 this season while Maggie Withee is just behind with her .393 batting average. The Golden Hurricane have hit 22 home runs this season with a team-high nine homers from Shelby Estocado. In the circle, Caitlin Sill is 15-3 with a 1.53 ERA while Emily Watson has recorded 125 strikeouts in 87.1 innings of work.
Following the non-conference break in its schedule, Arkansas returns to SEC play this weekend with a home series against No. 3/2 Auburn. The three-game set at Bogle Park begins Friday at 6 p.m. All three games will be streamed live on SEC Network+ through the WatchESPN app with live stats available at ArkansasRazorbacks.com.
For more information about purchasing tickets for home games this season, call 800-982-HOGS (4647) or 479-575-5151, email raztk@uark.edu or visit the Razorback Ticket Center located next to Baum Stadium. The ticket window opens one hour before first pitch of each home game. Follow @RazorbackSB on Facebook, Instagram and Twitter for more information about Arkansas Softball.