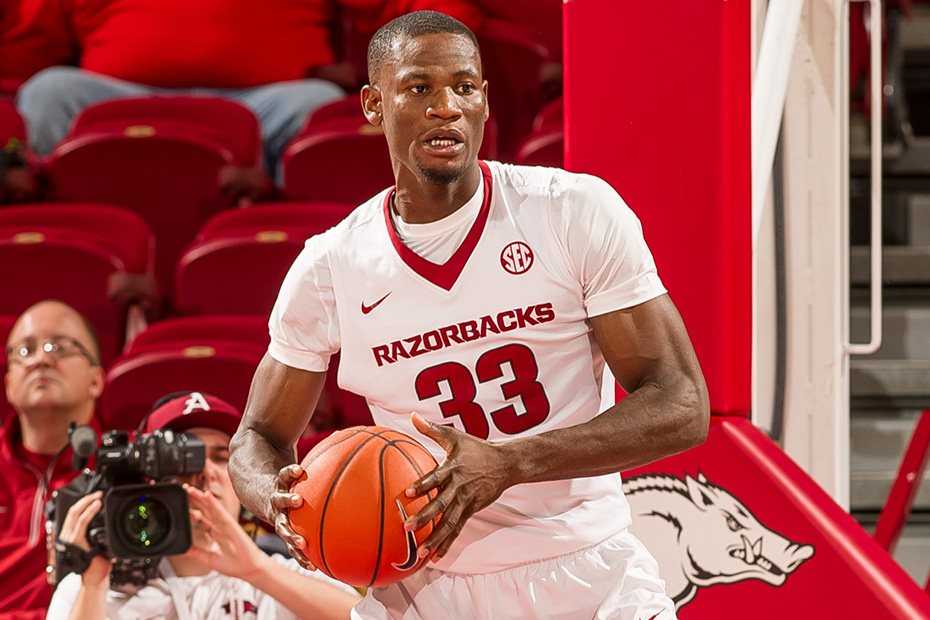 Kingsley and Zimmerman Join Mike'd Up on Monday
FAYETTEVILLE, Ark. – Junior forward Moses Kingsley and assistant coach Matt Zimmerman will join Mike Anderson on Mike'd Up, the weekly radio show dedicated to Arkansas basketball at Sassy's Red House in Fayetteville on Monday at 7 p.m.
The one-hour program gives fans an opportunity to interact with Razorback coaches and players, while also getting a chance to learn more about the personalities they witness on the court. Hosted by the voice of the Razorbacks, Chuck Barrett, the program features interviews with Coach Anderson and Arkansas student-athletes, coaches and staff members. Fans in attendance will also have an opportunity to ask the head Razorback their own questions. Fans can also send in questions to Coach Anderson on the day of each show via Twitter to @RazorbackMBB and by using the hashtag #MikedUp.
Kingsley continues to be on the best forwards in the country, averaging 16.5 points per game and 10.1 rebounds per contest as one of 22 players in the nation averaging a double-double. He is the only power five conference player in the country averaging at least 15 points, 10 rebounds and 2.5 blocks per game and currently leads the SEC with 35 blocks on the year. Kingsley was the first Razorback in 30 years to record eight double-doubles through the first 12 games of the season and he is one of two players in the nation with multiple games of 20 points, 10 rebounds and five blocks.
The Razorbacks are prepping for two SEC home games this week, welcoming Vanderbilt to town Tuesday at 8 p.m., before Mississippi State comes to Bud Walton Arena Saturday at 2:30 p.m. Both games will be televised nationally on SEC Network.
Mike'd Up can be heard across the Razorback Sports Network from IMG College across the state. All but one of the 12 shows are held on Mondays with Thursday, Jan. 14 serving as the lone exception due to the game schedule.
Remaining 2015-16 Mike'd Up Schedule (All Shows At 7 p.m.)
Monday, Jan. 4
Thursday, Jan. 14
Monday, Jan. 18
Monday, Jan. 25
Monday, Feb. 1
Monday, Feb. 15
Monday, Feb. 22
Monday, Feb. 29
For more information on Arkansas men's basketball, follow @RazorbackMBB on Twitter.