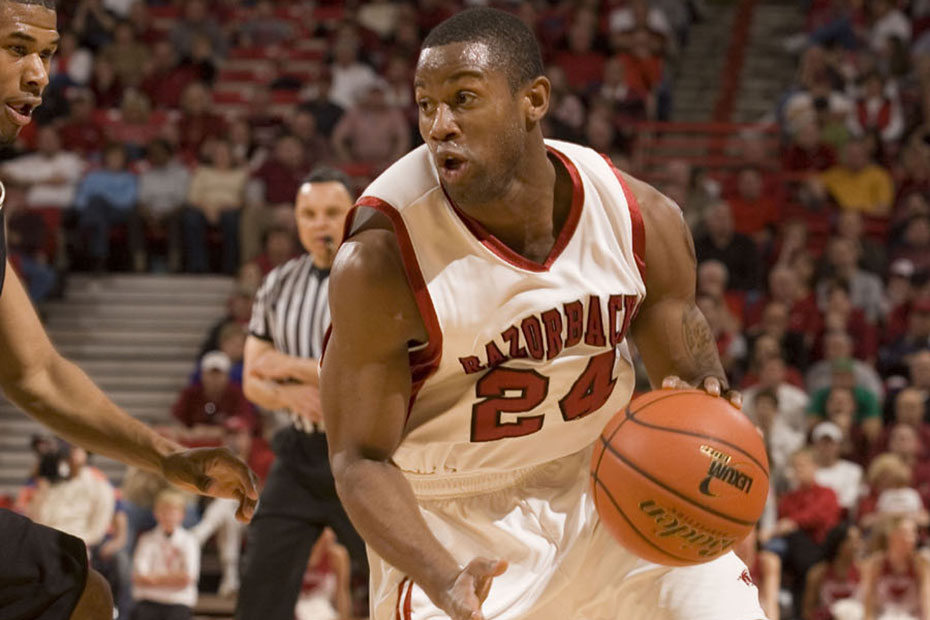 Modica To Be Honored In St. Louis As An SEC Legend
FAYETTEVILLE, Ark. – Former Razorback great Jonathon Modica has been named an Allstate® SEC Legend the conference office announced Wednesday morning. Modica will be recognized at the SEC Men's Basketball Tournament March 7-11 at Scottrade Center in St. Louis.
Ranked 12th on Arkansas' all-time scoring list, Modica racked up 1,589 career points in his four years in Fayetteville, leading the Razorbacks in scoring his freshman (2002-03) and sophomore (2003-04) seasons. As a senior, Modica averaged 17.8 points per game in conference play, the seventh-best mark in school history. Modica ranks second in program history in career points against SEC teams with 855, including a 37 -point performance against South Carolina on Feb. 4, 2006, which ranks as the third-most in an SEC game in Razorback history.
After going 9-19 in his freshman season, the Smackover, Arkansas, native helped the Razorbacks return to the NCAA Tournament in his senior season in 2005-06, after a four-year drought. The Razorbacks would go on to make three-straight NCAA Tournament appearances.
Modica was named All-SEC second team in 2004 and 2006 by the league coaches. In 2003, Modica was selected to the SEC All-Freshman team. At 6-5, Modica was as versatile as any guard the Razorbacks has ever had. Modica ranks 10th all-time in program history for career rebounds in SEC play with 258, second among guards, only trailing former teammate Ronnie Brewer.
Joining Modica in the 2018 class of SEC Legends includes James Robinson, Alabama; Joel Eaves. Auburn; David Lee, Florida; Chad Kessler, Georgia; Joe Crawford, Kentucky; John Brady, LSU; Rob Evans, Ole Miss; Ray White, Mississippi State; Doug Smith, Missouri; Carey Rich, South Carolina; Howard Wood, Tennessee; Barry Davis, Texas A&M; Godfrey Dillard, Vanderbilt.
Each SEC Basketball Legend will be recognized at halftime of his institution's first game at the tournament.
Arkansas' All-Time SEC Legends
1999 – Sidney Moncrief
2000 – Tommy Boyer
2001 – Joe Kleine
2002 – Ron Brewer
2003 – Lee Mayberry
2004 – Todd Day
2005 – Scott Hastings
2006 – Marvin Delph
2007 – U.S. Reed
2008 – Corliss Williamson
2009 – Scotty Thurman
2010 – Jim Counce
2011 – George Kok
2012 – Nolan Richardson
2013 – Jerry Carlton
2014 – Clint McDaniel
2015 – Darrell Walker
2016 – Pat Bradley
2017 – Oliver Miller
2018 – Jonathon Modica