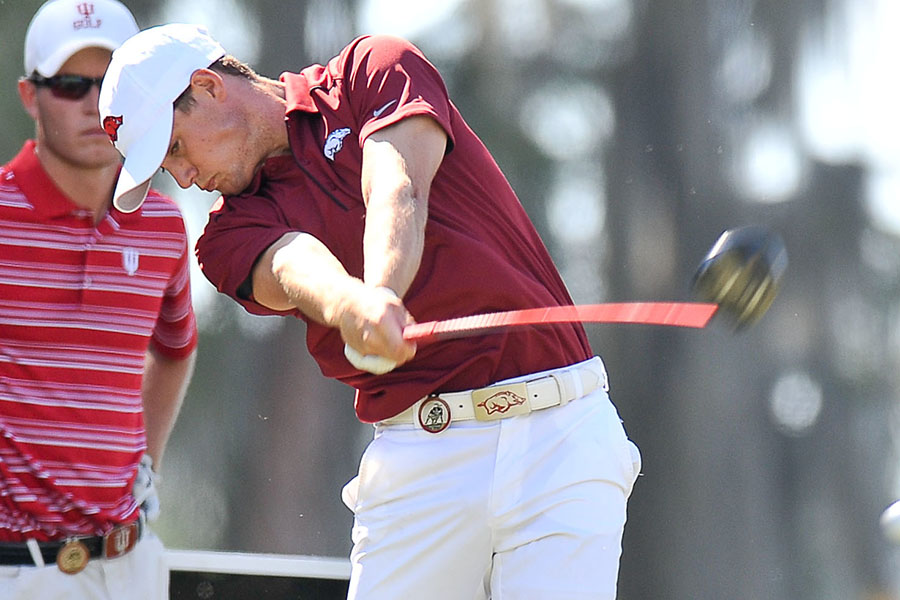 Moore, Crawford Lead Strong Finish
LOS CABOS, Mexico – Behind a pair of two-under 69s from juniors Taylor Moore and Kolton Crawford, the Arkansas men's golf team closed play at the Querencia Cabo Collegiate held at Los Cabos Querencia with its best score of the week to jump two spots on the 14-team leaderboard and finish in a tie for ninth place.
Part of a 14-team field that featured 11 top 50 teams and eight in the top 20, the Razorbacks' four-man score of one-over 285 was the fourth-best round of day and nearly enough to catch top 10 teams LSU and Baylor just three strokes ahead.
No. 2 Florida State used a seven-under 277 to take home the team title at 13-under par (275-287-277) for the tournament, good for an eight-stroke lead over second place Vanderbilt who finished up with the lowest round of the tournament at 11-under 273.
One of just five players in the field of 70 to break par each of the last two rounds, Moore backed up his bogey-free two-under 69 on Monday with another 69 on Tuesday that featured six birdies to finish the event at three-under (72-69-69/210) in a tie for eighth place. Moore has now been Arkansas' low-man four straight rounds and has three consecutive top 10s to open the spring, as he finished in front of 15 players ranked in the top 100.
Entering the tournament with back-to-back top 5s and as the reigning SEC Golfer of the Week, Crawford's two-under 69 in the final round vaulted him up 18 spots on the leaderboard into a tie for 31st position (72-77-69/218). Crawford's final round 69 was more like his hot play over the last two tournaments, as he bounced back from an uncharacteristic 77 on Monday with his fifth under-par round of the spring.
Junior Nicolas Echavarria saved his best round of the week for Tuesday, turning in a one-over par 72 while redshirt sophomore Zach Coats extended his counting scores streak to eight with a 75. Coats (74-73-75) and Echavarria (76-75-72) both finished in the top 50 at 46th and 48th, respectively. Freshman Alvaro Ortiz tied for 51st place (73-76-75), highlighted by a first round 73.
@RazorbackMGolf Quick Nine
• Over his last five tournaments, Moore is a combined 15-under with a stroke average of 70.0.
• Moore has shot 72 or lower in 15 straight rounds dating all the way back to October 6.
• Nine of Moore's team-leading 10 under-par rounds have come over the last 15 rounds.
• Moore has shot under-par in 10 of 21 rounds on the year, including the final round of the last four tournaments.
• Either Moore or Crawford has led Arkansas in all nine rounds this spring and 10 straight overall.
• Crawford has shot under-par in five of nine rounds in the spring.
• Crawford has an under-par round in four straight events.
• Arkansas has shot its lowest score in the final round of four of seven tournaments this year.
• Arkansas is a combined one-over in the final round of three spring events.
@RazorbackMGolf Lineup 
T8. Taylor Moore – 72-69-69/210 (-3)
T31. Kolton Crawford – 72-77-69/218
T46. Zach Coats – 74-73-75/222
T48. Nicolas Echavarria – 76-75-72/223
T51. Alvaro Ortiz – 73-76-75/224
Querencia Cabo Collegiate Final Standings (Golfstat Ranking) 
1. Florida State (2) – 275-287-277/839 (-13)
2. Vanderbilt (11) – 287-287-273/847 (-5)
3. USF (12) – 276-283-289/848 (-4)
4. Washington (19) – 282-281-287/850 (-2)
5. Stanford (14) – 282-278-294/854 (+2)
6. Houston (35) – 285-290-289/864 (+12)
T7. LSU (7) – 292-293-281/866 (+14)
T7. Baylor (9) – 288-290-288/866 (+14)
T9. Arkansas (39) – 291-293-285/869 (+17)
T9. Kentucky – 290-288-291/869 (+17)
T11. Wake Forest (13) – 285-289-291/871 (+19)
T11. Ole Miss (47) – 287-291-293/871 (+19)
13. Lamar – 286-296-308/890 (+38)
14. Rice – 300-297-296/893 (+41)