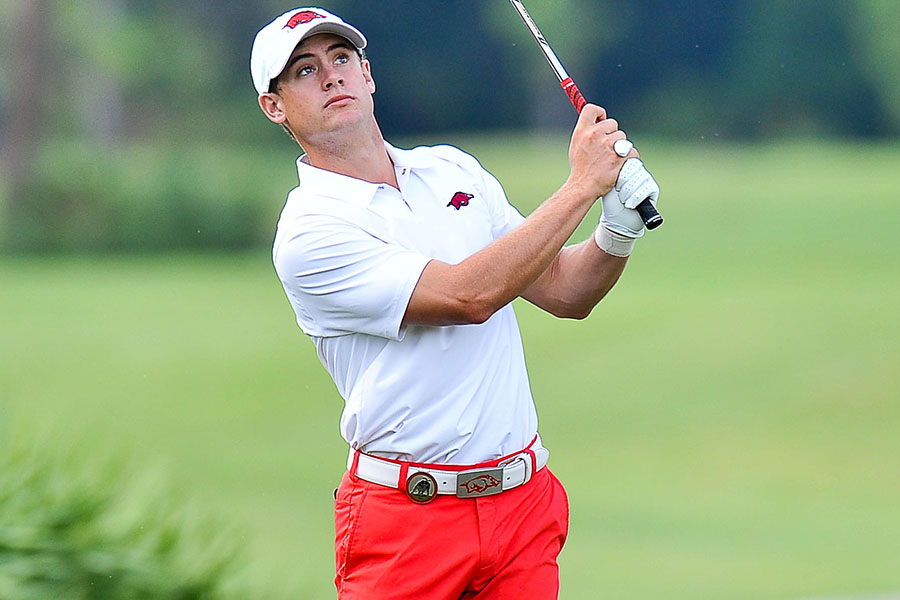 Moore Highlights Day 2 Of Cabo Collegiate
LOS CABOS, Mexico – Junior Taylor Moore continued his hot start to the spring season on Monday with a bogey-free two-under 69 on Los Cabos Querencia to highlight Arkansas' second round at the Querencia Cabo Collegiate.
One of 11 teams ranked in the top 50 in the 14-team field, the Razorbacks will enter Tuesday's final round in sole possession of 12th place (291-293/584). Arkansas will return to the course for the final round starting at 9 a.m. CT.
No. 12 USF (276-283/559) took the 36-hole lead with its second straight under-par round and is one stroke ahead of No. 14 Stanford (282-278/560) heading into Tuesday. No. 2 Florida State (275-287/562) rounds on the top three just three strokes off the lead.
Moore climbed 12 spots on the leaderboard into a tie for 11th place and will enter the final round on a run of 25 straight holes without a bogey. One of just 14 players in red figures in the second round, Moore's two-under 69 was the fifth-lowest score of the day while he sits at one-under (72-69) for the tournament. Moore leads the field of 70 players with 29 pars and has opened the spring with eight straight rounds of 72 or lower.
Redshirt sophomore Zach Coats continued his strong play with a one-over 73 for his seventh straight counting score. Coats' 73 is a one-stroke improvement over his first round 74, as he sits in a tie for 39th overall. Through the first two rounds, Coats is even-par on the front nine.
The third and fourth counting scores came from junior Nicolas Echavarria and freshman Alvaro Ortiz, respectively. Echavarria turned in a 75 while Ortiz followed with a 76. Ortiz (73-76) is tied with junior Kolton Crawford (72-77) for 49th place, while Echavarria (76-75) is tied for 59th.
@RazorbackMGolf Lineup 
T11. Taylor Moore – 72-69/141 (-1)
T39. Zach Coats – 74-73/147
T49. Kolton Crawford – 72-77/149
T49. Alvaro Ortiz – 73-76/149
T59. Nicolas Echavarria – 76-75/151
Querencia Cabo Collegiate Standings (Golfstat Ranking) 
1. USF (12) – 276-283/559 (-9)
2. Stanford (14) – 282-278/560 (-8)
3. Florida State (2) – 275-287/562 (-6)
4. Washington (19) – 282-281/563 (-5)
T5. Wake Forest (13) – 285-289/574
T5. Vanderbilt (11) – 287-287/574
7. Houston (35) – 285-290/575
T8. Baylor (9) – 288-290/578
T8. Ole Miss (47) – 287-291/578
T8. Kentucky – 290-288/578
11. Lamar – 286-296/582
12. Arkansas (39) – 291-293/584
13. LSU (7) – 292-293/585
14. Rice – 300-297/597