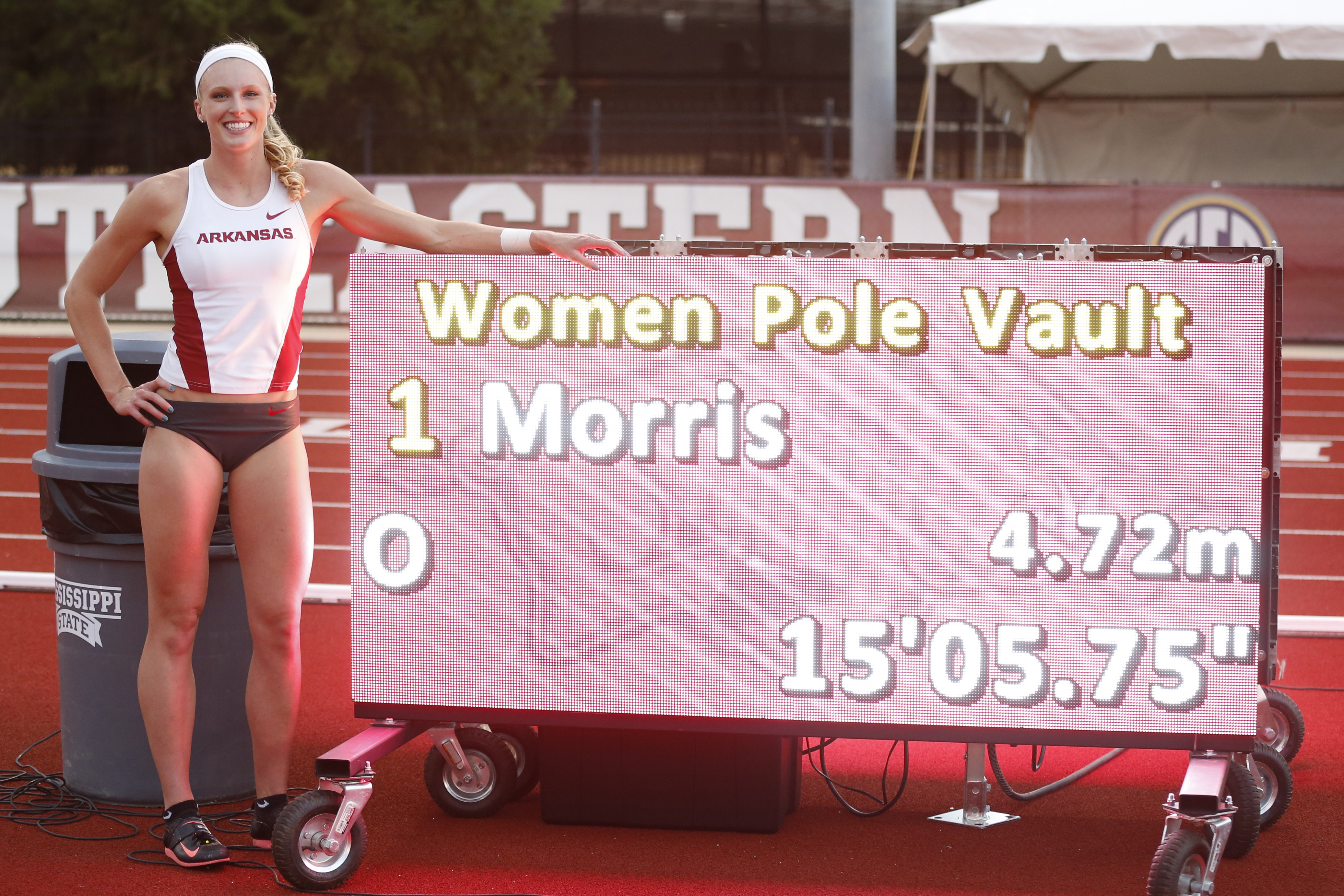 Morris Breaks Collegiate Record, No. 1 WTR in First at #SECTF Meet
STARKVILLE, Miss. – Sandi Morris broke the collegiate record in the pole vault and Jessica Kamilos extended Arkansas' streak in the steeplechase as the top-ranked Razorback women's track and field team won a pair of titles Friday and sit in first place with 58.5 points after day two of the 2015 SEC Outdoor Championships in Starkville, Miss. Along with its point-scoring efforts, the Razorbacks also picked up six additional qualifiers for event finals.
The final day of the 2015 SEC Outdoor Championships will be streamed on SEC Network PLUS beginning Saturday at 2:50 p.m. (CT). The meet will also air as a two-hour highlight show May 21 on ESPNU beginning at 7 p.m. Dwight Stones and Larry Rawson will handle the play-by-play and color commentary duties, respectively, with Jill Montgomery reporting from trackside.
Morris led the Razorbacks' 1-2-5-7 finish in the pole vault with a record-breaking clearance of 4.72m/15-5.75, marking the second time the Greenville, S.C., native has broken the collegiate record this season. In addition to leading the collegiate ranks, Morris' effort stands as the world-leading jump. Friday's win secured back-to-back SEC titles for Morris and makes it seven wins over the past nine years for Arkansas in the pole vault.
In the final event on the track, Kamilos went right to the front of the pack where she controlled the race and ran to her first SEC outdoor title. She crossed the finish line in a winning time of 10:02.07. With her performance, Kamilos becomes the sixth runner in program history to win the steeplechase. The Razorbacks have now won the past three SEC titles in the event and eight of the 15 titles since the event was added to the meet in 2001. Arkansas picked up seven more points in the steeplechase from Shannon Klenke and Regan Ward who finished in fifth and sixth place, respectively.
Collectively, the Razorbacks scored 23.5 points in the pole vault. Ariel Voskamp finished second with an outdoor personal best of 4.34m/14-2.75, becoming the seventh Razorback in program history to clear 14 feet outdoors. In her meet debut, Desiree Freier tied for fifth with a final clearance of 4.26m/13-11.75. Arkansas' scoring was rounded out by another PR by Megan Zimlich who cleared 4.16m/13-7.75 to finish in seventh place.
The Razorbacks collected eight points from Alex Gochenour and Taliyah Brooks in the heptathlon. Gochenour finished the two-day competition with 5,892 points to place third for the second-consecutive year at the SEC meet. In her debut at the outdoor meet, Brooks finished in seventh place with a personal-best 5,681 points which also moves her into fifth place on the program's all-time performance list. She added nearly 200 points to her season-opening effort at Texas Relays.
After completing the heptathlon, Brooks was back on the track with a personal-best time of 13.23 to qualify for the event final in the 100-meter hurdles. Arkansas added two more sprint qualifiers with Taylor Ellis-Watson and Regine Williams at 400 meters. Ellis-Watson enters the final as the second-overall qualifier with a time of 52.55 in the prelims while Williams posted a personal-best time of 53.91 to advance.
The Razorbacks will have three scoring chances at 1,500 meters with the qualifying efforts of Kamilos, Therese Haiss and Dominique Scott. Each finished in the top three of their respective heat to secure a spot into Saturday's final. The program will be seeking its first SEC title at 1,500 meters since the 2007 season.
2015 SEC Outdoor Championships | Day 2
Mike Sanders Track and Field Complex
Starkville, Miss.
100 Meters (prelim)
23. Shekara Boakye – 11.78w (+2.5)
400 Meters (prelim)
2. Taylor Ellis-Watson – 52.55Q
8. Regine Williams – 53.91q [PR – previous: 54.08]
24. Daina Harper – 56.23
1,500 Meters (prelim)
2. Therese Haiss – 4:22.90Q
6. Jessica Kamilos – 4:24.96Q
9. Dominique Scott – 4:26.23Q
100m Hurdles (prelim)
8. Taliyah Brooks – 13.23q (+1.9) [PR – previous: 13.25]
12. Alex Gochenour – 13.37 (+1.3)
3,000m Steeplechase
1. Jessica Kamilos – 10:02.07 [10 points]
5. Shannon Klenke – 10:14.54 [4 points]
6. Regan Ward – 10:25.85 [3 points]
Pole Vault
1. Sandi Morris – 4.72m/15-5.75 [CR] [10 points]
2. Ariel Voskamp – 4.34m/14-2.75 [PR – previous: 13-11.25] [8 points]
t5. Desiree Freier – 4.26m/13-11.75 [3.5 points]
7. Megan Zimlich – 4.16m/13-7.75 [PR – previous: 13-7] [2 points]
Heptathlon (Day 2/Final)
3. Alex Gochenour – 5,892 points [6 points]
3. Long Jump – 6.05m/19-10.25w (+2.3) [865 points]
5. Javelin – 3 7.69m/123-8 [623]
6. 800 Meters – 2:20.19 [821]
7. Taliyah Brooks – 5,681 points (PR – previous: 5,482) [2 points]
4. Long Jump – 6.03m/19-9.5 (+1.7) [854 points]
11. Javelin – 27.68m/90-10 [433]
9. 800 Meters – 2:22.73 [787]
10. Leigha Brown – 5,212 points
9 Long Jump – 5.34m/17-6.25 (+1.8) [PR – previous: 17-4.25] [654 points]
9. Javelin – 33.66m/110-5 [546]
8. 800 Meters – 2:21.33 [806]
Following the conference meet, the championship season continues at the NCAA West Preliminary on May 28-30 in Austin, Texas, and the NCAA Outdoor Championships on June 10-13 in Eugene, Ore.
For more information on Arkansas track and field including in-meet updates, follow @RazorbackTF on Twitter.