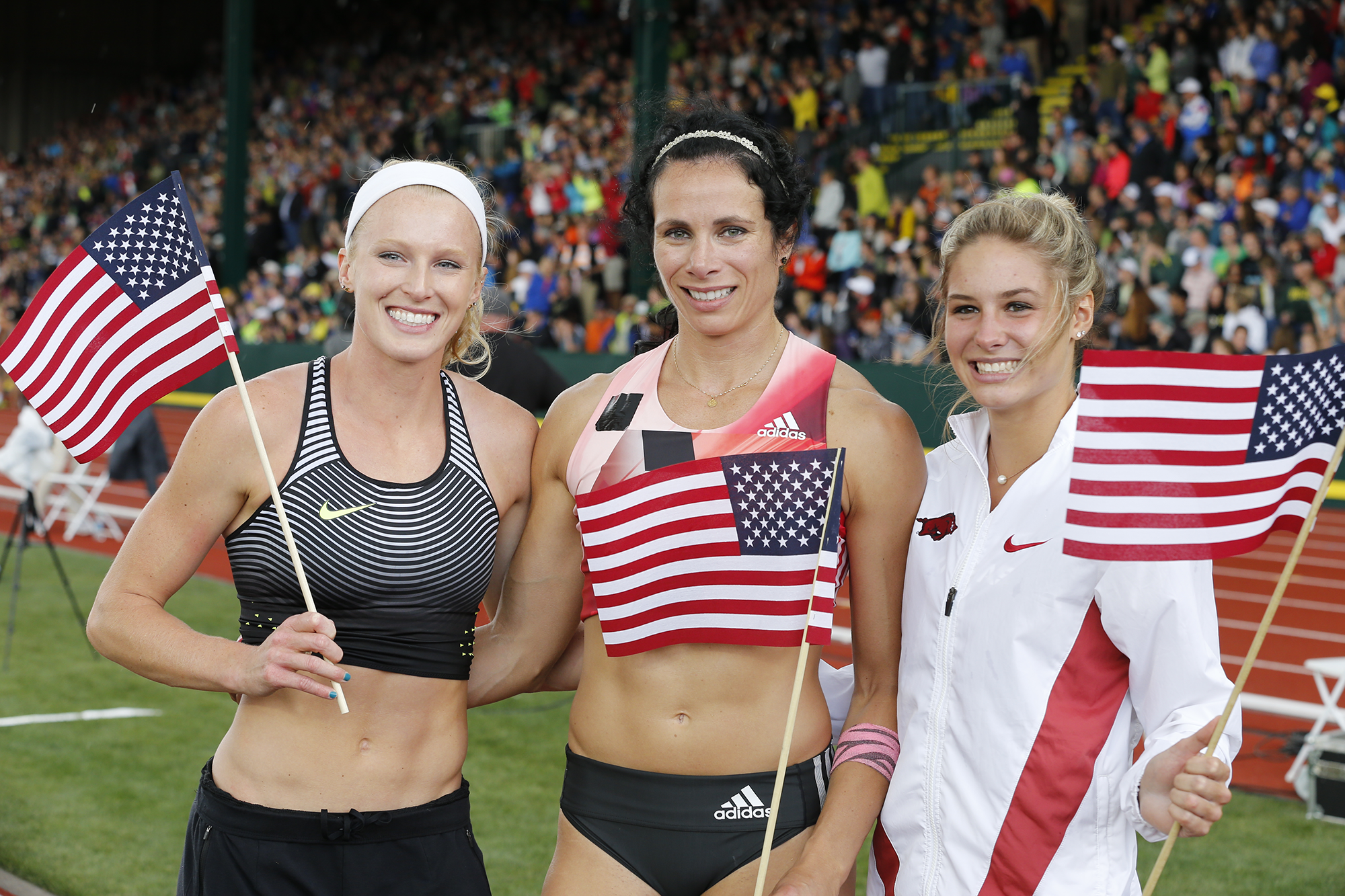 Morris, Weeks Take Center Stage On Final Day
EUGENE, Ore. – A historical 10-day run at the United States Olympic Trials by current and former Arkansas athletes was capped in style on Sunday when a pair of NCAA champion Razorbacks took center stage in the pole vault finals.
The 2015 NCAA Indoor champion and current Nike athlete Sandi Morris and reigning NCAA Indoor and Outdoor champion Alexis Weeks finished second and third, respectively, to make up two-thirds of the pole vault trio that will represent the United States in the 2016 Olympics in Rio.
The only finalist to make the first four heights without a miss, Weeks set a personal-best when she cleared the 15-3 mark and bested that performance two vaults later when she soared over the bar at 4.70m/15-5.
Returning to competition for the first time since her pole snapped at the Ostrava Golden Spike on May 20 Morris regained her stride on the runway following one missed attempt at opening height 4.40m/14-5 1/4. Securing her spot on Team USA with a clearance 4.65m/15-3 Morris cleared the next two bars with ease before bowing out of the competition as the silver medalist, second only to American record-holder Jenn Suhr.
Along with Morris and Weeks former Arkansas pole vaulter April Bennett also had an exceptional showing, finishing 10th in the talented field.
With Morris and Weeks qualifying for competition in Rio the Razorbacks potentially have 15 representatives from six countries set to compete at the 2016 Olympic Games.
Countries will officially announce their Olympic delegates beginning Monday, July 11.
Notable Performances
Alex Gochenour finished among the top-12 best performers in four of the seven heptathlon events, 100 hurdles, high jump, 200-meter dash and long jump. She closed out the afternoon as the 13th-best American heptathlete following a 2 minute, 19.36 performance in the 800.
In the 1,500 finals Razorback alum Stephanie Brown was the 10th runner to cross the finish line, coming through in 4:11.13. Keeping pace with the race leaders through 1100 meters Brown put forth a valiant effort but was unable to match their final lap, quarter-mile speed.
Sunday, July 10 Olympic Trials Results
W 1,500 meter finals
Stephanie Brown (10) – 4:11.13
W Pole vault finals
Sandi Morris (2) – 4.75m/15-7
Lexi Weeks (3) – 4.70m/15-5
April Bennett (10) – 4.50m/14-9
Heptathlon
Alex Gochenour (9) – 3,549 pts. | 100H: 13.43, HJ: 1.72/5-7 3/4, SP: 12.64m/41-5 3/4, 200: 24.79, LJ: 5.92m/19-5 1/4, Jav: 35.87m/117-8, 800: 2:19.36
Taliyah Brooks – DNF
Arkansas Track & Field Olympic Qualifiers: 15
Jamaica (4)
Kemoy Campbell – 5,000
Veronica Campbell-Brown – 200, 4-x-100
Omar McLeod – 110 hurdles
Clive Pullen – Triple Jump
Nigeria (1)
Regina George – 4×400
Slovenia (1)
Tina Sutej – Pole vault
South Africa (2)
Christine Kalmer – Marathon
Dominique Scott – 10,000
Trinidad & Tobago (1)
Sparkle McKnight – 400 hurdles
United States (6)
Taylor Ellis-Watson – 4-x-400
Tyson Gay – 4-x-100
Jarrion Lawson – Long jump
Sandi Morris – Pole vault
Lexi Weeks – Pole vault
Chrishuna Williams – 800
For more information on Arkansas track and field including in-meet updates, follow @RazorbackTF on Twitter.