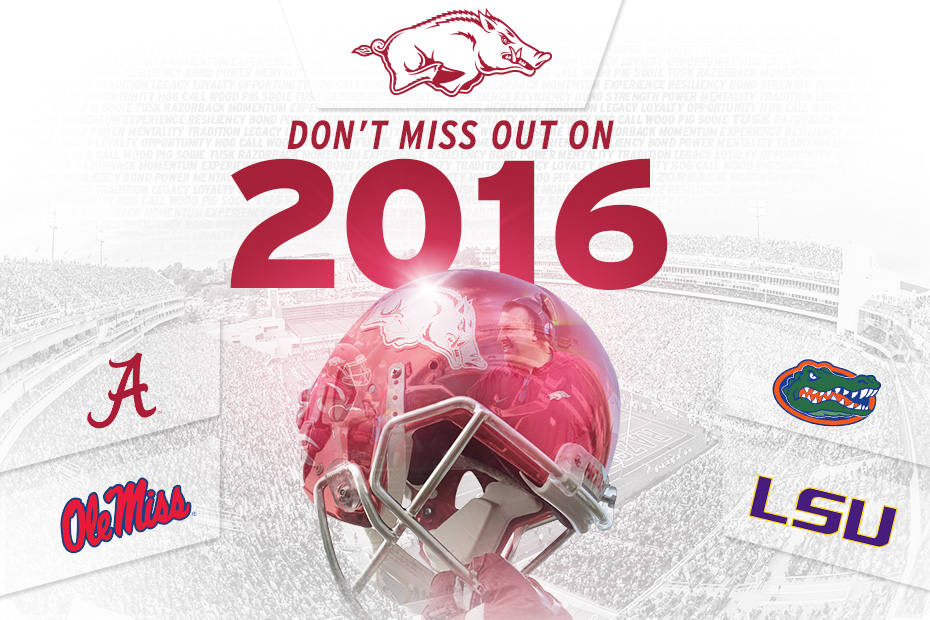 Most Competitive Home Schedule In The Country
Make 2016 Deposit | 2016 Printable Schedule | Download Schedule to Calendar | All-Time Game Results | All-Time Season Results
FAYETTEVILLE, Ark. — Following a memorable finish to the 2015 season, including a dominating bowl victory, Razorback Football is primed for an exciting 2016 with arguably the most competitive home schedule in college football.
Arkansas will be the only Division-I FBS team in the country that will face four teams on its home field that were ranked in the top-25 prior to the 2015 bowl season. With the defending national champion, the defending SEC Eastern Division champion, and two SEC Western Division rivals all coming to town, Fayetteville will be the best place in the nation to watch elite college football during the months of October and November.
The Alabama Crimson Tide, Florida Gators, LSU Tigers, and Ole Miss Rebels all had compelling storylines with ties to the Razorbacks that occurred during 2015 and in previous seasons. We'll break down each upcoming matchup in anticipation of one of the most epic home schedules in Razorback football program history.
Oct. 8, 2016: Alabama (2015 SEC Western Division and College Football Playoff champions)
We almost had 'em in Tuscaloosa in 2015 and in Fayetteville in 2014. The Hogs had a 7-3 lead in the game until the last minute of the third quarter with 100,000 'Bama fans holding their breath at Bryant- Denny Stadium. In 2016, Nick Saban and the Tide will be on our home turf. Donald W. Reynolds Razorback Stadium will be electric, and this is one game you will definitely not want to miss.
Oct. 15, 2016: Ole Miss
Last year's matchup gave us the "Henry Heave", consecutive two-point conversion attempts during overtime and a record-setting night for Brandon Allen. These are moments Razorback fans will remember for years to come, and this time, Arkansas gets to host Ole Miss during the one of the best Homecoming games this season in Division I football. During the Rebels' most recent visit to Fayetteville in 2014, then-No. 8 Ole Miss was shut out 30-0. That's a repeat Hogs fans most definitely will want to see.
Nov. 5, 2016: Florida (2015 SEC Eastern Division champion)
After the Razorbacks' bye week, this will be the second-to-last home game before we finish out our 2016 slate on the road. In the past 20 years, Florida has only visited DWRRS three times, and not since 2008. Under head coach Jim McElwain, the Gators are back on a positive trajectory, and were an SEC Championship game win away from making a possible national championship playoff bid in 2015. This will be a key conference matchup for the Razorbacks and a great opportunity to see a top-ranked SEC East team face a stiff challenge at DWRRS.
Nov. 12, 2016: LSU
Arkansas closes out its 2016 home schedule against Coach Les Miles and the Tigers, whom the Razorbacks beat handily 17-0 at DWRRS in 2014. Be here to watch to see if the Hogs can retain The Boot at home and keep the team's overall two-game win streak against LSU alive.
Experience DWRRS
The Razorback Ticket Center is currently accepting deposits for new 2016 football season tickets. A $100 deposit on new season tickets will give fans guaranteed access to available seat inventory in May. More information on the online seat selection process will be sent directly to those who make deposits. Click here for deposit details.
Current football season ticket holders do not need to place a deposit, as renewal applications are now live. Please log into your eTicket account here and click on season renewals to process your football season ticket renewal.
| Date | Opponent | Time | Location |
| --- | --- | --- | --- |
| Sept. 3 | Louisiana Tech | TBA | Fayetteville, Ark. |
| Sept. 10 | at TCU | TBA | Fort Worth, Tex. |
| Sept. 17 | Texas State | TBA | Fayetteville, Ark. |
| Sept. 24 | vs. Texas A&M | TBA | Arlington (AT&T Stadium) |
| Oct. 1 | Alcorn State | TBA | Little Rock, Ark. |
| Oct. 8 | Alabama | TBA | Fayetteville, Ark. |
| Oct. 15 | Ole Miss | TBA | Fayetteville, Ark. |
| Oct. 22 | at Auburn | TBA | Auburn, Ala. |
| Oct. 29 | BYE WEEK | | |
| Nov. 5 | Florida | TBA | Fayetteville, Ark. |
| Nov. 12 | LSU | TBA | Fayetteville, Ark. |
| Nov. 19 | at Mississippi State | TBA | Starkville, Miss. |
| Nov. 26 | at Missouri | TBA | Columbia, Mo. |