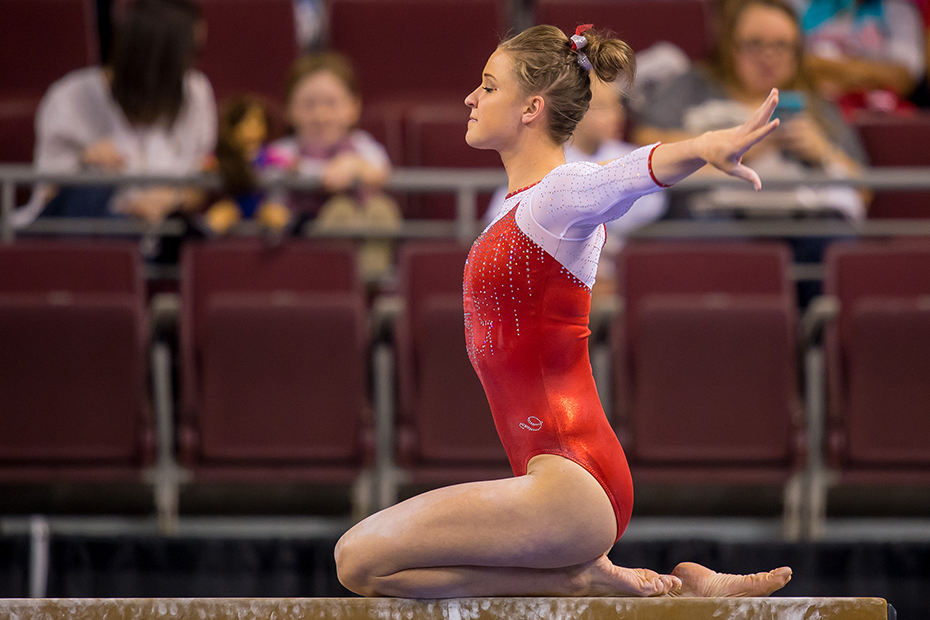 NCAA Regionals Preview: Lucky No. 13
IOWA CITY, Iowa — "Thirteen" has been a prevalent number for the Arkansas gymnastics team this year. The Razorbacks began 2016 with a preseason ranking of No. 13 and ended the regular season with an Regional Qualifying Score (RQS) also at No. 13.
In order to flip the script and become one of the top 12 teams across the country to qualify for NCAA Session II, head coach Mark Cook and his confident group of (you guessed it) 13 #Gymbacks take to the mats in Carver-Hawkeye Arena on Saturday, April 2 with hopes of advancing past the Iowa City Regional.
"We had a good practice day, getting a feel for the arena and the equipment in order to find a good rhythm," Cook said. "It's game time, and we're confident and ready to get going. We just have to get in here Saturday and get after it. Our key is to be ourselves, stay within ourselves and keep doing what we've been doing all season."
Among the five other squads in Iowa – No. 1 Oklahoma, No. 12 Nebraska, the host No. 19 Hawkeyes, Kent State and Central Michigan – only the top two teams will advance to nationals in Fort Worth, Texas, on Friday, April 15. Arkansas will look to do so for the first time since 2013.
Leading the Razorbacks into the meet are the trio of All-SEC team members.
Samantha Nelson is having a career year, with six scores of 9.900 or higher after having only one over the span of 58 rotations in her first two seasons at Arkansas. Featured in all 12 vault, uneven bars and balance beam lineups, Paige Zaziski has had her score count in 35-of-36 performances this year.
Finally, Amanda Wellick has competed in all 48 rotations so far this season, leading the team in vault (9.875) and floor exercise (9.846) average. Wellick earned NACGC/W Second Team All-American honors with an RQS of 9.900 on vault over the course of the year. She leads the team with nine event titles, as well as five total all-around titles.
The meet will not be televised, but Arkansas fans can more information via Iowa's website HERE. Specific links to live online content will be available in a media center post that will follow this article.
For more #Gymbacks content during the season, please follow @RazorbackGym on Instagram, Twitter and Snapchat.