Clear Bag Policy
Fans can bring in one (1) clear bag (no larger than 12" x 6" x 12") AND one small clutch purse (no larger than 4.5" x 6.5", the size of the palm of your hand, with or without a handle or strap). All bags and purses not meeting the above requirements will not be permitted. Although permitted, childcare items, including diapers, must also be carried in an approved clear bag.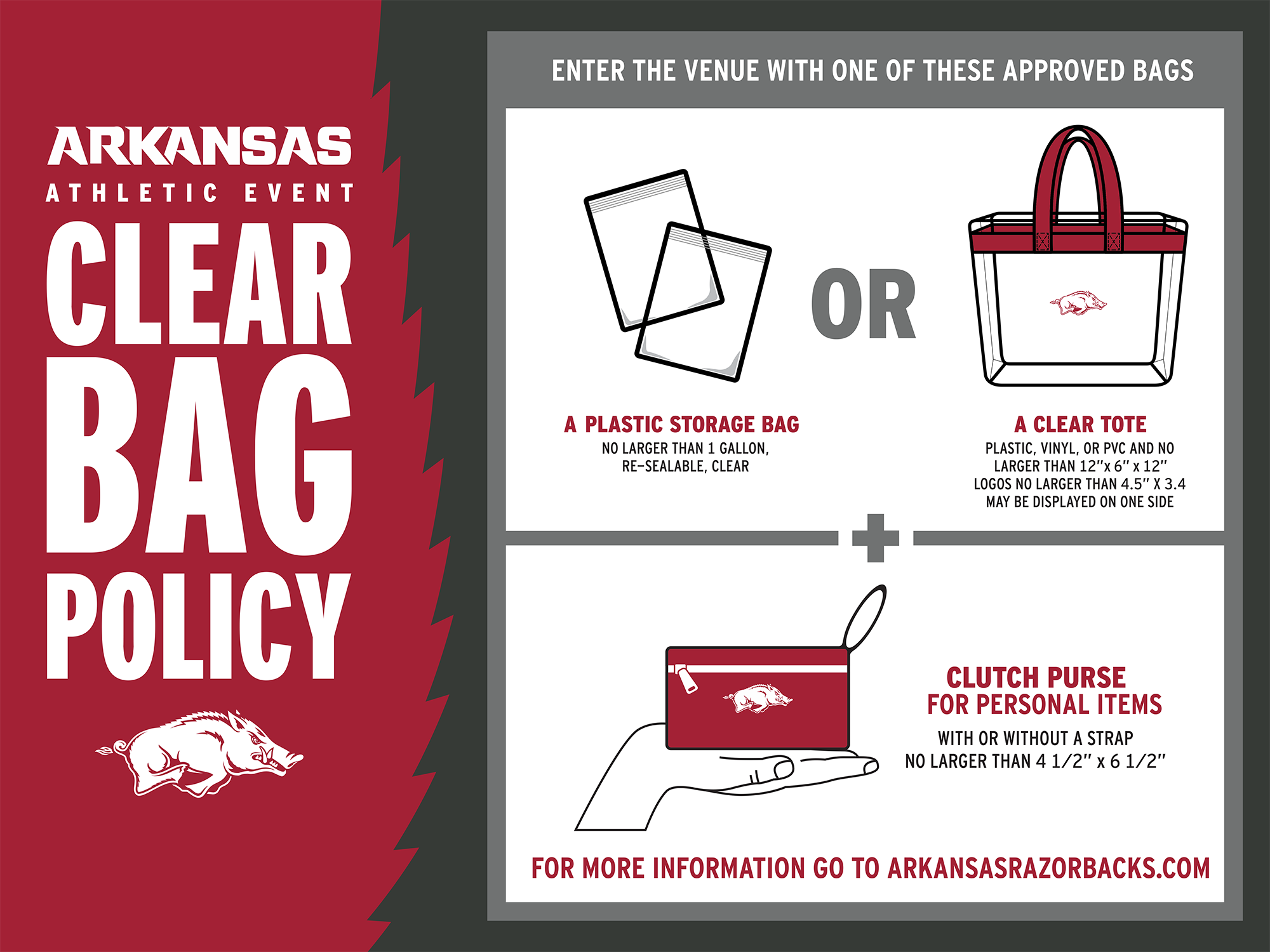 Hog Pen Policy
Each ticketed fan is permitted to bring in one clear bag and/or a small clutch purse. There is a clear bag exception in the Hog Pen for containers carrying food and beverages. Food items may be brought into the Hog Pen in coolers or disposable bags. Beverage items may be brought in a cooler. Personal bags with no food or beverage brought into the Hog Pen must follow the clear bag policy.
Per previous guidelines, any coolers, bags or containers carrying food and beverages admitted at the Hog Pen gates must stay in the Hog Pen area and will not be allowed past the checkpoint into the regular seating bowl.
Prohibited Items
The following items are NOT permitted in Razorback Athletic Facilities:
– Baby seats
– Baby strollers
– Backpacks
– Banners, sign
– Beach Balls
– Cameras (professional equipment or cameras with long telephoto lenses longer than six inches)
– Explosives. guns, knives, or weapons
– Laser pointers
– Pets (with exception of service animals used by disabled guests)
– Stadium seats with armrests and/or over 16 inches wide
– Umbrellas
– Video cameras
– Noisemakers of any type (i.e. bells, horns, whistles, etc.)
– Drones
– Selfie Sticks
NOTE: The following items are permitted in the Hog Pen area – coolers, ice chests and limited food and beverage.